The Foundation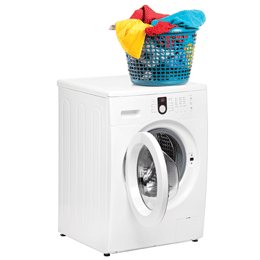 …From the pages of House & Home…
Educational Elements
What to know about ... Cleaning your washing machine
This may seem like a redundant chore, but washing machines need a good cleaning every now and then. Laundry leaves trace amounts of bacteria, as well as detergent buildup, which can get worse over time, leaving your clothes, towels, sheets and other fabrics smelling less than fresh. Cleaning your washing machine will have it running like new again.
* Sanitize once a month. Wipe out any dirt or lint from inside the washer. Run the machine (empty) on a large load cycle with hot water and a combination of detergent and one cup of chlorine bleach. Stop it mid-cycle and let it sit for about 15 minutes while bleach works and disinfects, then let finish.
* Remove soap scum buildup every six weeks. This process is much like sanitizing, but replace the bleach with three to four cups of distilled white or apple cider vinegar, and skip the detergent.
* Leave front-loading machines smelling fresh. Mix ¼ cup baking soda with equal parts water and add to the detergent container, then pour two cups of white vinegar into the drum and run a normal load on high heat. This should break up residue and kill mold. To avoid any future smells, make sure to keep the washer door open after each load to let moisture escape, and clean the gasket of any lint or debris regularly.
Green Thumb
What's growing on us this month … Feeding birds
Did you know that bread provides no nutritional value for birds, yet so many of us toss crumbs to them for food? Instead, here are some options that will nourish them and make it enjoyable for you to watch.
* Black-oil sunflower seeds: High in fat and thin-shelled, easy for small birds to crack open. Ideal for attracting chickadees, cardinals and nuthatches.
* White millet: High in protein and attractive to ground-feeding species like juncos and sparrows.
* Niger or thistle: High in oil and calories, especially popular as winter bird food. Ideal for attracting house and purple finches, song sparrows and goldfinches.
Covet
Must-have products for the home: Fine Dining
Not so much a piece of furniture as a work of art, Ron Gilad's Sublimazione dining table combines the essence of walnut and the modernity of glass, resulting in a unique melding of the wood's grain and the sharp, clean lines of extra light glass. An almost ethereal piece, we think it would look right at home in yours. Also available in fully clear glass. (Price upon request, available at SuiteNY.com)
Who Knew?
Unusual uses for common products: Lemons
This tangy citrus fruit is good for more than flavoring your water.
Use lemons for:
* Keeping insects out of the kitchen. Squirt lemon juice on thresholds and windowsills and into any holes where ants could enter and they won't come near you.
* Brightening your whites. Add straight or diluted lemon juice to your washing machine for whiter whites that smell lemon fresh.
* Deodorize cutting boards. Cut a lemon in half and rub it on your cutting boards to clean off the smells of onion and garlic and sanitize it as well.
Creature Comforts
For pets living in the lap of luxury: Pet Cube
While keeping virtual tabs on your pets is nothing new, PetCube takes it to the next level. This new pet monitoring system allows you to not just monitor your pet—but talk to them and play with them, as well. The 4-by-4 inch cube features an 138-degree wide camera view, is iOS and Android compatible and has a two-way audio stream. PetCube also has a built-in 5mW 3R class laser, perfect for keeping your feline friend on his toes. ($199 at PetCube.com)
Bookmark: Add this to your bookshelf
Bohemian Modern: Imaginative and Affordable Ideas for a Creative and Beautiful Home
Emily Henson's latest work spotlights the ideal ways to decorate your home using the unique and and eye-catching style called Bohemian Modern. Included inside are up-to-date tips, as well as homes that have succeeded in using this unique approach to their advantage; from house plants to Moroccan rugs and concrete floors, Henson describes a Bohemian paradise that serves as both a nostalgic nod to the 70s and a bold look towards the future of home design. (Ryland Peters & Small, Feb. 2015, $22, Amazon.com)
Home Front: Front to Back
We live in an age where books are going digital, which has its advantages, but books— actual books— have always been an essential piece of a home's décor. On a coffee table or shelf, books showcase your interests like almost nothing else can. Bookends are the perfect accompaniment for your displays, and these are some of our favorites.
10,000 Leagues: Add some ocean-inspired aesthetic to your décor with Z Gallerie's Octopus Bookends, perfect for the underwater adventure lover. This pair of silver resin pieces is sure to add the extra something your library—or living room—is looking for. ($49.95 for two, available at ZGallerie.com)
This Little Piggy: Add a bit of whimsy to your bookshelf with CB2's Gold Pig Bookends. Gilded in the perfect gold finish, perfectly highlighting every last detail, from the curly tail to mischievous snout, these bookends are sure to separate your favorite titles—young and old—in style. ($29.95 for two, available at CB2.com)
Walden-esque: Embrace your inner minimalist and get in touch with nature with these striking bookends from West Elm, fashioned from interlocking layers of marble and mango wood. Handcrafted in India, these bookends are perfect to bring a taste of the outdoors in. Can't you just picture these on Thoreau's shelf? (Striped Marble + Wood Bookend, $49 each, available at WestElm.com)
He Said, She Said: Dialogue makes for a great story, and these make for a unique accent on your shelves. Anthropologie's Quotation Marks Bookends are an updated version of a so of-the-moment accent. Featuring a gold-brushed aluminum finish, this is one statement piece— pun intended—you won't regret. ($168 for two, available at Anthropologie.com)
Published (and copyrighted) in House & Home, Volume 15, Issue 8 (February, 2015).
For more info on House & Home magazine, click here.
To subscribe to House & Home magazine, click here.
To advertise in House & Home magazine, call 610-272-3120.
Article continues below
---
advertisement


---
Author:
Andrew Anastasio
Archives
---
A TALE OF THREE WEDDINGS
Timber Creek's Leary heads to Illinois
One of Us
The Weekender
Hometown Flavor
Hoop Dreams
Symon Says
Food & Drink: Raise a Glass
Off the Ice
Rewarding Work
Dig This
The Berlin Cemetery
A Southern Mansion
Fire on the Morro Castle
Pine Barrens Fire of 1936
More...