Overbrook High School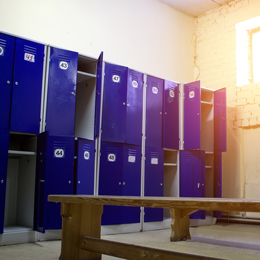 Overbrook High School is a public high school with nearly 1,000 students from Pine Hill, Berlin Township and Clementon The school was originally founded as Lower Camden County Regional High School in 1939, in Lindenwold. According to wikipedia.org, it actually served students from up to ten municipalities at one point. The population soon began to grow, however, and Edgewood Regional High School (now Winslow Township High School) was founded in Winslow Township. The school took the name Overbrook Regional Senior High School in the 1950s, and joined its sister school Edgewood as part of Lower Camden County Regional High School District #1.
In 1999, each of the individual school boards voted to dissolve the Lower Camden County Regional High School District. Lindenwold would build its own high school and take over the old junior high building to make it the district's middle school. Edgewood Regional Junior High became Winslow Township Middle School, and Edgewood Senior High became Winslow Township High School. Pine Hill would build Pine Hill Middle School.
Overbrook offers classes in many subjects including English, Math, Science, Social Studies, Foreign Language and others, according to the school's website.
The clubs offered at Overbrook are African American Culture Club, Audio/Visual Aids, Director of Bands, Choir Director, Academic Challenge, Interact Club, International Affairs Club, Leo Club, Multi-Culture Club, National Honor Society, Newspaper Advisors, Overbrook Business Leaders, SADD, Science League, Student Government, Theatre, Yearbook, Youth In Government, Book Club and others.
The Academic Challenge club focuses on trivia surrounding numerous subjects. Students meet almost every day after school to prepare for meets with practice questions; "meets" are held about once or twice a week, and Overbrook students get the chance to compete against other schools.
Learn more about the Overbrook Music Department at http://www.overbrookmusic.org/. The Overbrook Music Boosters Association has a Facebook page: https://www.facebook.com/pages/Overbrook-Music-Boosters-Association/152933891414308. Like their page and keep up-to-date on current events in the music department.
Overbrook had many talented athletes on their teams this past fall season, including Nikolas Furlow, Marques Deshields, Damon Matthews, Jaiden Reid, Erick Riley, Xavier Martin, Tyrese Jackson, Mark Reid, Jared Montalto, Aaron Stephens, Joe Baran, Edwin Soler, Jacob Montalto, David Bowers, Adam Sager, Davon Thornton, Nick Tortu, Anthony Boyce, Michael Brown, Jasmine Cruz, Malachi Whitfield, Tahmere Moore, Masen Smith, Marquis Edmonds-Parker, Jalen Sutton, Joey Odegaard, Raysean Brotherton, Eli Ulatowski, Jagger Pinto, Anthony Denofa, Aleque Williams-Dixon, Nathan Rowe, Donte Dixon, Michael Blair, Amir Moore, Deshon Alexander, Andrew Miller, Pasquale Locantore, Isaiah Coleman, Brian Henderson, Austin Mosby, Dante Morgan, Jaden Hodge, Jeremiah Wilbon, Aliyah Matthews, Alyson Ireland, Andi Williams, Ariel DeSilvio, Brooke Underwood, Christina Morrison, Estelle Wdward, Layne Raroha, Lexi Law, Madison Pasterino, Mikaela Shendock, Nicole Kuriger, Nicolette Keith, Nya Edwards, Sabrina Delgado, Savannah Dunnet, Shawnae Keith, Sheana Hernandez, and many others.
The OHS girls basketball season began with a win against Collingswood 43-35. Other opponents this season are Audubon, Pitman, Palmyra, Haddonfield, Sterling, Bishop Eustace Prep, West Deptford, Woodbury, Paulsboro, Lindenwold, Camden County Vo-Tech, Gateway Regional, Haddon Heights, Haddon Township, Collingswood, Audubon and Haddonfield. Players in Siani Carpenter, Alyssa Cavallaro, Alexis Roksewicz, Brooke Underwood, Naya Wright, Oceana Wallace, Deanna Denofa, Jakhira Legoskey, Savannah Dunnett, Angelia Ricelli and Danielle Schaw.
The Varsity Club is made up of parents who volunteer their time to help support the athletic program at Overbrook High School. Through individual and business support, the group is able to award scholarships and Varsity Club jackets to students as well as sponsor the Varsity Queen Contest, provide three sports banquets, organize other activities and purchase supplies not covered in the school budget for athletics. PresidentLeah Wikander, treasurer Helen Flanagan and secretary Anita Garro hold meetings on the 1st Wednesday of each month at 7pm in the teachers' lounge at the high school.
The senior class is gearing up for their senior class trip and graduation later this spring. President of the class of 2017 is Kirstin Quigley, vice president is Jared Beadline, secretary is Cassandra Inigo and treasurer is Niya Pinckney. The rest of the grades are busy planning great things too. Junior class president is Megan Kwiecien, vice president Deann Denofa, secretary Russell Flores and treasurer Cooper Schipske. Freshman president is Nick Witmer, vice president is Iyanna Wright, treasurer is Ivannah Sosing and secretary is Tade Adeniran. ?
Overbrook High School is located at 1200 Turnersville Road in Pine Hill. For more information about the school, visit overbrookhs.com or call 856-767-8000.
© SouthJersey.com 2017. All rights reserved. This article or parts thereof may not be reprinted or reproduced by any other party without the express written consent of SouthJersey.com. For more information, please call 856-797-9910.
For more information about what's going on in our local schools and what today's students are up to, visit our South Jersey Schools page.
Article continues below
---
advertisement


---
Author:
Meghan Shott
Archives
---
In Good Health
2017 Executives of the Year
Superior Sandwiches
Raise a Glass
Impressive New South Jersey BBall HOF class
The Promise of Public Transportation
Empowering the Next Generation
Singles: January 3
River Revitalization
Spreading Cheer
Singles: December 27
Winter Retreat
Are Holiday Parties Back in Favor?
Support System
Singles: December 20
More...