Palmyra High School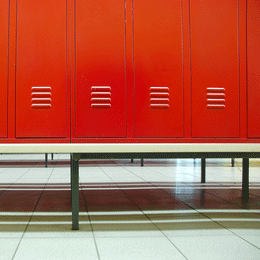 Palmyra High School offers a comprehensive educational program for students in grades seven through twelve. This traditional setting provides each student the opportunity to excel in their area of interest as well as a wide range of extra-curricular activities. A hallmark of the Palmyra experience is an enthusiastic and dedicated staff interacting with concerned and involved parents to meet student needs.
High school classes began in Palmyra, New Jersey shortly after the completion of the Spring Garden Street School in 1895. With increased enrollment, the school was moved to a former girls school, Berkeley Hall, in 1907, and to its own building in 1909. According to the school website, a large addition to Palmyra High School was completed in 1922. The 1909 structure was destroyed by fire in 1957, and after a vote that narrowly defeated establishing a regional high school, additions were made to the building in 1958 and 1961.
The school offers academic development, college preparation, school-to-careers training, mentoring programs, and a variety of interventions for students with special needs. Students, alumni and staff continue to earn recognition on the local, state and national levels. Palmyra High School is proud of its well-deserved reputation for "Excellence in Education".
Congratulations to recent students of the month Gerald Griffin, Deja Bailey, Carolyn VanArtsdalen.
PHS offers many activities and clubs to its students including student council, Spanish national honor society, art club, German club, yearbook club, consumer affairs club, book club and many others.
Palmyra High School's Music Department has its own webpage. There students and parents can get info on the Marching Band, Concert Band, Junior High Band and Choir as well as piano and guitar classes and audition information. The PHS Marching Band also has a Facebook page where they post photos and updates: https://www.facebook.com/groups/107839458346/.
In 1907, the Red Devils, Palmyra's football team, began its rivalry with Burlington City. This is the oldest school rivalry in Burlington County. Now the school's team is known as the Palmyra Panthers, but the rivalry still exists as does Palmyra High School's fierce determination and drive to achieve both scholastic and athletic excellence. The athletics program has grown and now includes baseball, basketball, field hockey, football, soccer, softball, tennis, track/cross country, track & field, and wrestling.
Players on this season's football team included Taj Harris, Elijah Karnjay, Luke Flores, Samuel Aviles Jr., Faraji Robinson, D'Angelo Robertson, Zaki Burroughs, Marcus Davis, Jamal Walker, Zaire Harris, Billy Pirela, David Lynch, Brayjhon Wynn, Joe Smyth, Danny Kay, Garrett Tetzloff, Michael Hawkins, Davonte Vivian, Colin Borgers, Robert McPherson, Tyler Domask, Cameron Chapman, Zach Coletti, Matt DeGeorge, Yaree Leary, Josh Ross, Jariah Jenkins, Chris Walthall, John Breslin, Marcus Van Horn and Curtis Jones.
The girls' soccer team at Palmyra finished the season with a winning record of 14-8-4 according to MaxPreps.com. Players included Ashley Maniscalco, Casey Gates, Chelsea Deacon, Daniella Smith, Elizabeth Warnock, Hannah Lloren, Janelle Belton, Jessica Goldschmidt, Julia Adams, Juliana Blatz, Kate Hess, Katie Katella, Lily Beck, Liza Tait, Madison Conroy, Madison Hartman, Maura Scott and Mia McEvoy.
Palmyra High School is located at 311 W. Fifth Street in Palmyra. For more information, call 856-786-9400 or visit http://www.palmyraschools.com/ps/PHS/.
© SouthJersey.com 2017. All rights reserved. This article or parts thereof may not be reprinted or reproduced by any other party without the express written consent of SouthJersey.com. For more information, please call 856-797-9910.
For more information about what's going on in our local schools and what today's students are up to, visit our South Jersey Schools page.
Article continues below
---
advertisement


---
Author:
Meghan Shott
Archives
---
More Articles