Paulsboro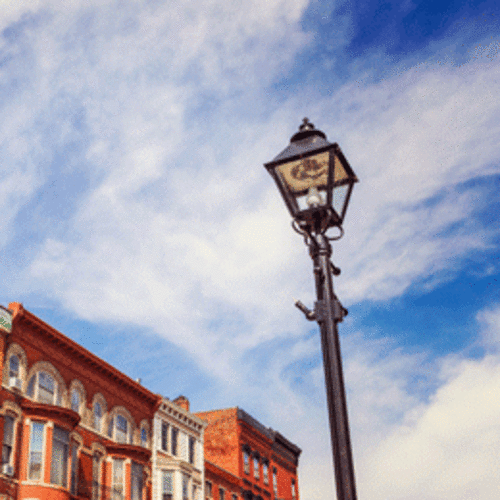 Paulsboro, an industrial town located on the Delaware River, was established officially in 1094, but its rich history dates back much further.
Early inhabitants included Leni Lenape Indians, and families from Sweden, Scotland and England. By 1800, Paulsboro was still known as Crown Point. Throughout the 19th century, shoemakers, farmers, fishers, manufacturers came to the town. Churches, including The Presbyterian Church, St. James Episcopal Church, St. John's Roman Catholic Church, Methodist Episcopal Church, and Taylor Memorial Baptist Church were built, as well as schools and a hotel.
On March 2, 1904, Paulsboro and Billingsport were incorporated as the Borough of Paulsboro. Gill Hannold was the first Mayor. Throughout the next few years, Paulsboro evolved from a residential town to an industrial town. Movies were shown in the Bailey Building, dances were held each Friday night for local boys and girls, and a new High School and Grade School were also built.
Today, Mayor Gary C. Stevenson oversees a population of more than 6,000 people. Schools include Billinsport Elementary, Loudenslager Middle, Paulsboro Active Learning Center and Paulsboro High School, in addition to Guardian Angels Regional School.
The Gill Memorial Library came into existence in 1901, before Paulsboro was even incorporated. Originally the Paulsboro Free Library, the name was changed at the dedication opening on July 7, 1951. The building has a long history extending almost 200 years and is one of the first to be built in the town. The library now includes an addition that was completed in 2015. In addition to a museum with memorabilia of Paulsboro like yearbooks, photos, postcards and maps, the library offers a host of services to residents, including public access to the Internet, books on tape and video, magazines, newspapers and much more. Hours are Monday-Thursday from 12-7pm and Saturday from 10am-3pm. For more information on Gill Memorial Library, visit www.gillmemoriallibrary.org.
The Greater Paulsboro Chamber of Commerce is dedicated to making the borough of Paulsboro a better place to work and live. Members include restaurants, banks, law firms, hardware stores, and many other local businesses. For more information about this event or the Chamber, visit www.paulsborochamber.com.
Paulsboro offers a Shuttle Bus that runs a local route with many stops including ShopRite on Tuesdays and a route to malls including Moorestown, Cherry Hill and Deptford on Wednesdays as well as Wal-Mart. For the schedule or for more information, visit http://paulsboronj.org/general-info/shuttle-bus.aspx or call 856-423-1500.
Each year the town holds Paulsboro Day. The event is organized by a dedicated committee of volunteers. This committee has setup a Facebook page to keep the town updated with events and information not only on Paulsboro Day but also other events such as the town's Tree Lighting Ceremony. Check it out here: https://www.facebook.com/paulsboro.day.
Save the date! The Paulsboro Day Committee will hold their annual auction this spring to raise funds for Paulsboro Day this fall. Keep an eye on the committee's Facebook page for the specific date and more information.
Paulsboro will host a Free Rabies Clinic on Saturday, March 11 from 1-3pm at the Borough Garage on Baird Avenue. All 2017 Dog Licenses are now due but may be purchased during the clinic. The cost is $10 for spayed/neutered animals and $15 for unspayed/unneutered animals.
Paulsboro Little League keeps their Facebook page updated with news and events: https://www.facebook.com/pg/paulsborolittleleague. Coming up on Saturday, April 1 at 10am is Paulsboro's MLB Jr. Home Run Derby at the Little League Fields. This is the first time the borough is hosting this event. There will be one winner in each age group at this local competition. Those champions will then compete in a Regional Competition against other winners for a chance to compete in the National Finals during MLB All-Star Week in July.
The Paulsboro Municipal Building is located at 1211 Delaware Street in Paulsboro. For more information about this town, call 856-423-1500 or visit paulsboronj.org.
© SouthJersey.com 2017. All rights reserved. This article or parts thereof may not be reprinted or reproduced by any other party without the express written consent of SouthJersey.com. For more information, please call 856-797-9910.
For more South Jersey Town information, visit our South Jersey Town News page.
Article continues below
---
advertisement


---
Author:
Meghan Shott
Archives
---
More Articles