Egg Harbor Township High School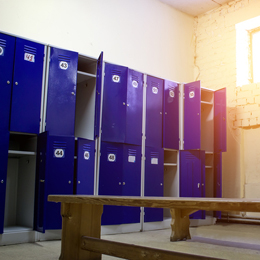 Egg Harbor Township High School is a member of the Successful Practices Network, sponsored by the International Center for Leadership in Education. One of the largest schools in New Jersey with a population of over 2,700 students, Egg Harbor Township High School underwent a construction project that added thirty classrooms, multiple science labs, an auditorium, two new gyms, new offices, an additional cafeteria, and refurbished locker rooms to campus a few years ago.
Students in the school's Advance Placement classes are registering for their AP exams this month and studying for the tests in May. Over 25 AP subjects are offered at EHTHS, including Microeconomics, Latin, Music Theory, French, Physics, US Government and Computer Science.
EHT-TV serves the Egg Harbor Township School District and its viewing community with educational and entertaining programs. In addition to replaying school musicals, plays, concerts, and graduation ceremonies, high school media students interested in learning about the Communications field also create programming throughout the school year.
EHTHS boasts many clubs and activities in which their students can participate, including the Academic Challenge Club, African-American Society, Choir, Drama Club, Environmental Club, Future Educators Association, French Club, Garden Club, Media Club, Mock Trial, National Honor Society, Newspaper, SADD, Student Council and many others.
The following EHT FBLA members received high honors at the 2016 NJ FBLA State Leadership Conference recently:
The National Honor Society was established to recognize students that excel in the areas of Scholarship, Leadership, Service and Character. Egg Harbor Township's NHS is very active in their school and community. Service projects include involvement with Special Olympics of New Jersey, Amnesty International, Big Brothers Big Sisters of Atlantic and Cape May Counties, and Relay for Life.
Students Against Destructive Decisions (SADD) is another popular organization at EHTHS. Meetings are held the third Thursday of every month to discuss ways to promote saying "no" to underage drinking, drug use and impaired driving.?
Many students at Egg Harbor Township High School also participate in athletics. Players on this season's boys basketball team include Jibril Fogg, Jovany Perdomo, Malik White, Isiah Walsh, Latrell Townsend, Mike Nielsen, Jake Westgate, Drew Hickman, Angel Colon, Michael Dodd, Dimetrius Parrish, Brandon Oliver, Jordan Sweeney, Marvin Colas and Dakota Jennings.
Girls basketball players include Symphony Pomales, Alyssa Reed, Ashley Fee, Breeanna Stauss, Courtney McCafferty, Doughty Kennedy, Liana Fiore, Jojo Maioriello, Katie Reed, Mackenzie Mahana, Mya Pomatto, Nicole Jandras and Sierra Hegh.
The Egg Harbor Township swimming team has had a successful winter season with many talented swimmers, including Camryn Greenleaf, Leenah Sarhan, Grace Curry, Emily Zpif, Caitlyn Moore, Nina Nguyen, Cristian Bell, Andrew Duff, Curtis Li, Joey Tepper, Tyler Valentino and Zach Evans.
Sophomore Emilie Irwin will have the honor of studying and performing with the Summer Ballet Intensive at the Rock School for Dance Education in Philadelphia, according to a press release from Cygnus Creative Arts Centre. She was selected out of hundreds of students and is a dance student at Cygnus Creative Arts Centre. Emilie previously studied with the Joffrey Ballet last summer in New York City.
Follow the EHTHS Guidance Department on Twitter at https://twitter.com/EHTHSGuidance.
Egg Harbor Township High School is located at 24 High School Drive in Egg Harbor Township. For more information about the school, call 609-653-0100 or visit eht.k12.nj.us.
© SouthJersey.com 2017. All rights reserved. This article or parts thereof may not be reprinted or reproduced by any other party without the express written consent of SouthJersey.com. For more information, please call 856-797-9910.
For more information about what's going on in our local schools and what today's students are up to, visit our South Jersey Schools page.
Article continues below
---
advertisement


---
Author:
Meghan Shott
Archives
---
More Articles