Eastern Regional High School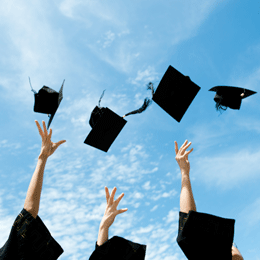 Eastern is a limited purpose, public regional system consisting of one high school: Eastern Regional High School, comprising grades 9 through 12. The student population of approximately 2100 is multi-cultural and reflects the diversity of the three communities it serves: Berlin Borough, Gibbsboro and Voorhees Township.
According to the school's website, the average academic class size is 24 students. Students' SAT scores exceed the state and national averages. The school boasts state-of-the-art science labs and technology with more than 1,000 computer workstations, plus theatrical and performing arts center and educational programs.
Eastern is proud to claim a wide array of educational services that meet the needs of individual students. At Eastern, education is valued and viewed as a lifelong process of acquiring skills, knowledge and experience. A business-like, yet supportive atmosphere motivates students to learn, develop social consciousness and take pride in their individual and collective success. Members of the Board of Education, administration, and professional staff are ever mindful of their responsibilities, according to the school's website.
Course areas at the school include English, Mathematics, Science, Social Studies, Health & Physical Education, Visual & Performing Arts, World Language, and 21st Century Life & Careers which includes Business, Computer Science, Family & Consumer Sciences, Gifted & Talented, Industrial Arts and TV Media.
The High School Plus Program allows students in some courses at Eastern to earn credit at Camden County College. Students who complete courses like Marketing Honors; Programming 2; Spanish 3Acc, 3H, 4H and AP; German 3H and 4H; and Latin 3H and 4H with a minimum grade requirement set by the college and pay the course fee will receive general education credits which are acceptable at many colleges and universities.
ETV is Eastern Regional High School's published TV station. It broadcasts in the southern New Jersey area and highlights school and district news for Eastern Regional High School as well as the Berlin, Gibbsboro and Voorhees districts.
Congratulations to the following members of the Class of 2017 for earning first semester distinguished honors: Darah Backal, Ruth Bakley, Alyssa Bentz, Victoria Bettelli, Jenna Bond, Ayla Boyd, Jenna Carnival, Karla D'Ambrosio, Tatiana Davis, Cameron Dubrow, Camila Espina, Gregory Giovannini, Lauren Hojnowski, William Huang, Jennifer Johnson, Joseph Johnson, Cassidy Juraniec, Mackenzie Keegan, Bailey Keen, Jeremy Kuptsow, Cailey Lafferty, Jami Levinson, Emily Mac, Kaitlyn McWilliams, Nicole Meskin, Archana Mupparapu, Penelope Murzenski, Allison Prushinski, Heather Quaile, Rachel Santos, Emmalyn Tavani, Natalya Ter-Saakov and Ashley Thomas.
Sports played at Eastern include baseball, basketball, field hockey, football, lacrosse, soccer, softball, volleyball and wrestling.
Soccer players on the girls' team this past fall season included Abby Varner, Alexis Craig, Alyssa Bentz, Amanda Ashmen, Amanda Farnsworth, Amirah Ali, Ashley Pietrafitta, Alya Boyd, Cooper Cowdin, Emma Bitar, Francesca Dicolandrea, Jasmin Ringgold, Jen Civatte, Kate Lesniewski, Kelli McGroarty, Lexi Friedant, Madison Cowdin, Madison Tyree, Maria Kokolis, Marissa Feltoon, Mikayla Ronczka, Rachel Santos, Sara Brocious, Tamika Voltaire and Tori Accardo.
Did you graduate from Eastern Regional High School? If you'd like to keep up with classmates, visit the new online alumni community at http://easternalumni.org/. There is also a business directory for enterprises owned by graduates of Eastern. Find the directory at www.easternalumni.biz.
Eastern Theater Club will be performing "Les Miserables" in the Performing Arts Center on March 9 at 7:00pm, March 11, 17 and 18 at 7:30pm, and March 18 at 2pm. They will also be performing a Special Needs and Autism Friendly Performance on March 15 at 4:30pm. Ticket prices are $11 for students and $13 for adults. For online sales, go to http://eccrsd.booktix.com. Keep up with the school's current events of Eastern Athletics (https://twitter.com/easternviking) and Eastern Activities (https://twitter.com/ERHSActivities).
Eastern Regional High School is located at 1401 Laurel Oak Road in Voorhees. For more information about the school, call 856-784-4441 or go to https://www.eccrsd.us/.
© SouthJersey.com 2016. All rights reserved. This article or parts thereof may not be reprinted or reproduced by any other party without the express written consent of SouthJersey.com. For more information, please call 856-797-9910.
For more information about what's going on in our local schools and what today's students are up to, visit our South Jersey Schools page.
Article continues below
---
advertisement


---
Author:
Meghan Shott
Archives
---
More Articles