Gloucester County Institute of Tech...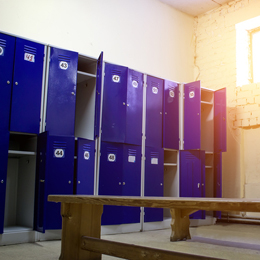 Gloucester County Institute of Technology
The Gloucester County Institute of Technology (GCIT), located in Sewell, is a vocational public high school for students who wish to receive specialized education beyond the typical subjects often taught in high schools. GCIT aims to provide a challenging curriculum, opportunities for exploration and discovery, technological resources to promote learning and activities to develop career-related skills, according to their website.
The school boasts many awards and accolades: New Jersey Department of Education Star School winner, Best Practice Award winner, National Service-Learning Leader, Tech Prep Grant winner, SkillsUSA medal winners, and one of the best High School Proficiency Assessment (HSPA) scores in Gloucester County.
Gloucester County Institute of Technology students aspire to be doctors and nurses, welders, carpenters, actors, business leaders, auto technicians, chefs, cosmetologists, fire chiefs, law enforcement officers, plumbers, bakers, dancers, electricians, videographers, computer techs, athletes, and much more. The school offers four academies: Allied Health & Medical Science, Engineering, Finance & Business Management, and IT & Digital Communications. They offer career-technical programs in Construction Technology, Cosmetology, Culinary Arts, Performing Arts – Dance, Performing Arts – Drama, and Transportation Technology.
The number of students has been increasing over the years too. This increase in enrollment has brought a change in the GCIT facility, including a new gymnasium, cafeteria, classrooms, and science laboratories, along with an updated media center and technology that allows real-time distance learning projects with experts throughout the country.
There has also been an increase in student activities, including sports and community service activities. Students have closer to 100 clubs to choose from, including Book Club, Cheerleading Club, Cosmetology Club, Debate Club, FCCLA, Fitness Club, HSPA Math Review Club, Key Club, Newspaper Club, School-Wide Musical, Scrapbooking, Spanish Club and Student Council.
The 2016-2017 Student Council Executive Board includes president Paige Walsh, vice president Kearin Coonan, treasurer Zach Seretis, secretary Joseph Milano plus Matt Ludovico handling public relations.
Congratulations to this year's Students of the Month: Marian Suganob, Kenneth Thomas, Grace McCunney, Carleigh Cusick, Madelyn Pepe, Judith Evans, Kimberly Phan, Hailey Sulzbach, Christopher Bianchi, John Atkinson, Nick George, Alexandria Knecht, Vincenzo Gigante, Robert Deveney, Maverick Stecher, Silvio Mazzuca, Kerin Verna, Lindsay Riccick, Sierra Duncan, Isabella Muchler, Precious Rodriguez, KarenAnne Koen, Emily Bylone and Alyssa Brong.
Athletics at the school include soccer, volleyball, cross country, field hockey, tennis, basketball, bowling, wrestling, cheerleading, softball, baseball, and golf.
Athletes at the school include Andrew Ghail, Brandon Medley, Bryce Brandt, Colin Flatley, Eric Fedoryka, Gavin Mease, Jake Silva, James Rhodes, Jay Ridgeway, Justin Pollock, Kevin Collins, Sean Donovan, Zaki Mahamad, Kylie Lacerte, Nicole Hopkins, Christina Ludovico, Sabrina Finneran, Haley Miller, Abby Sullivan, Gigi Martinez, Briana Wilky, Kristen Cosgrove, Sierra Rosales, Caitlyn Newsom, Chase Swank, Keiya Moncilovich, Madison Nelson, Kelsee Murphy, Jessica Beck, Kami Delorenzo and Maria Martinez, plus many others.
GCIT's 3rd Annual Charity Car Show on Saturday, April 29 from 9am-3pm will also include a food truck festival and craft show. The event is free for spectators and has a rain date of May 6. All proceeds from the event are split between a Veterans charity and the GCIT Career-Technical Student Organizations.
The school is looking for 2014 and 2015 alumni to take a "Life After High School" survey. GCIT is partnering with the Monmouth University School of Social Work to develop a curriculum for high school juniors and seniors "to better prepare them to handle the stresses and emotional struggles they may face after high school," according to the website. The survey can be taken at https://www.surveymonkey.com/r/afterHS.
Gloucester County Institute of Technology is located at 1360 Tanyard Road in Sewell, NJ. For more information about the school, call 856-468-1445 or visit www.gcit.org.
© SouthJersey.com 2017. All rights reserved. This article or parts thereof may not be reprinted or reproduced by any other party without the express written consent of SouthJersey.com. For more information, please call 856-797-9910.
For more information about what's going on in our local schools and what today's students are up to, visit our South Jersey Schools page.
Article continues below
---
advertisement


---
Author:
Meghan Shott
Archives
---
In Good Health
2017 Executives of the Year
Superior Sandwiches
Raise a Glass
Impressive New South Jersey BBall HOF class
The Promise of Public Transportation
Empowering the Next Generation
Singles: January 3
River Revitalization
Spreading Cheer
Singles: December 27
Winter Retreat
Are Holiday Parties Back in Favor?
Support System
Singles: December 20
More...