Lindenwold High School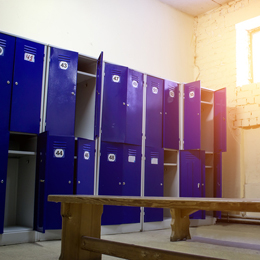 Lindenwold High School is public high school attended by students throughout the community of Lindenwold, Camden County. The mission of the high school is to develop lifelong learners who are ready to conquer the challenges of college or the workplace by having the skills to react to real-life unpredictable situations.
Students at Lindenwold High School participate in subjects such as Business, English, Fine and Performing Arts, Mathematics, Social Studies and World Languages, among others. Notable class options in the 2017-2018 program of studies include Twenty-First Century Computer Applications, Community Broadcasting, Fashion, Interior Design and Clothing Construction, Home Improvement and Residential Household Maintenance, Anatomy and Physiology and Music Appreciation.
At Lindenwold, dedicated teachers introduce innovative, hands-on material which provides a challenging educational environment that prepares students for the challenges of college and life after graduation. Small class sizes provide an opportunity for students and teachers to build trusting relationships.
Senior Seminar provides students with an opportunity to shadow a sponsor/mentor that works in a field or subject that interest the student. Each student will then create a Senior Project containing the 4 Ps – paper, product, portfolio and presentation. They can choose to do a career-related project or just a project done on the student's interests.
Lindenwold High School is a member of the Colonial Conference. Students can participate in the following sports: football, soccer, field hockey, tennis, cross country, cheerleading, basketball, wrestling, bowling, track, baseball, softball, golf, and track & field.
Athletes at the school this 2016-2017 school year include James Hines, Johnson Jhaki, Jose Thomas, Darnell Nichols, Mekhi Payne, Caryl James, Jeremiah Williams-Robinson, Vinroy Anderson, Corey Avery, Torre Mahan, Kyree Walker, Deasya Chapman, Jennifer Dauth, Kanaysha Milton, Letee Random, Makayla Carthone, Onye Rainey, plus many others.
Congratulations to recent students of the month: Anwara Begum-Era, Aliyah Brown, Bria Whitt, Leia Kay, Karina Jimenez Toman, Tianna Smith, Kissny Rivas Palma, Abriyah Moore, Jordi Bonilla, Brandi Flem, Jalyssa Jackson, John Sacco, Mario Jovel-Castro, Erik Escobar and Madeline Hernandez.
The school also offers many clubs in which students can participate, including Adventure Club, Interact Club, Leo Club, National Honor Society, Stage Crew, Color Guard, Marching Band, and many more.
Peer Mediation at Lindenwold involves trained students who help other students deal with everyday problems by assisting with communication, listening and coming up with solutions. This program aims to provide a safer environment for students to learn in and to help disputing students reach peaceful solutions. Students can submit a peer mediation request online.
LHS-TV is aired on Comcast Channel 192 in the area around Lindenwold High School. Students in Mr. Flick's video production class as well as members of the AV Club produce content that is streamed on www.lhstv.com and on TV. Shows produced include The Morning Roar, The Community Billboard and The Show, among others.
The Annual Lindenwold High School Car Wash and Coin Drop will take place on May 20 from 8am to 1pm in the High School parking lot.
Lindenwold High School is located at 801 Egg Harbor Road in Lindenwold. For more information about the school, call 856-741-0320 or visit hs.lindenwold.k12.nj.us.
© SouthJersey.com 2017. All rights reserved. This article or parts thereof may not be reprinted or reproduced by any other party without the express written consent of SouthJersey.com. For more information, please call 856-797-9910.
For more information about what's going on in our local schools and what today's students are up to, visit our South Jersey Schools page.
Article continues below
---
advertisement


---
Author:
Meghan Shott
Archives
---
More Articles