Williamstown High School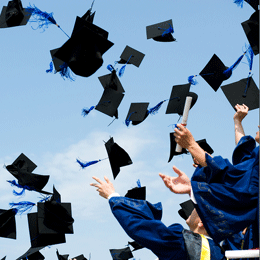 Williamstown High School is a high school in the Monroe Township School District located in Gloucester County. The high school's current population consists of approximately 1700 students and 190 staff members.
WHS students have many academic opportunities in departments such as Business Education, Engineering, Family and Computer Sciences, Health & Physical Education, Industrial Technology, Language Arts Literacy, Mathematics, Science, Social Studies, Visual & Performing Arts and World Languages. Students can also earn college credits from Gloucester County College and Camden County College while taking dual credit courses at WHS.
The school also offers students a concentrated four-year college preparatory program of study through six unique Collegiate Academies: Law & Justice, Engineering, Computer Science, Business & Finance, Food Science and Allied Health.
Congratulations to recent students of the month: Michael Giardinelli, Jamie DeHaven, Michael McIntire, Chelsea Valcourt, Devon Banks, Devon Shutts, Daniel Onuoha, McKenna Dowd, Matt Savigliano, Delaney Mulloy, Jules Maiorano, Natalie Donisi, Wade Inge, Morgan Foley, Ricky Amandeo, Lauren Twaddell, Dylan Beyerle, Sydney Straub, Brian Seay, Abby Hainsworth, Dhruv Shah, Grae Gorham, Ryan David and Rachel Hluchy.
Williamstown High School offers many sports for students including Cheerleading, Cross Country, Field Hockey, Football, Soccer, Tennis, Track, Volleyball, Baseball, Softball, Golf, Basketball, Swimming, Wrestling and Indoor Track.
Athletes this year at the school include Bobby Monoghan, Bobo Cancelliere, Bryan Martin, Darryl Lindsley, Devon Jefferys, Dylan Gibbs, Hunter Wroniuk, Ivan Perez, Jerry Powers, Joe Kelley, John Constanza, Justin Rouse, Max Keegan, Nick Adams, Rafael Ramos, Rocco Amato, Sean Erasmus, Tim Pyne, Tommy Gibson, Zach Martinez, Alexis Schauer, Erin Kibelstis, Britney Welsh, Jessica Vischoric, Kylie Abriola, Amanda Connely, Kira Mobius, Mackenzie Long, Lauren Twaddell, Emma Coleman, Bayani Orr, Devan Barton, Gab Cirucci, Janelle Osterdahl, Macenzie Long, Molly Kurz, Mya Delachevrotiere, Nasyah Orr, Nicole Pants, Bryce Monahan, Christian Cortez, Christian Farrell, Dylan Grafton, Jack Trimble, James Favieri, Jason Varghese, Kenny Ezeiruaku, Mark Petronis, Ryan Kerznowski, Tom Sprenger, Zach Samoyan, just to name some. Smoke Signals is Williamstown's school newspaper that is published monthly throughout the school year. Staff on this year's paper include Stephanie Boateng, Raven Castiglione, Grace Chen, Natalie Doggett, Maya Jones, Kyle Latimer, Megan Myles, Abigail Twiford, Rasaaq Shittu, Sydney Utsey and Louise Wiafe. Ms. Ferranto is an advisor and designer and Mr. Longo is an advisor and editor.
There are also many activities in which students can participate. Williamstown High School's DECA Club recently competed against local students at the Crown Plaza in Cherry Hill. Congratulations to the following students for placing by event: Grace Chen and Kyle Latimer for Apparel and Accessories Marketing Series, Jaron Carney for Account Applications Series, Natalie Donisi and Kylie Bailey for Automotive Services Marketing Series, Joshua Pollard for Business Finance Series, Lindsey Ferrell, Sarah Hegemen, Leanna Chen and Sydney Jones for Business Law and Ethics Team Decision Making, Kyle Palmieri, Brett Towers, OC Uhuegho and Miahje Williams for Business Services Marketing Series, James Cutts and Alanna Taylor for Financial Consulting Event and Dillon O'Brien, Ian Engel and Kaitlyn Lathrop for Food Marketing Series, just to name some.
Williamstown will hold their annual dance concert on May 18 and 19 at 7:30pm. Come see the talented Williamstown High School dancers perform their show, The 4 Elements, including select senior choreographed pieces. Student tickets are $3 for the presale or $5 at the door and adults are $10.
Williamstown High School is located at 700 North Tuckahoe Road in Williamstown. For more information about the school, visit http://www.monroetwp.k12.nj.us/HighSchool/ or call 856-262-8200.
© SouthJersey.com 2017. All rights reserved. This article or parts thereof may not be reprinted or reproduced by any other party without the express written consent of SouthJersey.com. For more information, please call 856-797-9910.
For more information about what's going on in our local schools and what today's students are up to, visit our South Jersey Schools page.
Article continues below
---
advertisement


---
Author:
Meghan Shott
Archives
---
More Articles