Sproles' Extension a Good Move by the...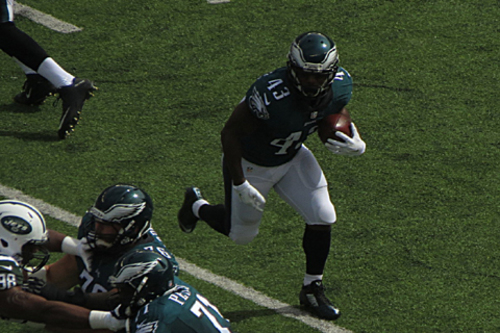 Sproles' Extension a Good Move by the Eagles
During the spring when Eagles running back Darren Sproles didn't participate in the Organized Team Activities, there was speculation that the team was going to trade him.
Sproles, when he reported for mandatory mini-camp insisted that it was due to family reasons that he didn't attend the OTA's. The Eagles insisted they didn't want to trade him.
Still, the speculation as to whether he would be on the team this year continued.
Of course that is all over now that Sproles signed a one-year contract extension that will keep him with the team at least through the 2017 season.
Even though Sproles stands just 5-foot-6 and just celebrated his 33rd birthday, he's a major offensive weapon, whether carrying the ball or returning punts.
In his two seasons with the Eagles he has been named to the Pro Bowl each year and for good reason. During those two seasons he has averaged 12.4 yards per punt return and scored four touchdowns, which is tied for a team record.
Sproles is actually even more than third down back, but the Eagles do have to make sure they don't overuse him as well.
Last season he rushed for 318 yards, but averaged just 3.8 yards per attempt. Many blamed the scheme that coach Chip Kelly was running and there is something to be said for that.
However in the previous season Sproles rushed for 329 yards but averaged 5.8 yards per carry.
He is also a dangerous receiver out of the backfield, but teams paid much more attention to him last season.
In 2014 he averaged 9.8 yards on 40 receptions. Last season he had 55 receptions, but averaged just 7.1 yards per catch.
It appeared as if teams adjusted more to Sproles last season and the Eagles didn't seem to make the appropriate adjustments.
If used in the right way, Sproles can still be highly effective. The fear is that they don't have to rely on him too much. Starter Ryan Mathews is effective when he is in the lineup, but during his career in San Diego and last season in Philadelphia, he hasn't shown great durability.
And it didn't help that Mathews reported to traning camp with an ankle injury.
In his six NFL seasons, Mathews has averaged an impressive 4.5 yards per carry, including 5.1 last season in his first with the Eagles. However he has missed plenty of time, including 13 games over the last two years. Last season he was sidelined for three games.
While running backs always get banged up, Mathews health is a key. It's nice to have such an explosive backup as Sproles, but too much use will diminish his effectiveness.
A more prudent use of Sproles can turn him into a feared weapon. Either way, signing him for an extra season was a very good move by the Eagles.
© SouthJersey.com 2016. All rights reserved. This article or parts thereof may not be reprinted or reproduced by any other party without the express written consent of SouthJersey.com. For more information, please call 856-797-9910.
For more Local Sports features, visit our South Jersey Sports page.
Article continues below
---
advertisement


---
Author:
Marc Narducci; Photo by Marc Narducci
Archives
---
A Golden Opportunity
Game On
Basketball club honors players
Vail playing at top-level college ball
Seizing the Moment
Timber Creek's Leary heads to Illinois
Phillies Center Field Job Remains Up for Grabs
The Difficult of Coaching Football at a Small Enrollment School
March Madness is Upon Us in College Basketball
Eagles Starting Over After Trading Carson Wentz
Grateful for the Opportunity
New Eagles Coaching Staff Announced
Repeat as Super Bowl Champion a Daunting Task
Will Carson Wentz Get Traded?
South Jersey Talent in the NBA and ABA
More Articles