True Competitors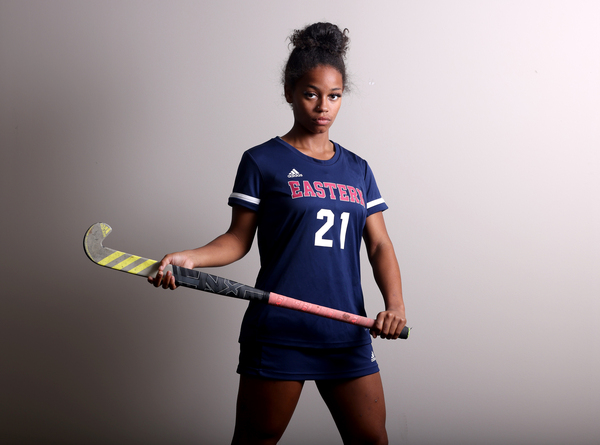 Peter Graffeo, Cherry Hill West boys soccer
Graffeo, a senior forward, had 12 goals and six assists as a junior to help Cherry Hill West win its first sectional championship since 1994. This season, he has once again reached double digits in goals for the co-division champions, who are looking to go on another long playoff run.
SJM: Has it sunk in yet that this is your last season at Cherry Hill West?
PG: It flew by, especially with the COVID season. It feels like freshman season was last year. I had three seasons with Ethan [Steinbiss] and now that he's gone, it's kind of sunk in that me, Aidan [McMillan] and Michael Tepper are the seniors leading the team.
SJM: Last year was definitely a memorable one thanks to that playoff run. Did you come into the playoffs thinking you could win a sectional title, even as the 10th seed?
PG: Even though we were the 10th seed and were the underdog in almost every game we played in the playoffs, we went into every game with the mindset that we were going to play like it was our last. We all played for each other like a family and we got it done.
SJM: Do you still look back on those games?
PG: All the time. I watch the videos and the Jersey Sports Zone stuff. I'll neve forget that.
SJM: Last year's title game came down to penalty kicks. What it's like being in that situation as a shooter?
PG: During the playoffs, we practice so many penalty kicks. Our coach has us doing it at the end of every practice and we run through the lineup until we all make it. When you're actually in the moment, it's just routine. You block out the crowd, it's just you and the goalie, and you have to put it in.
SJM: What are your expectations for this year? Can you go on another run?
PG: Definitely. We have the best back line in South Jersey. … I know going into games that we're not going to concede more than one goal. I only have to put one or two into the back of the net and we should win, because with Aidan McMillan and Justin Smith in the back and Leo [Orefice] in net, we're good.
SJM: Have you always been a scorer?
PG: I've played mostly CAM [center attacking mid], but I knew I would have to play striker this year once Ethan left. I'm starting to get used to it more and more each game.
SJM: When did you start playing soccer?
PG: Probably when I was like 3; I was really young. My dad's family all played soccer. My grandpa's Italian so he loves soccer, and my dad loves soccer. That was the first sport I got put into.
SJM: Do you like watching the pros play?
PG: Yes. I love Juventus and Italy, and when [Cristiano] Ronaldo was at Juventus it was really good. Watching [Erling] Haaland is a lot of run right now. I think he's the best striker in the world.
SJM: Do you try to steal things from those guys?
PG: Definitely. Watching them, it's crazy how they can score goals with their foot above their head. Haaland had a goal the other day where he flicked one with the bottom of his cleat. If you get the chance, you try it out because you never know.
SJM: You must be excited for the World Cup coming up.
PG: Yep. I'm not pumped that Italy is not in it, but I am pumped to watch it.
SJM: Are you still going to play basketball for the high school team?
PG: Yes. I was hurt last year because my back started hurting toward the end of our playoff run. I went to the doctor, got an MRI and it turned out I fractured my T1 in my back, so I was out for four months. I missed the whole club season. All summer I worked to get back in shape and now I'm back to where I was.
SJM: Your sister Sophia was a very good lacrosse player at Cherry Hill West, right?
PG: Yes. She's in college now and her team made the Final Four and the national championship game last year, East Stroudsburg University. She scored the game-winning goal in the semifinal, it was awesome. We're pretty close and we used to play lacrosse in the backyard a little bit. She played basketball too so we shot around. She wasn't much of a soccer player though.
SJM: Do you want to play college soccer?
PG: Yes. [The recruiting process] is going good. I've looked at a couple of schools: Loyola Maryland .. and Nova Southeastern in Florida. The doors are all still open right now, and we'll see how the season goes and what comes of it.
SJM: Do you know what you want to study in college?
PG: Either business or finance.
SJM: What do you do for fun?
PG: I love watching football and I like playing golf. I like working out too. I don't do much away from sports.
SJM: What is it like being part of one of South Jersey's best rivalries with Cherry Hill East?
PG: It's amazing. That game this year, I scored one early but it got called back because I was offsides. Watching it back on film, I was not offsides. We should have won 1-0. But it's the best feeling when you have fans on both sides chanting and we always compete. I've played East four times in high school and I've tied them three times. It's always a really close game, no matter how good either team is. My freshman year, they thought they were going to blow us out, but I scored in that game and we ended up tying. Nobody thought we were going to tie them, but when we're underdogs, it's good for us.
SJM: What do you like about growing up in Cherry Hill?
PG: I played for FC for years when I was younger, and all the guys on East this year, I played with them as teammates. We all play together, and then once we get to high school we go our separate ways and compete. But everyone knows each other in Cherry Hill and it's fun to go against people you know. We've been talking about our senior year for so long and it's just a fun rivalry.
John Zohlman, Moorestown football
Zohlman earned the starting quarterback job at Moorestown last year as a sophomore and flashed a ton of potential. He has been even better this season as a junior and has led the Quakers to a playoff berth while reaching double figures in touchdown passes and over 1,000 yards passing, despite missing time with a separate shoulder. He is also an outstanding student with a 4.0 GPA.
SJM: Do you feel a lot more comfortable as a second-year starter?
JZ: Yes, I feel a lot more comfortable and I feel like the coaches have more trust in me and the things I can do to benefit the offense. I'm playing a little bit of defense too, so I just feel more involved with the team. Our chemistry is good too.
SJM: You kind of got thrown to the fire last year, right?
JZ: Yeah, it was kind of spontaneous. I didn't know I was going to be the starter until halfway through the summer. The coaches did their best to prepare me and I think I had a pretty good season.
SJM: What was the biggest adjustment?
JZ: Just the speed of the game. There's a lot of moving pieces, the fans are loud and there's a lot of distractions. I think getting comfortable just comes with time.
SJM: You and the team got off to a great start this year. What was the key?
JZ: I think we had a lot of confidence and we were just getting better each week.
SJM: Did you play quarterback growing up?
JZ: I did not; freshman year was my first year. I was a running back in eighth grade … and in my younger years I was a lineman. But I always wanted the ball in my hands so it was my idea to switch.
SJM: Which quarterbacks do you like to watch?
JZ: I was a big fan of Peyton Manning growing up. He was my guy. Right now, I like Josh Allen but I would say Jalen Hurts is my guy because I'm an Eagles fan. They're off to a great start and I think they're going to win the Super Bowl. I have a lot of confidence in them.
SJM: Have you started thinking about college yet?
JZ: Yes, I've been thinking about it. I think I want to play baseball in college, but football is going well so you never know. I'm going to keep my options open. I'm just enjoying high school and that will all come. I have time.
SJM: Is baseball your main sport?
JZ: They're pretty evenly split but I think baseball is something I'm more likely to pursue, just because football is such a hard sport to play in college. But you never know, you can be in the right spot at the right time or someone could see you. I just play my hardest, put my film together and have it ready in case I need it.
SJM: Do you know what kind of career you'd like to go into?
JZ: Both of my parents are lawyers so I have a pretty strong connection to that. It's pretty interesting to me and I like debating, so I can definitely see myself going into law. My dad is mainly criminal defense and my mom works for the state.
SJM: Do you have any siblings?
JZ: I have an older sister. She's a sophomore at South Carolina.
SJM: What do you like to do away from sports?
JZ: My main thing is hanging out with my friends. I have a great group of friends and we're all athletes. We're all in different seasons at different times, but we make time for each other. Other than that, I like going to the gym and I try to do that as much as I can. I like to stay active, get outside and I go to the beach in the summer.
SJM: What do you like about growing up in Moorestown?
JZ: I grew up walking to La Vita's and Passariello's and Brain Freeze with all of my friends. I was always in a good location, never too far from anything, and I liked riding my bike around town. It was a good experience growing up and I have nothing to complain about. I could maybe see myself living there in the future.
SJM: Who is the funniest guy on the team?
JZ: That's a tough one. I'm going to have to give it to Wade Krisanda, he's a senior. He's a receiver and he's a good dude. Everybody likes him and he's always keeping the team's spirits high on rainy days or in film.
SJM: Obviously, you like playing the games, but do you also enjoy the other moments in football behind the scenes?
JZ: Oh yeah, they're the best. I like the team dinners, film, summer workouts and going to get food afterwards with the guys, bus rides. Nothing beats that, really.
Colin Hermack, Lenape boys cross country
A key competitor throughout his career at Lenape, Hermack has emerged as one of the premier runners in the area during his senior season. He placed third at the Olympic Conference Championships in 15:53 and fourth at the Burlington County Open in 16:05, and was primed for strong sectional and state meets as well.
SJM: Did you come into this year with certain goals in mind?
CH: I want to make it to states, and I've never qualified for Meet of Champions in cross country or track, so I'm hoping to do that this season.
SJM: You are coming off a strong outdoor track season in the spring, when you made it to states in the mile and two-mile. Which do you like better, cross country or track?
CH: They both have their pros and cons, but if I had to pick one I would pick cross country. I like the different courses; track can get a little repetitive because every track is pretty much the same. In cross country, every race is a little different depending on the course. Some have a lot of hills; some have sand and gravel you have to deal with; some have narrow trails so there's a lot of jockeying for position and elbows being thrown.
SJM: Do you have a favorite course?
CH: My favorite was always Delsea High School but they got rid of that one. We do a lot at DREAM Park, which is a flat, fast course. The counties [were at] Mill Creek Park this year and that's a good course; it has a little bit of hills but not too much. Holmdel is always fun but that's a super hilly course.
SJM: How did you get into the sport?
CH: My dad was a runner in high school so I sort of had an interest in it. In seventh grade, I decided to try cross country out, and I wasn't very good but I started to get into it once I got to high school. It went from there.
SJM: Does your dad give you tips?
CH: Yeah, he has the experience so he helps me out. He gives me advice and he always comes to the meets to support me.
SJM: What is a typical training session like?
CH: In the summer, it's a lot of long, easy running. You need to build up your aerobic fitness. It will be seven or eight miles a day, and one longer run per week that's 10 or 12 miles.
SJM: In track, do you just focus on the 1600 and 3200?
CH: Yes, I do the 16 and the 32 and sometimes I'll jump in a relay and run an 800.
SJM: What are your best times in the 1600 and 3200?
CH: I've run a 4:27 for the mile and a 9:24 for the two-mile.
SJM: So you're closing in on the 4-minute mile?
CH: Maybe someday. That's the golden number for the mile. It's been crazy these past few seasons—a lot of high school runners have been breaking that barrier. But it's a lot more common in college. That's always a big deal whenever someone can get under 4 minutes.
SJM: While you are racing, is your mind on strategy the whole time or are you thinking about other things?
CH: Actually, it might sound a little strange but I try not to think about the race. I've found that my best races have come when I wasn't thinking too much and I've managed to stay relaxed. Sometimes if you're thinking about it too much or anticipating too much, you can get in your own head. If you're super nervous at the beginning, it's not a good way to start off the race.
SJM: How is the college search going? Are you hoping to run in college?
CH: Right now I'm still undecided. I know it's something I would enjoy doing, but I plan to major in computer science, which is a pretty intense major. I haven't committed to anything yet.
SJM: What kind of school are you looking for?
CH: I would like to have a nice campus. Some of the schools I've visited are in the city and mixed in with everything. I don't like that as much as a school like Purdue, which has a really nice campus.
SJM: What are your hobbies when you're not running or studying?
CH: I don't have a ton of free time but I do spend time with my friends and go to different restaurants. I like to read in the evenings when I have extra time. Even though I run for my sport, I like to lift a little bit too.
SJM: Have you always lived in South Jersey?
CH: Actually, I was born in California but I moved here in 2006, so I've been here almost all of my life and I don't have much memory of anywhere else. I've always liked my neighborhood and I have good neighbors who are very friendly. Mount Laurel isn't too small but it's not a big city either. It's a nice balance.
SJM: Do you like Lenape too?
CH: Yeah, I do. I like all the people, I like my team. I feel like I've gotten good opportunities and the academics are good. I've had some great teachers and I appreciate that.
SJM: Who is the funniest guy on the team?
CH: I have to give a shoutout to Lucas Minato for that; he's always making me laugh. During our warmups he always has something to say and he cracks me up.
SJM: Do you try to encourage your younger brothers to follow you into running?
CH: My youngest brother is in seventh grade and he joined the cross country team at his middle school. I think if he sticks with it, he'll do well. He's already doing well at his meets. … My other brother swims and he does well at that. He trains even more than me, like three-and-a-half hours a day.
Zharia Harris-Waddy, Paul VI girls volleyball
A senior middle blocker, Harris-Waddy helped lead Paul VI to the first state championship in program history last year, and the Eagles are once again one of the premier teams in New Jersey this fall. A Syracuse commit, she passed the 300-kill milestone for her career earlier this season.
SJM: Last year was a historic season for the program. What stands out when you look back on it?
ZHW: I feel like it has sunk in, but it still feels surreal. It was amazing to make history for our school and we were really resilient that year, because we were on the road for most of the season. Being able to get that win at the end was just an amazing feeling.
SJM: Did you think a state championship was within your reach?
ZHW: I was pretty confident in the summer and that was a goal I had for the team. I thought we had enough strengths as a team to make it happen.
SJM: This year, the team is playing great again. Is repeating a realistic goal? Obviously, Immaculate Heart is always a challenge and will be looking for revenge after you beat them in the state final.
ZHW: Yeah, we're trying to go back-to-back this year. [Immaculate Heart] historically has a good team and we're definitely on the rise, so we're just trying to get to that level.
SJM: How did you get interested in volleyball?
ZHW: I was in fourth grade when I started playing at my elementary school, St. John Paul II. I got the paper one day and I said, 'Mom, can I do it?' She said, 'Yeah, go for it.' Then it just took off from there. I started playing club at 12U for Cherry Hill Jersey Juniors, and I just fell in love with it.
SJM: Were you good right away or did it take some time?
ZHW: It took some time. I've come a long way.
SJM: What do you love about playing middle?
ZHW: I feel like middles run the defense and being in the middle of the court I can control the defense and it's really fast.
SJM: What's the feeling like when your setter gives you a great set and you know you just landed an intimidating hit on the opponent?
ZHW: It's a great feeling, especially when your teammates are with you. I love celebrating with my teammates, that's probably my favorite part of getting a kill. We have a lot of fun cheers that we do.
SJM: Do you play beach volleyball too?
ZHW: I don't. If I'm at the beach and I see other people playing, I'll play. But I haven't done beach in an actual league or anything.
SJM: I know you originally committed to Temple for college and then the coach moved to Syracuse. Is that the main reason you changed your mind?
ZHW: Yes, and obviously Syracuse is a great academic school too. Temple is close by and I wanted to leave the area, so Syracuse was a great choice for me.
SJM: Do you know what you want to study?
ZHW: I'm thinking of majoring in recording and entertainment industries. It's the business side of the music industry, so you get to work with different artists and different events and focus on the behind-the-scenes part of it.
SJM: What kind of music are you into?
ZHW: I think my favorite singer would have to be Brent Faiyaz. My favorite rapper would have to be J. Cole or Lil Baby. I like a lot of different people. Concerts are one of my other favorite things to do besides play volleyball.
SJM: What are some recent concerts you've been to?
ZHW: I went to The Weeknd; I went to Lil Baby. The last concert I went to was Made in America in Philly. Tyler, the Creator was there, Kodak Black, Lil Uzi Vert, Bad Bunny. There were a lot of people there.
SJM: What do you listen to in order to get hyped for a big game?
ZHW: Probably Lil Baby. It really depends on the day. I listen to a lot of different rappers, so sometimes it's Lil Baby, sometimes it's Rod Wave, and definitely a lot of Drake and Gunna.
SJM: What are your goals for your college career?
ZHW: Syracuse is rebuilding right now, so first I just want to acclimate myself to their program and really hustle and work hard. I want to make a difference for the team and show my talent. In the long-term, I'd like to win the conference and earn all-ACC honors. But right now, I just want to get into a good routine, be available and be ready to play.
SJM: Do you know Raina Hughes, a Williamstown graduate who's on Syracuse's roster?
ZHW: Yes, she's really cool and she's an inspiration for me. I remember playing against her when I was a freshman and she was a junior at Williamstown. She's a great person to look up to.
SJM: How do you like going to school at Paul VI?
ZHW: It's great. All of my friends are there, we have great academics, great teachers, great people.
SJM: Do you have a favorite teacher?
ZHW: I don't really have a favorite. I like all of them.
SJM: What are you going to miss about South Jersey when you go away to school?
ZHW: Probably some of the food spots, and definitely my family and friends. And this might sound crazy, but I think I'm going to miss my bed at my house.
SJM: Which local restaurants are you going to miss?
ZHW: Corinne's in Camden is one I'll miss. I also really like Chick-Fil-A and I don't think Syracuse has one on campus. I really like Chick-Fil-A and Shake Shack.
SJM: What do you like to do in your free time?
ZHW: I like hanging out with my friends. If I'm in Virginia—that's where some of my relatives are from—I'll fish sometimes. I also like to bake with my mom and cook, and I help with my church's youth program.
Brandon "Bam" Boria, Cherokee football
A senior running back, Boria rushed for 1,694 yards as a junior, the fifth-best mark in school history, and scored 25 touchdowns to earn all-South Jersey honors for the second straight year. This season, the Stony Brook commit was off to another great start before suffering a knee injury and was hoping to return to full strength for the playoffs.
SJM: How have you been handling your injury?
BB: It's terrible—a really gut-wrenching feeling. I waited my whole football career to get to my senior year, and then I played two games and got hurt. But I'm trying to stay positive for the guys and be a captain. Plus, I've still got Stony Brook next year, and it's not a season-ending injury anyway. It just sucks that I didn't get to play Shawnee and Lenape, our two biggest rivals, one last time.
SJM: You've had a great career, though. What are you most proud of?
BB: I didn't reach the goals I wanted to because I wanted to be No. 1 in rushing yards for my school and I wanted the weightlifting records. I wanted the rushing records for a season and career. I would've had the season one last year but my coach pulled me out against Seneca when we were up 47-0. He said, 'You'll get it next year.' Then this happened.
SJM: Have you always been a running back?
BB: Actually, my first year playing football I was a left guard and a corner. Surprisingly, I had three touchdowns in the championship game. I had two pick-sixes and a kick return—I was on the front line, they tried an onside kick and it came right to me, so I took it back.
SJM: When did you move to running back?
BB: The next year we moved to New Mexico and my dad put me at running back.
SJM: Have you lived all over the country?
BB: Yes. My dad and my stepmom are in the military so we've lived in Alaska, the D.C. area, New Mexico, Central Jersey, and then I came to Cherokee my freshman year. I hate staying put in one place. This is the longest I've ever lived somewhere and it's kind of driving me crazy. I'm urging to get to college.
SJM: What's different about South Jersey from the other places you've lived?
BB: Jersey is different, there's just something about it. New Mexico is the desert, there's not much to do there. But here we have the Shore, we have rivalry games and all of that stuff.
SJM: How did you get the nickname Bam?
BB: When I was a little kid, my brother couldn't say my real name when we were living in Alaska. He couldn't say Brandon so he'd say, 'Bran Bran.' My parents translated it to Bam, and my whole life it stuck, wherever we went. Most people don't even know my real name.
SJM: It's funny because it didn't have anything to do with football but it does describe your running style. Would you rather run through a defender or try to get around him?
BB: That's hard. If I had the chance, I would probably run around the guy just to keep my speed. If you run through someone, your momentum slows down, but if you run around someone, you have the opportunity to make someone else miss. So I would rather choose to run around someone, but I can do both.
SJM: Who are the running backs you like to watch?
BB: Saquon Barkley, and every now and then I'll go back and watch Barry Sanders' highlights.
SJM: Is it cool to see a South Jersey guy like Jonathan Taylor—who was playing on the same fields as you not too long ago—emerge as one of the best running backs in the NFL?
BB: Well, I don't like to compare myself to other people, but it is kind of cool that he came out of South Jersey too.
SJM: What made you commit to Stony Brook?
BB: With the options I had, I felt it was best, especially because with the transfer portal, I didn't want to wait too long and lose my offers. If I waited, I would've been stuck. I love coach [Chuck] Priore and the campus is nice so it was a good fit.
SJM: What do you want to study?
BB: Athletic science or physical science. I just want to stay active. I can't sit still in an office [for a career]. I need to be doing something.
SJM: How do you spend your free time?
BB: My favorite thing to do, even more than football, is to snowboard. I picked that up in New Mexico—they have mountains and it gets really cold there. I just fell in love with it. I go to the Poconos and I've been trying to get up to Vermont. I would love to go to Switzerland too.
SJM: Do you enjoy the bonding aspects of football?
BB: Yeah. I feel like of all the teams I've played for, Cherokee is a real brotherhood. We're always trying to do something as a team, whether it's going to breakfast or just hanging out. We don't have our own friends groups; our friend group is within the team. It's pretty cool that all of these guys do these things together and everybody gets along.
SJM: Do you play any other sports?
BB: I wrestle, but I didn't get to do it last year because I had a combine that I had to train for. I didn't want to be a part-time wrestler and have to leave for football. I have no clue if I'm doing it this year; I'm still trying to figure it out.
Samantha Tepes, Shawnee girls tennis
Tepes, a senior, has played first singles every season of her career at Shawnee and led the Renegades to their second consecutive sectional championship this fall. She also captured her first Burlington County Open title and her third Olympic Conference American Division crown.
SJM: Is it hard to believe this is your final season of tennis at Shawnee?
ST: Being a senior and looking back at it all, it's just crazy to think that it's going to be over [soon]. I've been with this team for four years and I think we have nine seniors on our team. It's going to be a lot different leaving them.
SJM: You've accomplished so much, including the first sectional title for the program since 1979 last year. Is that the first memory that stands out?
ST: Yes, winning that as a team was awesome. We worked so hard for it and we have such a great group of girls who all support each other. I felt like we had that as a team.
SJM: What did it mean to you to win the county tournament this year?
ST: Winning the Burlington County Tournament was definitely my big goal for the year. I think the farthest I had made it was the final but I lost, so being able to win that meant so much to me. I really trained and put in a lot of time getting ready for that tournament.
SJM: There are so many great players in the county this year.
ST: Yes. I beat Alana Lee from Moorestown in the final, she's had a really good year. And I've had a very competitive rivalry with [Lenape's Rhea Sethi] since we were freshmen. We've gone back and forth for years and personally, I love being able to play competitive tennis with someone like that.
SJM: How did the individual state tournament go for you this season?
ST: I made it to the round of 32 and lost to a great player. I played well and it was really cool to play someone at that level. Now I know what to work on.
SJM: How did you get started in tennis?
ST: My dad [Mark Tepes] is a great tennis player and he coached me from a very young age. He's been with me the whole time. He played four years at Virginia Tech and he got me into it. I was on board from the beginning. I had to choose between tennis and soccer in sixth grade, and I knew tennis was the sport for me. It's a very individual sport, which can be tough in some aspects, but I also like it in some ways. I'm out there by myself and I get to focus on myself and what I need to do. I also love having that relationship with my dad.
SJM: Do you find it's a sport where you have to quickly move past your mistakes?
ST: Yes. Being mentally strong is very hard in tennis, and I've had many ups and downs with that growing up. Even when I was little, I would cry on the court if I missed a shot. But through the years I've really grown as a player and that's one thing I've worked on.
SJM: Your two sisters decided to focus on soccer, right?
ST: Yes, they're playing on the varsity team together. Julia is doing amazing and so is Tori. They're having a blast. We're super close—if I didn't have my sisters, I don't know where I would be. They're my biggest supporters. We all played tennis but they exceled in soccer.
SJM: Do you know what you're doing next year?
ST: I'm still deciding what college I want to go to but I'm definitely going to be playing. Playing college tennis was my dream growing up and it's kind of crazy to think that it's all coming together right now. Tennis has been very individual for me except for high school, where we've had a great team. So I'm looking for a great team with a nice culture that is super supportive and close. I'm looking for a good coach who will help teach me how to get better.
SJM: Do you know what you want to study?
ST: I think I'm going to go into business. We own a family business and I would love to incorporate myself into it. It's called Peterson Service Company—it does HVAC for commercial buildings.
SJM: How are the new courts at Shawnee that debuted this year?
ST: They're awesome. We were so lucky to get those. Last year they were being done so we only had a few home matches and we were away for most of the season. It's definitely a big difference. The old courts, the whole back was moss, and if it got a little wet you would slip. There were cracks, so the ball would hit a crack and go flying. Now we can really compete and not have to worry about those things.
SJM: Are you a fan of professional tennis? Do you watch it a lot?
ST: Yeah, I do. My favorite player growing up was Ana Ivanovic. A lot of people don't know her but I loved watching her play. I just like her style—she was very cool, calm and collected. She wasn't one of the best of all time, but that's what I liked about her. She would just come out of the blue and play amazing.
SJM: What did you think of Serena Williams' exit from tennis at the U.S. Open this year?
ST: She's the greatest of all time and someone all of us as tennis players look up to. She's a great role model and her tennis is incredible. It was kind of sad to see her go because I loved watching her matches. I wish she would've won the whole thing.
SJM: Have you ever been to the U.S. Open?
ST: Yes. My dad has taken me so many times. I remember going on one of the hottest days when I was 7 years old and the only way to keep me cool was to keep eating water ice. Me and my sisters have gone but I haven't gone in a while, so I'd like to go next year. It was fun.
SJM: I want to go to Wimbledon.
ST: That's where my dad wants to go and I want to go so bad too. We were in [Europe] for my dad's tennis and they had the big Rome Tournament going on, so we got to watch that on the red clay, which was cool.
SJM: So your dad still plays?
ST: Yeah, he still plays here and there. He took a break for a while but he used to play on the USTA men's world team for over-45s so we used to travel a lot.
SJM: Who wins if you and him play?
ST: He does, but I'm getting there. He's just smarter than me, that's why he wins.
SJM: What else do you like to do when you're not playing tennis?
ST: I have a lot of schoolwork this year and we've had a match pretty much every day since school started, so I haven't had a lot of downtime lately. I also have tournaments on the weekends, so in my free time I just relax, replenish my muscles and do some homework. I hang out with my friends when I can.
SJM: Have you always lived in Medford?
ST: Yes, I have and I love Medford. It's such a cute little town and everybody knows each other, which is good and bad but I like it. We call it a little bubble.
SJM: Are you a Shore person?
ST: Yeah, we go to the beach a lot. We usually go to LBI or Wildwood as a family, and then my sisters and I go to Ocean City sometimes.
SJM: You're really going to miss your sisters when you go away to college, aren't you?
ST: I think that's the biggest thing about going away to school, because if I do go far it's going to be really hard to be away from them. We're always together, we eat dinner together, and then we hang out together as a family. So it's going to be a big change for me.
Olivia White, Eastern field hockey
White, a junior forward, scored 19 goals last year as a sophomore, including the game-tying goal in the final seconds of the Tournament of Champions final against Oak Knoll to spark a comeback win. This season she has emerged as one of the top playmakers for the Vikings despite battling injuries.
SJM: What did it mean to you to play such a key role on the last Tournament of Champions (TOC) team ever last year, since playoffs are now ending at state finals?
OW: My confidence was really built up from the beginning. I already knew I was a good field hockey player but I had to work harder because this is Eastern field hockey. I came in freshman year but sophomore year is when I felt like I had more of a chance. Coach Kerry Heck believed in me and helped me see how much I could do and the impact I could have on the team. That replayed in my head in the TOC game. When Ryleigh [Heck] went out, coach Heck was yelling at me to get the ball in the circle, I did exactly what she said and it got us a goal.
SJM: That must have been the best feeling.
OW: It was a great feeling and I was so happy to be in that moment. I worked my butt off to be a starter in a TOC game as a sophomore. I realized at the end of the game when we actually got the trophy how much I helped the team. They needed someone to score that goal and I was the one to step up. That picked up my confidence and I always go back to that when I feel like I'm messing up.
SJM: I know you've been dealing with some injuries this year, including one to your finger. How did that happen?
OW: I don't even know how it happened. It was in a game and watching the film, it looked like the ball came at my finger full speed and gashed it open. I had to get eight stitches and I was hysterically crying for three hours at the hospital [laughs]. You can see me on the film running off with a red hand and crying.
SJM: How did you mentally handle having to sit out a few games?
OW: I also had an injury in the summer that went on way longer than it was supposed to. It was a supposed to be a Grade 1 ankle sprain and it moved up to a different area and became a high ankle sprain. It's been three months and I still need another shot to be full go with my ankles. Then on top of that I had the finger injury, so it's been a lot. I know we lost a lot of seniors last year, but I was so excited to start new traditions and encourage my team on the field. I felt bad in the summer because I hadn't been able to be with the team as I was trying to recover. At the same time, I was in the recruiting process and I had to go to college clinics that I couldn't cancel. So I was still on my ankle trying to work hard and give myself options, because I want to go to college for field hockey. So I'm trying to encourage the team but it's been hard because I couldn't always relate, since I wasn't working hard in all the drills like they were.
SJM: This has been somewhat of a rebuilding season by Eastern standards, but do you still think you can compete for sectional and state titles?
OW: I do think we can. We have to get in the right mindset for it. … We need to understand that it's a different season and we don't have our seniors from last year. We have to realize that we need to work harder, not just in practice but even running by ourselves, doing any sort of work that will help build our play individually, and then we can incorporate it on the field and move forward. Hopefully we can get to that point.
SJM: What did you learn from playing with Ryleigh Heck, the national player of the year as a senior who is now at the University of North Carolina?
OW: A lot. She was like a guide for me on the field. I was so used to playing center forward, and when I got put at right [wing], I didn't know if I was going to mess up. She was there to encourage me, to teach me and show me where to go and how to move. I learned a lot from her about how to make smart choices and when to use the right dodge. She does this thing where she can look at the other players' feet and hips and figure out where they're going to try to defend, and then she can immediately beat them. I've learned to do that and I think my IQ has gotten better from playing with her.
SJM: Has it been a longtime goal of yours to play in college?
OW: I have definitely always wanted to play sports in college. It's been a competition between lacrosse and field hockey, but these past few years I've wanted to do field hockey.
SJM: What are you looking for in a school?
OW: I want a nice campus … where I can get around quickly. Team wise, if I get a scholarship I'd like the coaches and the team to be welcoming, but at the same time able to push me really hard because they know it's going to help. Diversity is a really big thing for me; sometimes when schools don't have diversity, it's harder for me to fit in, even on the team too. I want to be in a safe environment and I want to have a lot of fun and have places to go with my friends. My sister is at Manhattan College and she likes it because there's a lot of places to go; it's New York City, you can go anywhere. I would like a city school like that.
SJM: Do you know what you want to study?
OW: I took Chinese at my old school for about three years and I think I might want to major in language, specifically Chinese if it's at my school. It's actually fun to learn and I've adapted to it. Except in Spanish one time, I messed up and said something in Chinese. My teacher was like, 'Huh?' I said, 'Oops, sorry!' So I'm interested in Chinese, and my sister is studying athletic training and kinesiology, and I might like that too since I've spent so much time [in the trainer's room] recently. I've gotten used to it and it looks like fun.
SJM: Have you always dreamed of playing for the Eastern field hockey team?
OW: That was definitely a big part of my choice to go to Eastern. I went to Moorestown Friends from third grade to eighth grade and I was at a crossroads. Did I want to leave for sports or to meet new people? … I had to consider whether I wanted to stay there for my friends or go farther in my hockey career, and I chose hockey. I miss my friends though.
SJM: What do you like to do for fun away from sports?
OW: I really like to go thrifting. My entire closet is basically thrifting clothes. I also like painting and drawing, and embroidering has become something I like. I like art. I also love going to the gym and I'm a big fan of lifting. I've grown up with a lot of guys saying, 'Girls shouldn't have muscles, girls shouldn't be fit, girls shouldn't have more muscle mass than guys because it's not lady-like.' From a young age I've felt that was unfair and a double standard, so I got into the gym because of that, and then I realized it was going to help with my athletic career. I started lifting, running and doing anything I possibly could do to help grow myself. I don't listen to those guys anymore. Sometimes I'll say, 'If you're jealous, just tell me. I can give you some tips if you want to learn how to deadlift.'
SJM: What do you like about growing up in South Jersey?
OW: I love Wawa. You don't really get that anywhere else. I've felt safe going to school here and I've made a lot of friends.
Isabella Nelli, Washington Township gymnastics
Last year was a special one for Nelli, who placed fourth at sectionals and helped Washington Township claim its first South Jersey title in 15 years and finish 8-0. She has continued to shine this fall and was crowned all-around champion at the Olympic Conference Championships.
SJM: Has it sunk in yet that your senior season is winding down?
IN: It kind of feels like the beginning of the end for the entire senior year as a whole. But wrapping it up and finishing it out with my team is the best feeling.
SJM: You've had a great career with many memorable moments. What stands out when you look back on it?
IN: Last year was very unforgettable. My freshman year, I was South Jersey Gymnast of the Year, which was an amazing honor. Sophomore year was the COVID year, so it didn't run as smoothly but I was still happy to be with the girls and to be part of it. Last year, the team did really well and we won sectionals for the first time … so that was exciting. Now it's senior year and I'm trying to finish it out strong and support the girls.
SJM: Do you feel like the team can contend for a sectional title again?
IN: We hope we can. Our goal this year is basically just to uplift each other. We're rebuilding our team—we lost a lot of seniors last year—so we're trying to build everyone's confidence, rely on each other and just do the best we can.
SJM: I hear that you and Angelina Stanfa, one of your teammates and another one of the area's best gymnasts, are very close friends.
IN: Yes. Angelina and I became really tight at the end of freshman year and we're basically like sisters now. I go over her grandmother's house on Christmas evening. From the classes we take to gymnastics to everything else, we're basically like the same person. I wouldn't want to go through it with anybody else. We're able to push each other to get the job done inside and outside of the gym. She motivates me to get not only my schoolwork done but my assignments at gymnastics. We push each other to be the best we can.
SJM: How did you get interested in the sport in the first place?
IN: I basically started when I was 18 months old. I was really young and my mom took me to the mommy-and-me classes. I tried other sports like soccer and softball, but gymnastics is what stuck with me the best. I love performing, which is one of main parts of floor and beam, and I love showing off to the audience. That's definitely something gymnastics has that other sports didn't. Since I was little, I was always climbing all over the furniture at our house too, which is another reason it was great for me.
SJM: Where did you start your gymnastics career?
IN: I actually started right around the corner from my house at Rainbow Gymnastics and I stayed there until fourth grade. Then I moved to Atlantic Coast from fourth grade to ninth grade. And after COVID until now, I've been at a gym in Bridgeton.
SJM: It's a sport that takes a big commitment. Do you ever have days where you don't feel like training?
IN: I definitely have rough days where I'm feeling a little bit down. It's a sacrifice to have to drive that far and push myself to be the best I can be. But I aspire to be a college gymnast someday and that's something I'm looking forward to.
SJM: How is the college search going?
IN: It's taking a little toll on my mental health because it's stressful. I'm just trying to find the light at the end of the tunnel and praying to God that something is going to happen. That's what is keeping me moving forward. There's not a lot of schools in the United States that have gymnastics. There's not as many people doing it as other sports, but it's still a lot of people going for not that many schools. So it's really special if you get to be part of one of those teams and that's my goal.
SJM: Have you gotten to travel a lot because of the sport?
IN: Yes. This year we're going all over the country. We're going to Vegas, we're going to Georgia, we're going to Virginia Beach, and those are just three of the places we're traveling to for club. I'm excited but it's just expensive for my parents' pockets.
SJM: What are your interests away from the sport?
IN: I'm part of almost every club under the sun at school. I sing in the high school choir, I do the a capella group outside of regular class, I'm part of National Honor Society, Science National Honor Society and French National Honor Society, I'm one of the members of DECA, I'm in the French Club and I'm on student council. I also just got onto homecoming court, which has been an amazing experience to be with the other 11 nominees. We've been practicing for that and for student council to perform our little dances for our spirit parade. I'm definitely always busy, and if not I'm sitting on the couch watching the Eagles or the Phillies, or you can find me hanging out with my friends and family.
SJM: What kind of career do you want to go into?
IN: I think I want to go into nursing or something in the medical field. Last year, I took anatomy at school and it was so cool. I got to dissect all sorts of things. I'm a people person, so I would like to help other individuals with whatever they're going through.
SJM: Do you like growing up in Washington Township?
IN: Yes. I've always lived there, it's been my hometown forever, and it definitely has a lot of things to offer. The teachers are always looking out for you and we're lucky to have so many resources that can help us succeed as young adults.
SJM: Do you have a favorite teacher?
IN: I have a few teachers who have really pushed me and helped me. There's Mrs. [Abby] Molotsky, who's my English teacher this year. She's always looking out for others and I'm really lucky to have her. My two student council advisors, Brittany Mason and Shannon Molloy, have been amazing mentors. My math teacher from last year, Mrs. Bernadette Bogacki, pushed me past my limits. Mrs. [Patricia] Pinder is another one of my math teachers who I adore very much. And finally there's Mrs. [Kathy] Hudak, my French teacher.
SJM: How do you prepare for a big high school meet?
IN: Usually the girls and I all blast music in the locker room and try to pump each other up. If it's a [road] meet, we play music on the bus and try to get ready. We always do our hair all nice and put all sorts of glitter on to make us feel even more special and get us in the mood. Usually we get a bite to eat or a snack right before, and we're ready to go. If we're at home, we exchange a little gift or token and that's another thing that gets us excited to go.
SJM: Are you a big fan of the Olympic gymnasts?
IN: Yes. When I was younger, I wanted to be just like Gabby Douglas. I read every single book possible about her and I've always looked up to her. I also looked up to other people who maybe didn't go to the Olympics but were still amazing. Maggie Nichols was one, she went to Oklahoma. And my top Olympian of all, who I've done projects on and is my total inspiration, is Laurie Hernandez. She was called the 'Human Emoji' at one point because of her floor routine. She's phenomenal.
Allison Tighe, Haddonfield girls soccer
A senior forward with more than 50 career goals, Tighe has helped Haddonfield win three straight sectional championships and is hoping for a fourth in her final season. A member of the Peruvian U-20 women's national team, she will play college soccer at Holy Cross.
SJM: You've had a great high school career. Is it weird that it's almost over?
AT: Definitely. I've been here since I was a freshman and I've seen everybody graduate. You go through Senior Night with all of them, you go through all the senior activities, and you buy all the gifts. Now all of a sudden it's our Senior Night and I'm actually participating. It's still so surreal. But the team is great and Coach Q [Lori Quintavalle] is great. … I just really, really want to put together a fourth sectional title this year.
SJM: What an accomplishment it has been to win three straight sectional titles. Are they each special to you?
AT: Yes, but very different. I definitely think we can do it again. … When we describe our team, we talk about a team that pushes through and plays the full game. In the semifinals for sectionals last year, we were down 2-0 at halftime against West Deptford and we were able to come back. That's our thing—I think we've gone to overtime four times and we always finish it out. We definitely know how to put it together and play the full game, and even when we have adversity we know how to overcome it. We've been doing that since I was a freshman. I think that separates us from other teams.
SJM: It seems like you and Allison Baxter have great chemistry. Do you enjoy playing together?
AT: Oh yeah. We've been playing together probably since we were 6 or 7 in the Haddonfield squirt leagues. We had a great team in the Haddonfield Soccer Club and made history there; we played EDP and we traveled to Colorado for nationals. This year feels so special because the girls I was playing with at the Haddonfield Soccer Club are now seniors with me. When we look back at old pictures when we were 11, 12 or 13, it's great to see what we were able to do and now we're doing this. That's why it's so important to us to win the fourth sectional title, and this time win a state championship. Me and Allison Baxter have been together forever and when we were both named captain along with Grace Malcarney, our goalkeeper, it was amazing.
SJM: How did you first get into soccer?
AT: I started playing when I was 3 and my dad has been around it since he was young; my grandfather as well. My dad went to Haddonfield Memorial High School and was captain junior and senior year, and then played at Kutztown. So I've just been around the sport ever since I was young.
SJM: What was the experience like with the Peruvian national team?
AT: It was so much fun. I went there back in November of 2021 and we had about a weeklong training camp. I was a little nervous, but after spending time with the girls, we all clicked immediately. We stayed in dorms in this little facility, so we were together all the time and we bonded right away, which showed on the field. I made great friends and had an amazing time being around the culture, the language and the different styles of soccer that the coaches teach over there.
SJM: What happened after training camp?
AT: I was able to go back in February and I was supposed to stay for about a month and a half for training leading up traveling to Uruguay to compete in the South American Cup and try to qualify for the World Cup. … So I had to transfer to home schooling to do that, but then I hurt my knee and had to come home. But watching the girls I trained with on TV in my living room was one of my favorite core memories. It was amazing being able to compete with girls from a different country.
SJM: I know you were able to do that because your mother is from Peru. Had you been there before?
AT: I've been going there since I was 3 months old and I have family there. Being able to play and represent the country was crazy. When I found out, it actually felt like a dream.
SJM: What was your injury?
AT: It was a knee injury that kind of happened from different training sessions, and then one day I went to strike the ball and I felt something very off with my knee. I went to the trainers and they did different tests on me and movements to stabilize my knee. Finally, they said it wasn't getting any better and we needed to do an MRI. They saw a slight tear in my patella tendon. I could still play on it, but if that completely tears I'll be out for a year and a half. It was not worth the risk of playing because back home I was still in the recruiting process and I definitely did not want to push myself further back.
SJM: Aside from the soccer, has been it special for you to grow up here but have ties to your mom's native country?
AT: Definitely. Just visiting my family in general has been awesome. We've gone to Machu Picchu, we've gone to Cusco. We've traveled everywhere, and now I get to go back for soccer, which I've loved since I was little, and have the support of my family, which has been super special to me.
SJM: What led you to commit to Holy Cross?
AT: Academically, it's outstanding. After my knee injury there was a tournament we had called the Jefferson Cup in Virginia, and I had to miss it. That was really detrimental to my recruiting process, because I had all these schools I was emailing who were coming to see me play. I had to tell them I was injured and couldn't play, and they moved on and went to see other players. After that, around spring break, my family went to Boston and we took a look around different schools. Holy Cross wasn't even a school I was looking seriously at, but my dad said, 'There's another school in the area I think you would really like.' When I got there, I had the feeling that everybody always talks about, that you just know. The campus is gorgeous, and from the field you can see the skyline of Boston. The facilities are all brand new. It was awesome. We got back to the hotel and I immediately emailed the coach, but at the time they didn't even have a head coach because the head coach left and went to Boston College. So I emailed the athletic director and said I was interested and here's my contact information. … About three weeks went by and finally they hired a coach, Ben Graham, who is from England. He actually was the men's assistant coach at Stanford when they won the national championship in 2019. He went to Holy Cross on the men's side and ended up helping with the women and taking that job. So it was the academics, the coach, the campus, everything. … I think it was July when we sat down on a Zoom call and he offered me. I had about a week and a half to pick between Holy Cross and another school, but I had the feeling from the beginning, when I walked the campus in April. It was a crazy recruiting process and it wasn't going the way I wanted to, but people always said in the end it would work out. It didn't feel that way, but it does now. I couldn't be happier with my decision.
SJM: Do you know what you want to study in college?
AT: Psychology. That has been a huge interest of mine going back to my dad, who majored in sociology and minored in psychology at Kutztown. My grandfather, his dad, is a child psychologist, so having both of them play huge roles in my life and having them always talk about psychology, I've just always had a heavy interest in it. I specifically really like criminology and forensics and learning about why people make the decisions they make.
SJM: What are you going to miss the most about South Jersey when you're up at college?
AT: The cheesesteaks and the hoagies [laughs]. It's not too far but I'm definitely going to miss my family. But it's only four hours by car, and they play in the Patriot League so there will be some games that are close, like Loyola or Bucknell.
SJM: What do you like about growing up here?
AT: The community. They're so supportive in Haddonfield and they have a passion for sports and the town. A lot of people come back to Haddonfield after they graduate and I feel that says a lot about the community. The people are great, the education is great and the sports teams do well.
SJM: Do you have a favorite soccer player?
AT: Probably Alex Morgan. I wouldn't say we play similarly, but she plays my position and we both score goals.
SJM: Not South Jersey's own Carli Lloyd?
AT: [Laughs] She's good too. I've just always loved Alex Morgan since I was younger. I have different jerseys of hers, posters, her book.
Article continues below
---
advertisement


---
Author:
Matt Cosentino
Archives
---
Who's Who in Health Care
Former Shawnee star Doolittle Calls It A Career
Camden County College welcomes Baseball Hall of Fame
South Jersey Football Games of the Week
Out & About
QB Ronnie Borden is Back in the Game
Should fans be worried for the Phillies bullpen?
South Jersey Football Games of the Week
A look at South Jersey's Top H.S. Girls' Soccer Teams
Out & About
Eagles will be fine after close call in opener
High School Football Games of the Week
Is it Super Bowl or bust for the Eagles?
What's New in South Jersey?
From New Jersey to Nashville
More...