Farlow Concludes an Outstanding Career..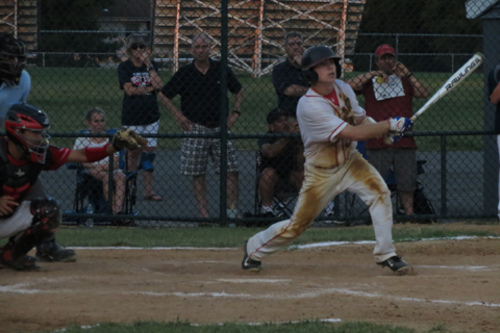 Farlow Concludes an Outstanding Career at Brooklawn
When Brooklawn ended its senior American Legion season with a 7-1 loss to Flemington in the state title game, it ended an outstanding recent era for the long-decorated franchise and one of its cornerstone players.
The player was centerfielder Pete Farlow, a 2015 Gloucester Catholic graduate who was at the height of some of the franchise's greatest moments.
Following his sophomore season at Gloucester Catholic, Farlow earned a starting outfield spot for Brooklawn, first in left field and then in center.
In his first year with Brooklawn in 2013, the team captured the first of two consecutive national World Series titles and then repeated as champion the next season.
Last season Brooklawn won its sixth consecutive state title, its 17th regional championship and earned a berth to the World Series, where it was eliminated in the semifinals.
So Farlow has been a major contributor on teams that won two World Series, three regional and three state championships. This is from a program that has won four World Series titles, 17 regional championships and 29 state titles.
This season Farlow was a true leader on a team with 15 new players.
"He had an awesome year this year and basically put us on his back," said Brooklawn manager Dennis Barth, who is also the head coach at Rutgers Camden. "He had like three walk-off hits and really did a good job with so many young players on the team."
Farlow said his first year with Brooklawn in 2013 was the most talented team he has played on. Included in that rotation was righthander Mike Shawaryn, who was signed by the Boston Red Sox after being drafted in the fifth round this year and righthander Tyler Mondile, signed by the Cincinnati Reds after being selected in the sixth round.
Shawaryn enjoyed an outstanding career at the University of Maryland after competing for Gloucester Catholic, while Mondile is a recent graduate of Gloucester Catholic.
"With the talent on that team, I say to this day, and I went to Wagner for a semester, that Brooklawn team would compete with anybody (in college baseball)," Farlow said.
There aren't many players who have started four years for Brooklawn, let alone earning all the postseason titles that Farlow was part of.
The 2014 national champion was extremely talented as was last year's team. Farlow was hurt in the 25th game last season as Brooklawn won its first 25 games of the season.
He was never the same after that and ended up missing last year's regionals and World Series after undergoing shoulder surgery.
"It hurt so bad having to watch the games," said Farlow, who will attend Camden County College this fall.
Farlow never played at Wagner after breaking his ankle, but he regained his form this summer.
So even when Brooklawn lost this year in the state finals, Farlow was able to keep things well in perspective.
"As I was in the outfield that last game and realized this was probably not going to turn out the way we wanted, I first felt sadness but then I was overcome with joy, to know this team that many didn't give a chance, got to the state final," he said.
Before the season, Barth pulled Farlow aside, telling him that with such a young team, he needed to be a leader.
"I was like a coach, trying to help these guys and it was a role I really enjoyed," Farlow said.
Most of all, Farlow will have lifelong memories from competing for Brooklawn.
"To be part of this was just an awesome experience," Farlow said. "I loved every minute of it."
Photo by Marc Narducci: Pete Farlow
© SouthJersey.com 2016. All rights reserved. This article or parts thereof may not be reprinted or reproduced by any other party without the express written consent of SouthJersey.com. For more information, please call 856-797-9910.
For more Local Sports features, visit our South Jersey Sports page.
Article continues below
---
advertisement


---
Author:
Marc Narducci; Photo by Marc Narducci
Archives
---
More Articles