Holy Spirit High School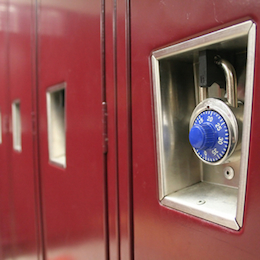 Holy Spirit High School has a rich tradition of providing quality Catholic Secondary School Education to the young people of Atlantic County. For over eighty-five years, countless young men and women have been successfully called by Holy Spirit High School to develop their God-given talents and abilities.
According to the school's website, the academic program consists of core courses offered on five ability levels: advanced placement, honors, advanced, and college preparatory and a limited number of general level courses for the non-college bound student. Additional electives are offered in art, business, and music (chorus and instrumental). Holy Spirit also runs a Special Education program. Students attend eight periods a day with forty minute classes that meet every day. The school year is divided into two semesters. Mass is celebrated in the school chapel each morning before the school day begins. The Religion Department develops spiritual and liturgical programs for the students and staff as well as the development of service projects throughout the school community.
The Class of 2016 Top Ten included valedictorian Julia Dalzell, salutatorian Karishma Harjani, Tarryn Slattery, Ryan Newell, Kassidy Rumpf, Kyra Owen, Olivia Torres, Christopher Gross, Edy Kennedy and Vanisha Harjani.
The Senior Awards for 2016 Outstanding Students went to Melanie Joseph, Isabella McLaughlin, Kara O'Brien, Kassidy Rumpf, Ave McFadden, Vanisha Harjani, Alexander Mazzaccaro, Cameron DelGuidice, Allyson Hoke, Joseph Curinga, Marla Bader, Cameron DelGuidice, Tara Phan, Kalli Reganato, Julia Dalzell, Jason Keil, Matthew Nyce, Tarryn Slattery, Austin Kesel, Nicole Mayer, Andrew Pecora, Cheng (Justin) Zhong, Ryan Newell, Tyler Jones, Carlos Barnes, Daniel Tauro, Cassidy Gallagher, Kalli Reganato, Yanni Patsaros, Noelle Shaffer, Ryan Gattini, Enzo Ronchi, Huasan (Hillary) Zhang, Melanie Joseph, Khayel Richardson, Cody Dzialo, Karishma Harjani, Carlos (CJ) Barnes, Natalie Neiderhofer, Edy Kennedy, Olivia Torres, Daniel Ramirez, Yanni Patsaros, Joshua Starkman, Isabella McLaughlin, Zachary Ferguson, Rajinder Parhar and Justin Millar.
Holy Spirit boasts many extracurricular activities including Amnesty International, Band, Choir, Literary Magazine, Mock Trial, Music Honor Society, National Honor Society, School Play, School Newspaper, International Student Exchange, Ski Club, Spirit Earth, Student Government, Yearbook, Ministry Department and Spirit Ambassadors.
Athletics at the school include baseball, basketball, cheerleading, crew, cross country, field hockey, football, golf, soccer, softball, swimming, tennis, track & field, and wrestling.
Players this spring at Holy Spirit included Joe Hartley, Billy Kral, Bobby Spicer, Domenic Boselli, Jake Hankinson, Lexy Blanchet, Matt Rivera, Nolan Charlton, Pat Spina, Tyler Knox, Addison Antonucci, Alessia Difilippo, Bella Rizzo, Bridget Wenz, Bryanna Mastro, Danielle Cordivari, Delaney Crawford, Ericka Sawtelle, Gigi Decaprio, Kelsie Salvati, Lexi Light, Laura Bloh, Melanie Joseph, Mia Ruzzo, Nichole Peck, Niki Cautilli, Paxton Antonucci, Rebecca Turner, Sierra Armstrong, Sydney Tyburski, Tessa Florentino, Billy Wentz, Cormac McKee, Daniel Tarsitano, Jack Barrone, Kevin Phillips, Luke Bellucci, Matthew Herron, Nick McDonald and Zach Long, plus others.
The Class of 1966 will celebrate their 50th Anniversary Class Reunion the weekend of August 25-27, 2016. If you're a member of this class, join their Facebook group and get more info: https://www.facebook.com/groups/143559055699859/.
The Class of '56 will celebrate their 60th reunion on October 8 at 12pm. Join classmates for a luncheon at Villa Rifici Restaurant in Absecon. For more information contact Iva Callio Jordan at 609-641-3079.
Have you checked out Holy Spirit High School's Facebook page yet? The school frequently updates the page with news and current events.
Holy Spirit High School is located at 500 S. New Road in Absecon. For more information about the school, visit http://www.holyspirithighschool.com or call 609-646-3000.
© SouthJersey.com 2016. All rights reserved. This article or parts thereof may not be reprinted or reproduced by any other party without the express written consent of SouthJersey.com. For more information, please call 856-797-9910.
For more information about what's going on in our local schools and what today's students are up to, visit our South Jersey Schools page.
Article continues below
---
advertisement


---
Author:
Meghan Shott
Archives
---
More Articles