Haddon Township High School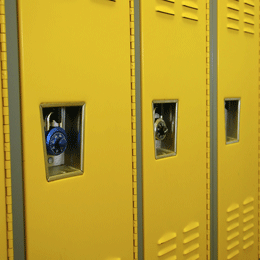 Haddon Township High School is a four-year comprehensive public high school in Haddon Township, New Jersey. The school has been previously ranked in the top third of public high schools in the state by New Jersey Monthly. Offered to students are classes in Math, English, History, Physical Education and Health, and other areas.
The Haddon Township Science Department offers a variety of courses for students including Biology, Human Biology, Physiology, Chemistry, Advanced Chemistry Techniques and Physics. There are also AP courses available where students earn college course credit.
Foreign Language courses at the school include Latin, Spanish, French and German. Students taking the third and fourth year of a language have the opportunity to earn college course credit through Camden County College. Year 5 in a language, considered an AP course, is also possible when a student begins the language study at Rohrer Middle School.
According to the school's website, there are also vocational and art courses such as Auto Shop, Wood Shop, Graphics Design, Information Systems, Drafting and Architecture, Business, Arts and crafts, Home Economics, Cinema, Pottery, Culinary Arts, Studio art, Television productions and communications, and Creative writing. In addition to taking required courses, students have an opportunity to take some of these courses in which they have a particular interest.
The Haddon Township performing arts and music course offerings include Band, Chorus, Concert Choir, Guitar, music theory, MIDI electronic composition and Digital Audio. Check out the Arts Department's website at http://www.haddontwparts.com/.
This high school offers many clubs and organizations including Student Council, Bowling Club, Guitar Club, Math Club, Philosophy Club, Drama Club, Mock Trial, Environmental Club, Art Club, Spanish Club, The Anvil (yearbook), American Technological Honor Society, Future Business Leaders of America, National Honor Society, S.A.D.D. (Students Against Destructive Decisions), National Language Honor Society, National Art Honor Society, the Fellowship of Christian Athletes and others.
Each yeah HTHS performs a fall play and a spring musical. Last school year's productions included talented student actors Tanner Roncace,¬ Christina Marsh,¬ Matthew Hart,¬ Chaos Burruel,¬ Hannah Fields,¬ Courtney Gasparro,¬ Aria Walker,¬ Robert Cortese, Grace DiFilippo, Ryan Gasparro,¬ Maggie Smart-¬McCabe,¬ Alyssa Angilletta,¬ Jacob Morrison,¬ Hannah DeFrates, Theresa Coutinho, Zach Weachter, Colin Marsh, Megan Woods, Dina Folgia, Jack Tredinnick, ¬ William Marrone, Joey Tabasco, Hailey Mozzachio, Angelo Olivo-¬Hyder, Alyssa Jones, Maddie Herquet, Colin Jones, Rose Vermette and¬ Paul Dezii.
Haddon Township High School is one of eleven member schools in the Colonial Conference, which is composed of small schools whose enrollments are between 750-800 students for grades 9-12. Sports offered at the school include Basketball, Baseball, Soccer, Softball, Golf, Hockey, Track-Field, Wrestling, Swimming, Tennis, Cross Country and Football.
Female student athletes this past spring season included Anna Wolfe, Emily Kehs, Erin Rust, Jamie Cutrera, Janie Groeling, Jenna Engelbert, Karlee Hart, Laura Hornyak, Lindsey Getzinger, Madison Bradley, Megan Hoopes, Niki Beck, Olivia Lippincott, Olivia Oyola, Paige Dayton, Shannon Walsh, Sydney Evans, Taylor Hasson, Tori Howard, Nicole Wakeley, Ceil Dailey, Alyssa Angilletta, Carly Folgia, Danielle Cutrera, Emma Acar, Griffin Cihak, Hailey Peters, Hannah Windus, Jill Caputo, Juili Neel, Kayla Blythe and Sam Cohen.
The school's crew club has a website that is updated regularly with photos and information on the group. This year's Learn to Row program was held June 20-24. A group of dedicated rowers turned out and the coaches look forward to seeing them back in the fall, according to their website. Haddon Township crew rowers helped at the program along with coaches.
Haddon Township's Alumni Association updates their Facebook page regularly to inform members on current news and events. About four times a year, the association meets at a local restaurant to catch up and relax.
Haddon Township High School is located at 406 Memorial Avenue in Westmont, NJ. For more information, call 856-869-7750 or visit http://hths.haddontwpschools.com/.
© SouthJersey.com 2016. All rights reserved. This article or parts thereof may not be reprinted or reproduced by any other party without the express written consent of SouthJersey.com. For more information, please call 856-797-9910.
For more information about what's going on in our local schools and what today's students are up to, visit our South Jersey Schools page.
Article continues below
---
advertisement


---
Author:
Meghan Shott
Archives
---
More Articles