Pennsauken High School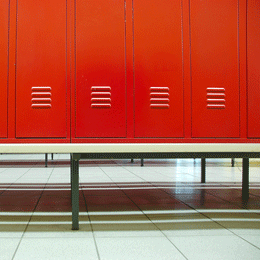 Pennsauken High School offers a complete range of courses to meet the academic needs of its students. The 2016-2017 school year is already under way. According to the school's website, the curriculum is engineered to accommodate all students, from those with special needs to those who are academically gifted. Advanced placement, dual credit, and technical preparation courses facilitate their mission, "to provide exceptional educational opportunities that empower students to excel academically, emotionally, physically, and socially in a safe, nurturing environment."
The school's college bound population benefits from many course offerings, including courses designated for academically gifted or advanced placement students. The curriculum also includes opportunities to study four different foreign languages and advanced programs for the science oriented students.
Spirit week will be held later this fall at Pennsauken. This week leading up to Homecoming will include dress-up days, community service and after school activities for the freshman, sophomore, junior and senior classes.
Pennsauken High School has numerous academic extracurricular activities available to students. These activities include the National Honor Society, an honor society for each foreign language and various science organizations. The co-curricular programs of the school give every student many opportunities to get involved. An expansive array of other activities including Future Teachers of America, Impact Club, Leo Club, Library Council, Psychology Club, Student Government, Student Newspaper, and others are available as well.
All of the music programs in the high school are legendary throughout the region. The Apache Marching Band, the "Touch of Class" Indoor Guard, the Pennsauken Jazz Ensemble, and the "Double Dozen" chorus all have many championships and accolades to their credit.
Pennsauken also offers many athletic organizations in which students may participate, including baseball, basketball, bowling, cheerleading, cross country, field hockey, football, lacrosse, soccer, softball, tennis, track, volleyball, winter track and wrestling.
Three former Pennsauken star athletes came back to their alma mater this past spring to speak with the school's athletes. Dwight Hicks, former San Francisco 49ers defensive back, John Taylor and Billy Griggs presented gold footballs to the school as part of the NFL's Super Bowl 50 celebration.
The football team kicks off their 2016 season with a game at Winslow Township on September 10. According to MaxPreps, this year's roster includes Zaire David, Lateef Coleman, Cedric Jones, Braheem Whitfield, Martin Booker, Jr., Djuan Fooks, Glen Jackson, James Thompson, Joshua Echevarria, Xavier Molina and Jermaine Young, Jr.
Pennsauken field hockey player Arielis Reyes was recently highlighted in an nj.com Camden County high school sports article. Arielis is a senior now and according to head coach Shana Smeriglio, she's "an instant leader of the whole field".
A Veteran's Monument at Pennsauken High School will be dedicated in a formal ceremony to be held on Thursday, October 13, 2016 (rain date is October 14). Alumni Mike Panarella, Ralph Roesler, Bob Zucchi, Tom Piersanti and Pete DiAntonio are leading this project to honor the school, alumni veterans and the town of Pennsauken. More details about the memorial as well as the ceremony can be found at http://www.pennsauken.net/cms/lib011/NJ01912872/Centricity/Domain/4/AVMF%20Flyer.jpg.
Pennsauken High School is located at 800 Hylton Road in Pennsauken. For more information on the school, call 856-662-8500 or visit https://pennsaukenhs.wordpress.com/.
© SouthJersey.com 2016. All rights reserved. This article or parts thereof may not be reprinted or reproduced by any other party without the express written consent of SouthJersey.com. For more information, please call 856-797-9910.
For more information about what's going on in our local schools and what today's students are up to, visit our South Jersey Schools page.
Article continues below
---
advertisement


---
Author:
Meghan Shott
Archives
---
More Articles