Timber Creek High School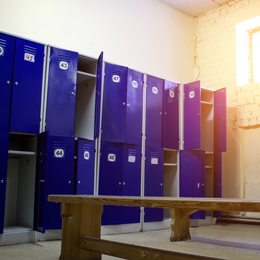 Timber Creek High School, home of the Chargers, is located in Erial, Camden County. Over 1500 students in grades nine through 12 attend the school, which is part of the Black Horse Pike Regional School District that includes Highland and Triton High Schools. Timber Creek earned Bronze status from Sustainable Jersey for Schools earlier this year.
The 2016-2017 school year is already in session. This year's Back to School Night at TCHS will be on Wednesday, September 28 at 6pm.
Students at Timber Creek attend classes in the following subjects: Business, English, Family & Consumer Sciences, Art, Music, Health/PE, Math, Science, Social Studies, Technology and World Languages.
Timber Creek boasts many award-winning musical groups. The Timber Creek Winds Ensemble won the TIA Region 1 Championship as well as the Atlantic Coast Championship this past spring. The school's marching band also repeatedly places in the top two bands at their competitions during the fall marching band season.
Many Timber Creek students also participate in extracurricular activities, including History Club, SADD Club, Bible Club Student Council, Interact Club and Leo Club, among many others.
According to Timber Creek's website, Transition Project is a statewide peer leadership program that uses upperclassmen to help incoming freshmen make a successful adjustment into the high school environment. Timber Creek has 120 peer leaders trained to work with the freshman class. Throughout last year, peer leaders met with small groups of freshmen and conducted lessons and activities on subjects such as Making Connections, Coping with Stress, Communicating Effectively, School Safety, Dealing with Change, and Closure.
Timber Creek's football team faces Delsea, Cherokee, Clearview, Eastern, Camden, Paul VI, Williamstown, Cherry Hill Easy and Winslow Township this season. Members of this fall's team will include Jean-Paul Roane, Dante Witcher, Naijee Jones, Dante Waugh-Hill, Onani Moore, Blaine Shade, De'von Pierce, Malik Woodson, Tymir Ayers, Ezrah Archie, Jordan Nash, Devin Leary, Emory Moore, Jake Kolbe, Tony Brown, Keion Oglesby, Tyler Coluccio, Deion Jennings, Jayvin Little, Harold Coleman, Clarence Henderson, Jihad Stephenson, Ray French, Vance Carr, Antoine Dickens, Jr., Kareem Smith, Joe Plez, Tariq Snead, Jerome Gibson, Sage Brown, Tyquan Higgs, Tracey Harper, Christian Aviles, Tyheim Adams, Knyle Woods, Justin Perez, Jaishon Connor and Brian Costantino.
The girls soccer team has also been working hard already this season. Soccer players include Angela Tassi, Emily Navarrete, Gianna Conway, Grace Adkins, Jackie Kirby, Julia Bendotti, Kaylin Dixon, Kelly D'Angelo, Krista Gonzalez, Marina Toplyn, Mikayla Conway, Sarina Jones and Skye Hunt.
Timber Creek recently partnered with Insight to full some open substitute teacher positions. If you're interested in learning more, visit www.workwithinsight.com or call 856-406-6015.
Did you know that Timber Creek has a Twitter account? Keep up-to-date on the happenings at the school here: https://twitter.com/timbercreekhs.
They also post updates on their Facebook account: https://www.facebook.com/pages/Black-Horse-Pike-Regional-School-District/528232543985880.
Timber Creek High School is located at 501 Jarvis Road in Erial. For more information about the school, call 856-232-9703 or visit http://www.bhprsd.org/timber.
Article continues below
---
advertisement


---
Author:
Meghan Shott
Archives
---
More Articles