Beachy Bathrooms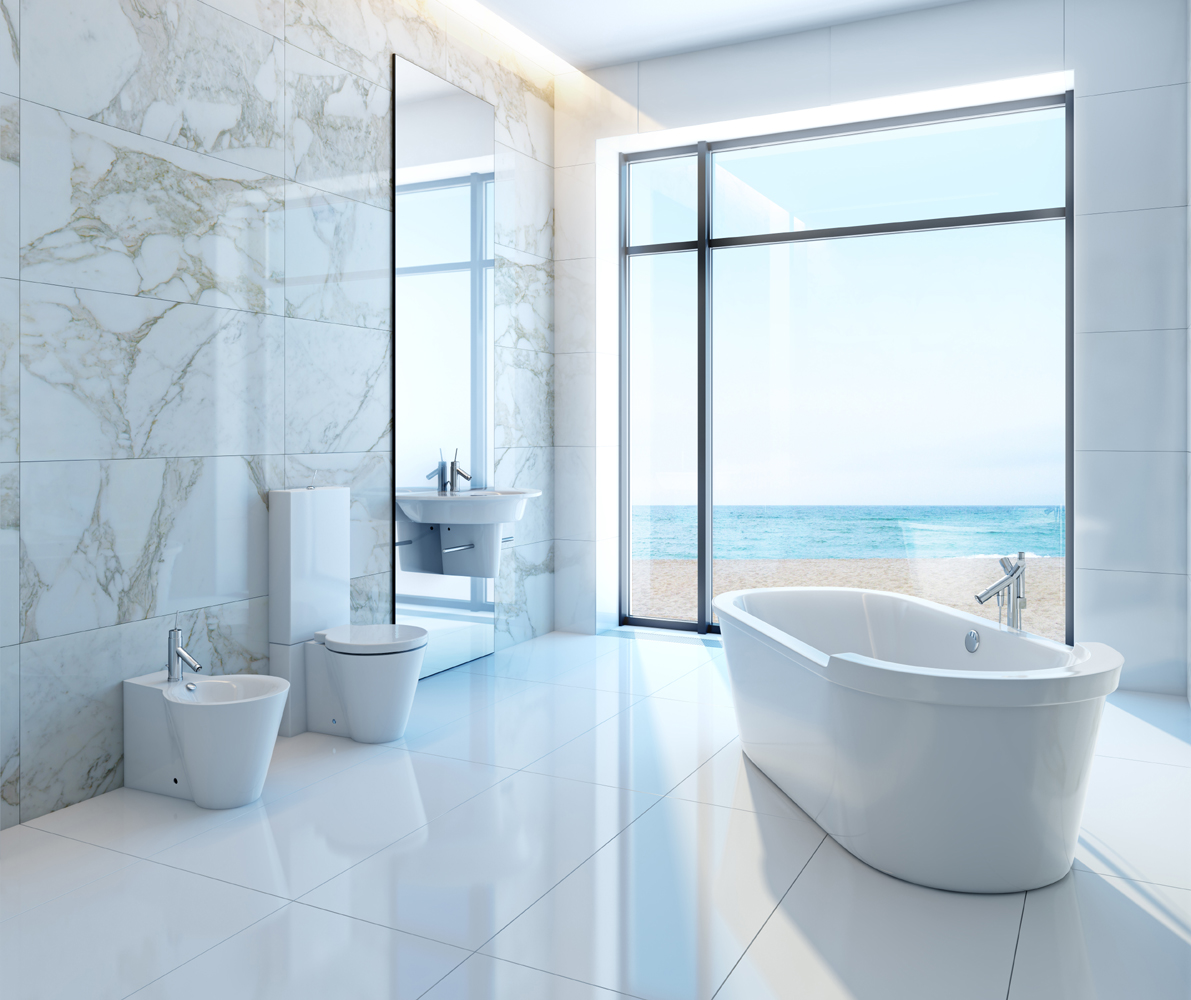 ...From the pages of House & Home Magazine...
Time spent at the Shore should be simple and relaxing, but when the whole family is staying in one house, sharing the home's bathrooms can sometimes create chaos. We spoke with some de- signers who not only shared their best tips for maximizing space, but also gave us the latest trends in materials, styles and colors that will help make your Shore home bathroom shine.
MAXIMIZING YOUR SPACE
Shore home bathrooms get a lot of use. There are often multiple people that need to use the bathroom for showering after a long day spent in the sand. Because of this, finding ways to maximize the space will help you get the most out of it. Tim Pesce, president of Beco Inc., says it all starts with a good design.
"A good designer many times can plan and design a bathroom for multiple users at the same time," Pesce says. "It often can be accomplished with the use of multiple doors and segmenting the room."
Regardless of the number of bathrooms in a Shore home, there are many ways to maximize the space of each. Erica Gordon, principal at Associated Design Studio LLC, says that planning for separate, enclosed toilet areas allows someone to use the toilet in private while someone else is utilizing the sink. She also plans for double sinks at all possible vanity locations in order to allow multiple users at the sink or mirror.
Even small details can go a long way. Gordon says that utilizing hooks to hold wet towels in lieu of towel bars helps maximize space and keep things organized. She also suggests train racks above the toilets to store extra towels and supplies.
"Recessed medicine cabinets with storage over the sink also add a ton of storage for small items and are an absolute must for small spaces," Gordon says. "We also suggest recessed cabinets on the walls adjacent to the sinks. That little pocket of wall is always forgotten."
Within the shower itself, Gordon suggests corner pie shelves or recessed shampoo niches. She says these are imperative in keep- ing the shower neat, tidy and organized.
And the shower really is key in a Shore home. Showering in between time spent on the beach and dinner plans often has every- one scrambling to get ready. For this reason, adding a shower to a powder room may be a smart move.
"An added shower could be designed to provide some privacy and serve a need for people coming back from the ocean or pool," Pesce says.
"We always think that adding a shower to a powder room is a good idea in a Shore home," Gordon says. "They don't have to be bigger than 36 by 36 inches, and by using glass as the enclosure and the door, it keeps the space feeling large and airy."
Over the years, Gordon says she has also seen increased interest in upgrading or adding exterior showers.
"We are often asked to specify the hand-held shower heads along with overhead or wall-mount shower heads, decorative hooks, shampoo niches, bench seats, and even enclosures to house extra supplies and dry towels," she says. "During the planning process we create a larger, private enclosure so that we can plan a dry-off area to the side, complete with a seat and hooks. This dressing area allows the user to become almost completely ready as they exit the shower."
Mike Brindisi, president of Brindisi Builders, agrees that an outdoor shower is an excellent way to maximize space. He says the key is to make an outdoor shower "as nice as an indoor one." An outdoor shower might include a bench as well as all the accessories to make it both functional and comfortable, Brindisi says.
THE LATEST TRENDS
Article continues below
---
advertisement


---
When it comes to the latest trends, Brindisi says you really can't go wrong with blues and whites. That remains the most popular color palette in Shore homes and Brindisi says he has done many bathrooms in a coastal blue that is accented by bright white trim or other woodwork. It gives a really nice beach feel and can be nicely accented with towel colors in varying shades of green, he adds.
In terms of tile, Gordon says she usually selects clean, simple tiles such as white subway tiles for the shower/tub enclosures and the wall wainscots.
"We play with the tile layout and create fun pat- terns that create interest and texture," Gordon says. "We also select floor tile that has a texture so the floor is less slippery on wet feet. This texture may be inherent to the tile itself or we use a small mosaic tile pattern where the tile and grout in close proximity create texture."
Brindisi says selecting the right fixtures is also important. He finds that most Shore home- owners tend to go with white, which is perfect for a "coastal bathroom."
In terms of the types of fixtures used, Gordon always recommends adding a hand-held shower head on a slide bar along with a wall mount shower head. This allows parents to wash and rinse kids easily as well as wash that stubborn sand down the drain.
"Waterfall faucets, where the water seems to fall over the edge of a flatter surface, are a huge hit with kids," Gordon adds. "They actually enjoy washing their hands in the stream of water and parents love the look of the faucets themselves."
While keeping up with the latest trends is helpful, Brindisi points out that Shore home- owners should ultimately keep their personal preferences in mind as they make decisions. After all, a Shore home is all about vacation time.
"A Shore home should be a special space that you enjoy," Brindisi says. "Put some thought into what will make you happy while you're there."
RESOURCES
Associated Design Studio LLC
Somers Point, N.J.
(609) 384-4653
AssociatedDesignStudio.com
Beco Inc.
Morrisville, Pa.
(215) 240-4850
Beco-Designs.com
Brindisi Builders
Marlton, N.J.
(877) 284-5353
BrindisiBuilders.com
Photos courtesy of Associated Design Studio LLC and photo courtesy of Beco
Published (and copyrighted) in House & Home, Volume 17, Issue 2 (Fall 2016).
For more info on House & Home magazine, click here.
To subscribe to House & Home magazine, click here.
To advertise in House & Home magazine, call 610-272-3120.
Author:
Lindsey Getz
Archives
---
Weighing The Options
Healthy Through the Heat
Inside Out
Popular Paving
Home & Garden: Ahead of the Curve
Home & Garden: Repair, Renovate & Relax
Home & Garden: What's Underfoot?
The Lure of Luxury Kitchens
A World-Class View
Home Field Advantage
Working Together
Painting With the Sea
Soaking up the Sun
Home & Garden: Bookmark
More Articles