Painting With the Sea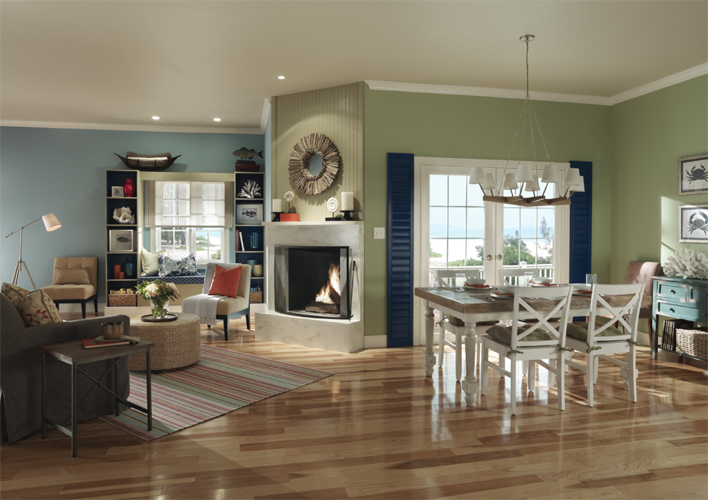 ...From the pages of House & Home Magazine...
One of the first things everyone notices when they leave the hustle and bustle of suburbia straight for the Shore is the canvas of brightly colored beach homes. Today, Shore homes can vary from bright tropical hues to more understated and calming colors that evoke paradise at the beach.
As a homeowner, deciding on those colors might feel like an overwhelming project, but experts agree, it's a personal deci- sion with absolutely no wrong answer. Whatever the color, your beach home will have an unmistakable look, with both exterior and interior color palettes catering to the overall vibe the home presents.
Exterior possibilities
For starters, the beach itself works as a color palette, offering possibilities inspired by the sand, shells, sunsets or sunrises and naturally, the ocean itself. "People select these colors for the calm, soothing and coastal appearances," says Bobby Huber, sales manager and buyer of Oskar Huber Furniture & Design. "Coastal homes are all about evoking a feeling of care- free, relaxation and comfort."
CertaPro Painters' Managing Partner, Hasan Dugme, echoes Huber's sentiment, adding, "People like to represent their favorite parts of the summer in their homes." Those colors can range from nautical navy blues, soft-washed greens, gray driftwood, sand colors like tan or cream, all matched with stark white accents and trims.
For more of a textured look, homeowners are tapping into cedar shake siding, which can be painted over or left alone for a more natural look. "[It offers] yet a further enhancement of being at the beach," adds Huber.
However, subtle colors aren't the only option for beach homes. Homeowners are now veering more toward the tropical side of the color spectrum, as experts say brights like a cheerful yellow are rising in popularity. Huber adds a highly contrasted color palette gives "that beach look in a somewhat unconventional way."
If you're hesitant to go with such a loud tropical color, specialists suggest sticking with a neutral color—including gray, tan or cream—that allows them to play with accent colors, as a means of blending with the home's overall landscape and outdoor furniture. "With these colors you have the ability to play around with other colors," Dugme suggests. "You can add accent colors—i.e. red lounge chairs or purple cushions— that brighten up the exterior/interior of your home."
The same goes for a completely white exterior finish. "Shore owners love to select a plain classic white due to the brightness and versatility to coordinate different décor or exterior accent pieces," explains Gregory Parkhill, owner and operator of Brush Masters XP. "The color white represents a clean and crisp look."
While there is no wrong color, the one thing homeowners should consider is how well their chosen shade adjusts to sun- light. "When you are considering a color—because it is an exterior paint and there is so much sun exposure—[it] tends to go slightly darker than you were initially thinking. Never rely on paint chips alone," advises Huber. "Just like interior colors, exterior shades can vary significantly and turn out differently than they appear on a chip.
"Before you go all in, make sure you get samples and try it out on your house. Put the color on different parts of the house as well and view the color at different times of the day. It is important to see the color in all different sun exposures throughout the day."
For the interior
Article continues below
---
advertisement


---
Curating a calming Shore house vibe doesn't just stop at the front door; it flows right inside the home through bedrooms, bathrooms and shared living spaces from the kitchen to the family room.
Yet, before homeowners begin picking out their paint chips, Huber advises they consider their furniture and fabric of the décor first and fore- most. "One of the most important things we recommend to our clients is selecting your furniture first, not your wall color," he says. "While there are thousands of fabrics just like paints it is much easier to fall in love with a fabric and find a paint you will love than to fall in love with a paint and not find that perfect fabric."
With that, he reveals that the biggest color most Shore homes feature inside is actually white for the walls, ceilings and trim, as to give off a crisp, fresh look. Dugme adds gray is also becoming popular with the interior of beach homes. "Gray is the new white," he says. "Grays are the new trend and customers are moving away from the classic white."
Parkhill agrees, stating the color has been rising in popularity as a default choice within the past two years. "Gray is most certainly not a color for everyone and does not go with every decor," he warns. "But it is still mostly versatile."
Yet, white or gray aren't the most viable option for every homeowner on the coast. "There are some that are more adventuress and others that are safer or traditional—neither is wrong, just different," adds Huber. "However you will find many colors to be in same family—grays, sea salts, blues, greens, corals, whites, etc."
With that, it's important to consider the type of emotion one wants a room to evoke—whether that's calmness, cheerfulness or relaxation. "Each color has a psychological value," explains Dugme. "For instance, yellow is correlated with sunshine and happiness whereas the color blue is considered to be relaxing or calming. I think that's why a lot of my customers tend to stick to colors like yellow, gray, blue; it represents summer and the beach. It sets the summer vibe for their family."
Huber adds, "Selecting the right color is important. A foyer is a great place to have a fun pop of color like coral—you walk in and automatically get a cheery feeling. Lighting is also very important in terms of selecting colors depending on the natural light and how much of it comes in will really affect the look of the colors."
With such a saturated market of paint colors and options, it's easy for a homeowner to get overwhelmed and doubtful by the choices. As a way to avoid that uncertainty, Parkhill suggests using the same color for certain rooms. "During the time of mapping out a project we often recommend to utilize the same color in the kitchen and common bathroom spaces. Bathrooms typically have little to no natural light and are smaller areas of the home," says Parkhill.
"When using a bright color in these small spaces it will make the appearance of the room brighter and larger. Utilizing the same color throughout the kitchen and common bathroom areas not only makes the selection process easier, but keeps the colors flowing nicely throughout."
Ultimately, the decision in choosing an interior color relies on the personality of the home- owners. "It's your home, you can play around with any color. ... There's no right or wrong," Dugme says. "Everyone adds something to their house that brings life to their home, making it a place where their family comes together and enjoys their summer."
RESOURCES
CertaPro Painters
Vineland, N.J.
(856) 506-0543
CertaPro.com
Brush Masters XP
Cherry Hill
(856) 899-9183
Oskar Huber Furniture & Design
Southampton, Pa.
(215) 355-4800
Ship Bottom, N.J.
(609) 494-8127
OskarHuber.com
Photograph courtesy of BEHR.
Photograph courtesy of Armstrong.
Published (and copyrighted) in House & Home, Volume 17, Issue 2 (Fall 2016).
For more info on House & Home magazine, click here.
To subscribe to House & Home magazine, click here.
To advertise in House & Home magazine, call 610-272-3120.
Author:
Josephine Cusumano
Archives
---
More Articles