Home Field Advantage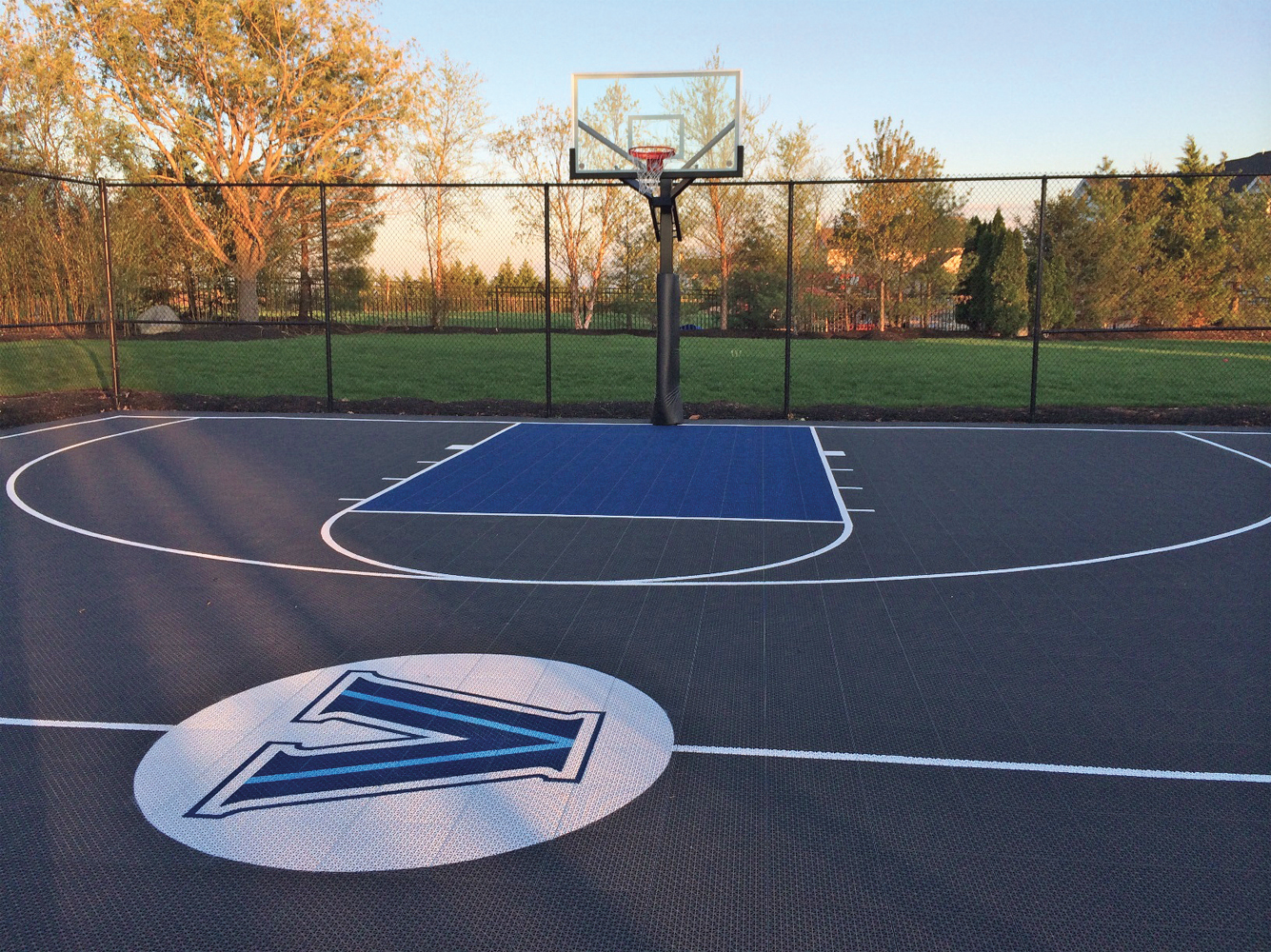 ...From the pages of House & Home Magazine...
In the film Field of Dreams, released way back in 1989, Kevin Costner's character is ridiculed when he builds a baseball diamond in the cornfield on his farm. Nowadays, his backyard might not even be the most unique one on the block.
That's because more and more homeowners are devoting their properties to their favorite sports, whether they're adding full-court basketball courts, miniature soccer fields, tennis courts, batting cages, putting greens or even full-length golf holes.
Not only are these "home fields" beneficial to the young athletes in the family who are trying to improve their jump shots or increase their bat speed; they can also become hangouts for the entire neighborhood or the center of attention during a summer barbecue. And who knows, mom or dad might get to relive their glory days, as well.
House & Home spoke with several experts in the area to find out the most popular sports getting the home-field treatment, along with the costs involved and the amenities that might be added.
NOTHING BUT NET
Article continues below
---
advertisement


---
Joe DeShayes, who has a background in landscape architecture, is the president of DeShayes Dream Courts, a South Jersey company that designs and builds courts for various sports for clients throughout the country. He believes one of the biggest incentives for homeowners is to keep their children close to home.
"Especially now, people are really concerned about what their kids are doing and who they're hanging out with," DeShayes says. "If you get one of these courts and you have the best court out of all your buddies, then everybody is hanging out at your house."
According to DeShayes, basketball remains the most popular sport in the industry. He has built courts of all sizes and materials in all different locales, but for homeowners who plan on staying in their home long-term, he advises starting with a reinforced concrete base for a backyard court.
"Then there are sport tiles that go on top of the concrete," he explains. "The sport tile is an injectable plastic basically, so every single tile is exactly the same as the other ones. They're three-quarters of an inch high and they have about 400 pegs underneath them that hold them off the ground, so they're designed to give you a similar deflection as a hardwood floor in a gym."
Like the floor in a gym, the sport tiles help reduce the potential for injuries such as shin splints or concussions, and they also have lateral forgiveness to reduce the wear and tear on players' knees. The tiles come in a variety of colors, and for an added touch, homeowners can have the logo of their favorite team or their initials embedded into the floor.
For those who prefer a less expensive option, or don't want to take up a large portion of their yard with a basketball court, the driveway is the next best thing, especially in larger homes that have a designated parking area. They can choose to purchase a portable basketball net from a sporting goods store, or have a higher-end unit installed that will cost more but last longer.
"I think the most important thing, even for courts in people's driveways, is the basketball unit," DeShayes says. "You can drive anywhere ... and see basketball units out at the curb or in the driveway. The backboards are only 36 inches or 48 inches, they have Plexiglas that is cracked and the rims are bent. But a basketball court with a backboard that's 6 feet across, has professional breakaway rims and a court with lines drawn on it, that [stands out] whether it's in the driveway or the backyard."
Other add-ons for basketball courts include re-bounders—nets behind the basket that bounce the ball back to the shooter—as well as lights. However, if the court is close enough to the house, it is more sensible and cost-effective to have spotlights attached to the house.
Indoor courts are also becoming an option recently, either in spacious garages or basements.
PUTT FOR DOUGH
Golf enthusiasts have been known to seek out any edge that will help their game, whether it's the latest equipment or a tip from a pro. Some are also having putting greens made of synthetic turf installed in their yards so they can practice their short game at any time.
"It looks totally realistic, compared to the old Astroturf they used at Veterans Stadium," says Tim Bast, owner of ForeverLawn of South Jersey, whose company often installs putting greens for homeowners. "It actually has multi-colored grass fibers, and some products even have a brown thatch in it to give that extra appearance of realism. It's great for a golf area. If you're having a barbecue or you just want to hit balls around for a half hour, you can do that, and it also gives you that great aesthetic appearance."
DeShayes also touts the use of synthetic turf for a putting green, if it's installed correctly by a professional. "It's always going to be better than a regular course, because there's no dis- ease and no dead spots," he says. "The only bad thing is when they miss a putt, they can't blame it on the green."
Extras include features that make the putting area unique. "Sometimes they'll put a sand trap in or some type of undulation in the green to make it a little more challenging," Bast says. "You don't want it to get old quick."
Bast adds that putting greens can get very expensive, ranging from $5,000 to $45,000 depending on the size and shape.
"Avid golfers definitely want it and like having it done, but it's a pretty big investment," he says. "Golf is an expensive sport, so a lot of times golfers are already spending $10,000 on equipment and playing throughout the year. This is an added $15,000 to $20,000 just for a smaller green.
"But after the initial install, there's really not much more cost associated with it. The homeowners can usually maintain it themselves. I would say it maybe takes five hours a year in maintenance, to groom the turf and make sure all the organic material like leaves and branches stay off the green throughout the year."
When price isn't an issue, and there is plenty of land available, some homeowners take the drastic step of creating one or several full-length golf holes on their property. Some even mimic famous courses; just think about peering out the back window and seeing the 12th hole from Augusta National in the yard.
"They can be famous holes or holes from your local golf course," DeShayes says. "We work with a company that does 3D, high-definition surveying. They set up a scanner on a couple different locations on a golf hole, and it will scan everything from the ground to the sky. It will give us a grading plan that's accurate to within 1/32 of an inch. Then we hire an excavator to grade the whole thing out, sod the fairway, put in the irrigation and put in the sand traps."
OTHER POSSIBILITIES
Courts or playing surfaces for home use aren't just limited to basketball or golf. There are alternatives for just about any sport, including tennis, baseball and soccer.
While installing a regulation-size tennis court is rare, DeShayes says short-court tennis is a viable option because it takes up considerably less space."Most people see a tennis court at a park or a country club and it doesn't look that big because it's in a big setting," he says. "But in fact, a tournament tennis court is 7,200 square feet, and that's the footprint of a 14,000-square-foot building. So it's bigger than most houses, for sure.
"The USTA (United States Tennis Association) uses what they call a short court for teaching and coaching clinics. So instead of the play area being 78 feet long, it's only 50 feet long. And instead of being 27 feet wide for singles, it's only 20 feet wide."
Bast says some clients ask for designated turf areas on their property for cornhole, a popular party game, or even larger areas for other activities.
"Synthetic turf is great for any high traffic areas—it can really solve that problem," he says. "Whether it's a volleyball court, a small soccer field, Whiffle ball or field hockey—any sport that's going to abuse and destroy the grass—a lot of homeowners like to take that 2,000-square-foot area and turf it."
Bocce courts are yet another possibility. "Not a ton of home- owners get bocce courts just because it's a pretty significant investment and not everybody plays bocce," Bast says. "But we've seen more of it in retirement communities and some older homeowners, usually Italians, who grew up playing bocce. It's a nostalgic game that they might play once a week with their family."
No matter what sport or game it is, it's clear that if the home- owner can dream it, somebody can probably build it. And the industry doesn't appear to be slowing down anytime soon.
"I just read an article ... that said multi-purpose courts are the No. 1 amenity that people are looking at for outside recreation— even more than pools," DeShayes says. "We actually do a lot of projects where we do both. We have clients who spend millions of dollars on their pools and backyards, but in the Northeast they're only going to use it for four months. But the courts they use year-round. It's absolutely incredible what can be done nowadays."
RESOURCES
DeShayes Dream Courts
Cherry Hill, N.J.
(877) 928-4653
MyBasketballCourt.com
ForeverLawn of South Jersey
Mullica Hill, N.J.
(856) 612-5343
ForeverLawn.com/South-Jersey
Photos courtesy of DeShayes Dream Courts
Published (and copyrighted) in House & Home, Volume 17, Issue 2 (Fall 2016).
For more info on House & Home magazine, click here.
To subscribe to House & Home magazine, click here.
To advertise in House & Home magazine, call 610-272-3120.
Author:
Matt Cosentino
Archives
---
More Articles