A World-Class View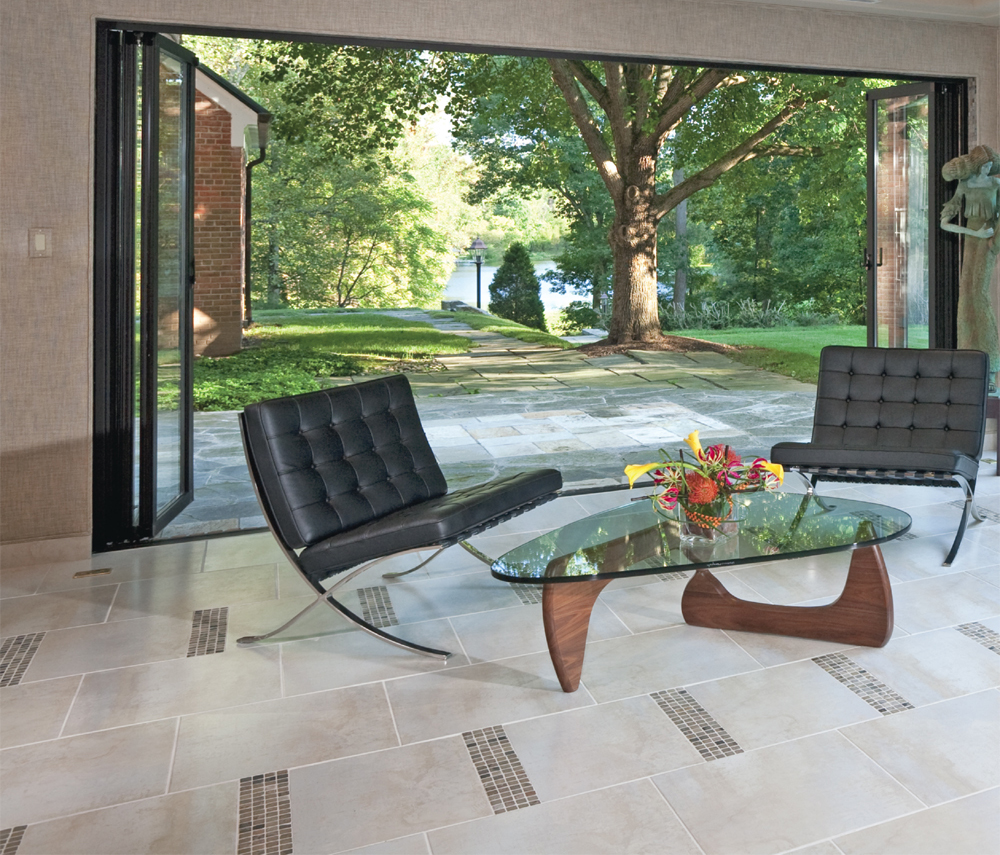 ...From the pages of House & Home Magazine...
We love our homes. We take great care and spend a lot of time and money to create areas we can enjoy. To that end, many of us would like to create a flow between our inside home and our outdoor living space. However, in our region the weather might limit how open that flow can be. Using glass allows us to figuratively remove the barrier, presenting an opportunity for us to be part of our landscape area from within.
"In most cases, people desire something that can create the open outdoor feel while still allowing for a closed and secure application in the event of a storm or inclement weather," explains Ben Weaver, general manager at Alderfer Glass Co. "This is particularly true in the Northeast. We see a lot of sliding door applications in residential [properties], and a lot of collapsing doors or bi-fold door systems starting to be used in restaurants and commercial [spaces]."
Glass walls and windows help create the illusion of a larger room.
"This is a great way to add more 'space' to a home without actually adding more square feet," says Adam Parnes, VP marketing of Global Home Improvement. "Natural light and great views can make your home feel larger and more inviting." He says that many brands today can offer custom solutions for any situation. "Some great ideas include converting a two- or three-unit window area to a bay or bow window. Or change a window area into a French door. The options are endless," he says.
Glass is a great way to approach a hole in your home you want to fill, says Matt Thomas, marketing manager for Nana Wall Systems Inc. "What you do depends on many things: your budget, de- sign aesthetic, what the architect requires," he says. The options are varied and with the system his company installs there are 30 products to choose from, including nine popular folding panel options alone.
Installation considerations
Article continues below
---
advertisement


---
There are many spaces within the house that would benefit from added windows or glass walls, says Weaver. "In the home, it is most often the primary living area and/or the eating area, with the opening out onto a patio or covered deck/lanai," he says. "In most cases, there is an outdoor cooking option and some outdoor entertaining space." He says that the size and configuration is determined by the space available and the customer needs, and that systems can be aluminum, vinyl or a combination.
"The living room is a very popular area because we spend so much time there," says Parnes. In addition to the solutions mentioned ear- lier, he says you can add another entrance to your backyard or side patio. You could "add or increase the size of your kitchen window to include expansive views of your backyard, making cooking and cleaning dishes slightly more enjoyable," he says.
"You want to take into account the upgrade and how it will affect your home's aesthetics, flow and value," says Parnes. "Then you want to take into account your budget. A good tip to save money is to avoid areas where you need to re-route plumbing, HVAC or electrical. This will add significant time and cost."
Weaver agrees that the two main considerations for doing this are space available and price. "These types of systems, when done on a large scale, can be relatively costly," he says. "If budget-friendly is the idea, a typical sliding patio door, even in combination with others, is usually sufficient to get a little of the feel customers are looking for."
For Luciano Colli, owner/operator of Shore Shower Doors and Glass, the most popular options are sliding doors leading to exterior locations and frameless glass for interiors. "We've noticed there are a lot of new homes using commercial aluminum frames to do windows and doors in the Shore area," he says. He adds that the most popular spaces for this work have been bathrooms and the division between living rooms and dining rooms, using either frosted or clear glass. "In homes we always recommend the frameless style—just clips to hold these pieces of glass. You will have a clean, more elegant look," he says.
Beyond identifying the locations, it's crucial to know the options best for each, suggests Thomas. "There are a number of factors that allow for customization. We want to know all about the area, so we'll ask many questions to better understand what different products work for you. Today, people are very well versed so we know they've al- ready done their homework. So we need to be flexible, cost-optimize products and take everything into consideration including your interior design and the furniture in the area—both inside and outside," he says.
Durability, efficiency & weather resistance
Since our region does experience all four seasons, some homeowners might have concern about how these glass elements will hold up.
Weaver says that the units' weather resistance is very good, since most are designed to be the primary barrier to the outdoors. "In a [Shore] environment, we al- ways recommend stainless steel for rollers and any types of moving hardware to resist the damp salt air. Energy efficiency and durability on newer systems is typically top-notch, particularly when com- pared against systems that customers might be used to seeing from the '70s and '80s," he says. Technology, materials, and coatings used have come a long way. "This applies to both the glass and the framing material—both are advanced at this point."
Thomas' company includes products that fold flat and out of the way, allowing you to open multiple panels while keeping them out of people's way. They are also created with security in mind. "There can be many ways to get into a home through a tradition- al or old slider. But for us, each slider is locked and you can't break it because of impact glass," he says. "Durability and weather-resistance is in our DNA. As is energy-efficiency and ease of use," Thomas says. "It's really important to get a premium product that is independently tested and that'll last for decades."
Thomas adds another interesting consideration. "We use our floor support technology, using the head track as a guide but not to hold the weight," he says. Some of these panels can weigh 200 to 300 pounds each, so his company's focus on floor support and stainless steel proprietary rollers in- crease the products' ease of use. Like any glass door, however, experts warn it's not uncommon for people to walk right into them.
"If you install these pieces from floor to ceiling, we highly recommend something clear with some visible decoration. This avoids people hitting the glass, especially at night. But if these are installed on a wall or on top of a wall, you will have no problems with the clear glass," says Colli.
To make sure you're truly happy with the investment, do your research on the products and the company installing them.
"When installing new windows or doors, it is important to go with a name you can trust," advises Parnes, whose company uses Marvin Windows products. He also says to make sure when installing a custom door or win- dow that you have the best contractor. "A product is only as good as the company installing it," he says. "If done properly, this will add durability, energy efficiency and weather resistance to your home."
RESOURCES
Alderfer Glass Co. Inc.
Telford, Pa.
(215) 723-1192
AlderferGlass.com
Global Home Improvement
Feasterville, Pa. and Morristown, N.J.
(866) 735-1121
GlobalHomeInc.com
Nana Wall Systems, Inc.
Bristol, Pa.
(215) 788-4032
NanaWall.com
Shore Shower Doors and Glass
West Long Branch, N.J.
(732) 870-3400
ShoreGlassNJ.com
Photographs courtesy of Nana Wall Systems, Inc.
Published (and copyrighted) in House & Home, Volume 17, Issue 2 (Fall 2016).
For more info on House & Home magazine, click here.
To subscribe to House & Home magazine, click here.
To advertise in House & Home magazine, call 610-272-3120.
Author:
Daniel Sean Kaye
Archives
---
More Articles