The Lure of Luxury Kitchens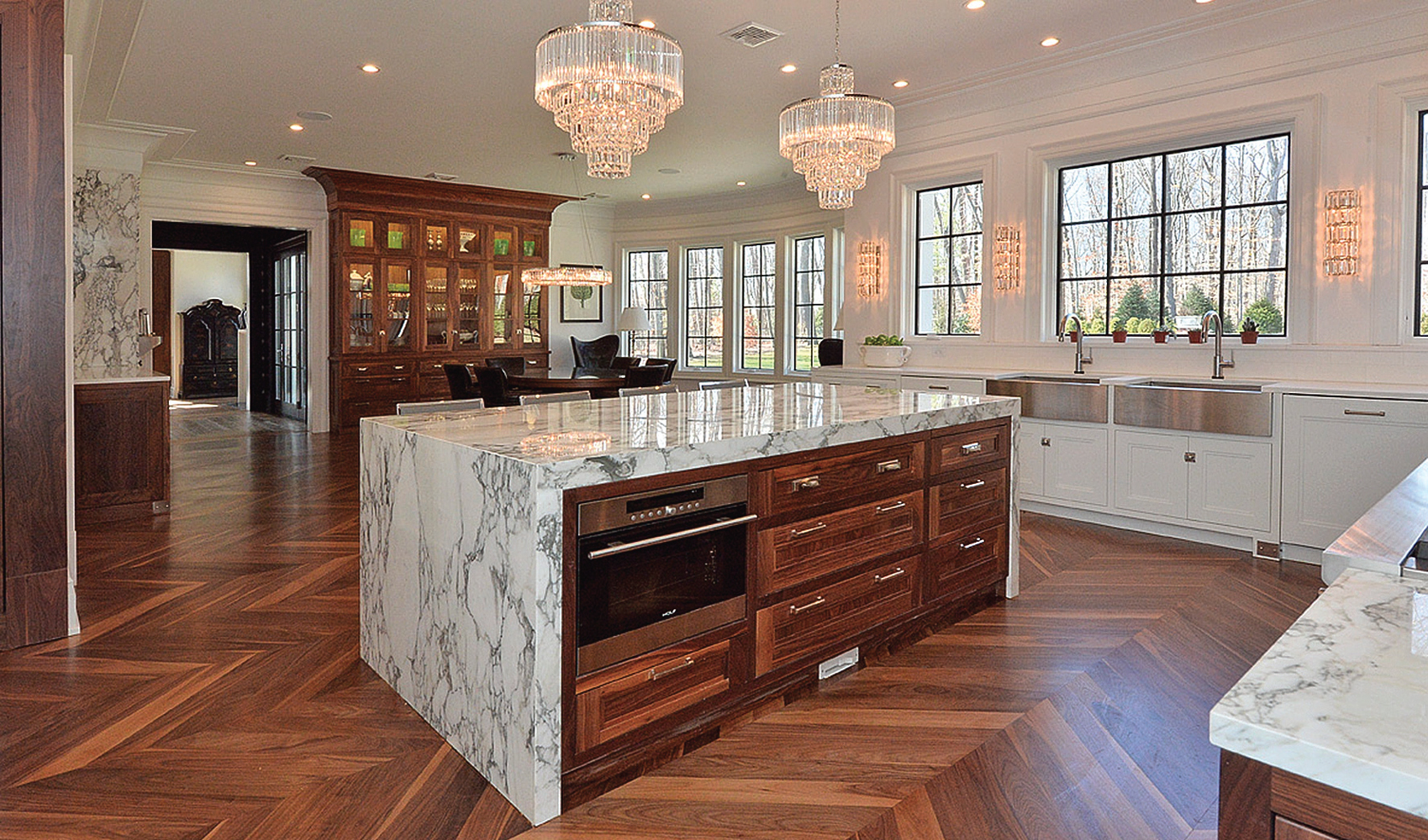 ...From the pages of House & Home Magazine...
There is much that goes into making a kitchen a kitchen. From cabinets to appliances, flooring to hardware and everything in between, this highly used space can come to de- fine your home. Every individual has their own idea of luxury, and House & Home spoke with several experts about how to incorporate that feeling into their home.
"Every area of a kitchen can be 'luxurious.' Countertops, backsplashes, hardware, flooring and cabinetry are all ways to make a kitchen look and feel not only luxurious but uniquely yours," says Dave Dilworth, director of sales and design at Dilworth's Custom Design.
Consider the kitchen piece by piece and decide what details are most important to you.
Tom Collins Jr., owner of Colmar Kitchen Studio, says to identify your own style and incorporate it into the space. For example, consider what special aspects you'd like in your cabinets. "A lot of time is put into the design of the exterior of the cabinets, and equal amount of detail needs to be de- voted to the interior of the cabinets. We are adding motorized doors and drawers that open automatically with just a light touch of the drawer front or a light pull of the handle," he says.
For a luxury kitchen, you might want different size cabinet doors, exotic woods and special amenities, says Eric Sorensen of MiterBox. "Today's ceilings are higher, so that means cabinet doors are taller. The standard thickness of a cabinet door is around 3/4 inch, but a one- inch-thick door gives stability and doesn't rattle." For drawers, which are usually made of maple, consider walnut or reclaimed lumber. "Nearly 90 percent of cabinets have painted finishes today. That allows us to add glass and put in designs like the ones you might find in fabrics, such as circles and diamonds. We can also frame areas with metal channels," he says.
When it comes to cabinetry, it's about diversity. "There are new production lines of cabinetry— using cypress, beech, different re- claimed wood, and exotic hard- woods," says David Cerami, president of HomeTech Renovations. There are also different finishes, such as hand-rubbed oil, and cabinets with lit interiors.
"Custom cabinetry is really the heart and soul of a kitchen," says Dilworth. "Each cabinet interior is amazingly functional and built precisely based on the way a homeowner uses their kitchen. There is no wasted or unusable space. Drawers can have dividers for [anything], cooks and bakers love the spice racks, under-cooktop drawers, pull-out drawers, baking sheet racks, lazy Susans, mixer pull-outs and more," he says.
"Selecting the correct molding profile to match the style of the cabinetry [and] mixing decorative hardware can greatly add to the overall look of the space. For example, choosing the length of a handle in a proportion to the cabinet it will be installed on gives a custom, thought-out design," says Collins. Maybe consider incorporating custom-crafted metal range hoods.
Customization like this might cause sticker-shock for some, but that's not always the case.
"Luxury kitchens need cabinetry made to the specific sizes for that project. We're a custom manufacturer, so everything we touch we make. We can make any size you want instead of you fitting into their puzzle," says Sorenson, adding that while people may think handmade cabinetry is out of their budget, they actually offer savings right off the bat. "You're getting it directly from the source, with no [middlemen]," he says.
"We do a lot of research and development, so you won't find things like ours in a home center. For example, a cabinet box can be frameless or framed, so we created a hybrid design—a frameless box that offers a fresh look. We try to [form trends] rather than respond to them," says Sorenson. "Kitchens have to be different."
"We are doing so many different things in kitchens," says Mike Reisbord, of Diamond Kitchen & Bath. "We're doing large, decorative hoods, beautiful islands, changing color on cabinetry or using clipped edges. It's pretty much limitless what you can do. Just make sure you have a couple of focal points," he says. "LED lighting under cabinets is very important and really changes the way you see the kitchen. I also suggest a high-end backsplash, having a decorative faucet and hardware, maybe shaker style cabinetry. And great add-ons like drawer-style microwaves are getting very popular."
Don't be afraid to stray from what is "expected" of a kitchen, either, advises Robin Pontz, director of design and engineering for Aston Black Cabinetry. "Combining finishes, unique hardware and how you use glass are huge factors in upscale kitchens," says Pontz. "You can really think differently. You can have heavily ornate cabinetry with molded doors, unique colors and include glass. For furniture, maybe hand-carved legs or having a table as part of the island so you'll have more of an overhang. You could have dual-color countertops or a leather finish on a granite countertop or a double-layered countertop."
Technology is another stand-out area. "There's a lot of technology available. You have the smart fridge you can control from an iPhone, equipment that programs recipes, induction cooking and more. Things are really different. These options help with people's increased interest in healthy ways to cook," Cerami says.
Among recent additions to kitchens are charging stations that are blended into the kitchen for easy access to phones, tablets, etc., and a remote control door opener so a TV can be put into an upper cabinet. "Hidden when you aren't using it and easy to open when you are," says Dil- worth. Also, there are touchless electronic trash pullouts which hold containers for trash and re- cycling, appliance panels which provide a seamless transition from cabinets to appliances, and beverage centers, which "can be ideal for entertaining but also convenient for everyday use."
Collins says there have been many advances in appliances over the last few years. "Appliances now come equipped with iPhone-inspired touch screens, allowing for automated controls of all functions," he says.
Regardless of budget, be unique, says Cerami. "Consider vertical surfaces and transitional design. Do something with the backsplash, because with the right design it becomes the central focal point. Maybe a free-standing metal hood, rounded out with hand-built tile," he says. Being unique means a lot to Cerami, who supports neighborhood artists by including their work in his projects. "Our kitchens are not right out of a box." The company's website even includes an artisan gallery.
Pontz adds some more ideas. "Stainless is still popular, but platinum and slate are chosen a lot (darker grey doesn't show fingerprints)." There are new colors for flooring, high-neck faucets controlled with a tap from the back of your hand, and deeper undermount apron sinks that are stainless, quartz or polyresin, she says. "You can also consider different ways to use the cabinets, such as on the floor or wall stacked, with metal inserts, roll-out shelves and double trashcans," she says. "Just make sure everything is geared toward what you want. Take your ideas and create the dream kitchen."
RESOURCES
Article continues below
---
advertisement


---
Aston Black Cabinetry
Lancaster, Pa.
(717) 689-4576
AstonBlack.com
Colmar Home Center
Margate City, N.J.
(609) 822-4992
Avalon, N.J.
(609) 368-9500
ColmarKitchenStudio.com
Diamond Kitchen & Bath
Huntingdon Valley, Pa.
(215) 752-4400
DiamondKB.com
Dilworth's Custom Design, Inc.
Phoenixville, Pa.
(610) 917-9119
DilworthsCustomDesign.com
HomeTech Renovations
Ft. Washington, Pa.
(215) 646-7477
HomeTechRenovations.com
MiterBox
Fair Lawn, N.J.
(201) 773-6209
(862) 232-2028
MiterBoxOnline.com
Photos courtesy of MiterBox
Published (and copyrighted) in House & Home, Volume 17, Issue 2 (Fall 2016).
For more info on House & Home magazine, click here.
To subscribe to House & Home magazine, click here.
To advertise in House & Home magazine, call 610-272-3120.
Author:
Daniel Sean Kaye
Archives
---
More Articles