Bishop Eustace Preparatory School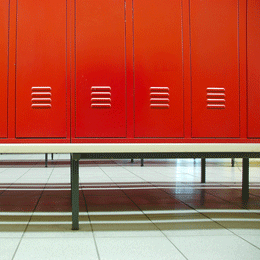 Bishop Eustace Preparatory School is a private, four year, co-educational academic environment in Pennsauken with approximately 700 students. This month the school is welcoming the Class of 2019.
According to the school's website, the mission of the school is to prepare all students to realize their unique potential through spiritual growth, Christian service, education and personal development. Bishop Eustace began as a school for young men in 1954 and also served as the minor seminary for the Pallottine's Immaculate Conception Province until 1968. Young women got approval from the Board of Trustees to attend the school in 1972.
Bishop Eustace is located five miles east of Philadelphia, on 32 acres on Route 70 in Pennsauken. Bishop Eustace's campus includes Martorelli Hall, Trinity Hall, the Saint Vincent Pallotti Chapel, and the Christa McAuliffe Science Center.
The Lulli Memorial Library can accommodate half of the student body at any one time, with 20,000 square feet. Students can work on quiet research on the main floor, hold group meetings on the second and third floors, or head outside to benches on the adjoining terrace. A dining hall and field house along with a common area known as "the quad" complete the campus.
Bishop Eustace offers an exciting curriculum with traditional offerings and many electives for upper classmen. Students can choose classes such as Journalism/Mass Media, Poetry, Law and Criminal Justice in America, and Music Theory. The school also has an honors program and offers 34 Advanced Placement and honors courses.
There are over 25 co-curricular activities at the school including Amnesty International, Book Club, Crusader (Yearbook), Environmental Club, Eustacian (School Newspaper), Fine and Performing Arts, Film Club, Mock Trial, Multicultural Awareness Club, Phoenix (Literary Magazine), National Honor Society, Photography Club, Speculative Fiction Club, Student Council, Student Library Association, S.A.D.D., Ultimate Frisbee Club and Wizards of Wonder (W.O.W. – Magic Club).
The school also offers 30 varsity sports teams for students. Many of the teams are conference champions, including Boys and Girls Soccer, Girls Field Hockey, Tennis, Bowling, Basketball and Cheerleading, Boys Baseball and Golf, and Girls Lacrosse.
Girls Soccer players this season include Brianna Montinard, Brittany Pickering, Dominique Marrone, Elizabeth O'Dee, Erin Klemenz, Hailey McGrath, Julia Schumacher, Katie Ruehlicke, Maddie Powell, Madison Shelley, Molly Monaghan, Morgan Hull, Olivia Hansen, Sammie Sorensen, Sara Beidleman, Sophia Marrone and Tallulah Manalo-Lamanna.
The Bishop Eustace football team started off their season with a win against Triton on Friday, September 9. Players on the team include Joe Wells, Andrew Ciampi, Patrick Simons, Ryan Gallagher, Blake Hansen, Tim Spellman, CJ Basso, Jeff Love, Kevin Brandt, Brendan Morton, Paul Biernacki, Matthew McKenna, Anthony Delmastro, Stephen Schoenborn, Jacob O'Brien, Nick Martorell, Andrew Klitchko, Brian Dugan, Michael Robinson, Matthew Dziuba, Michael Snyder, Paul Mikalic, Spencer Wilkins and Patrick Dunleavy.
Bishop Eustace has a Twitter account to provide immediate updates to the Bishop Eustace Community. This service will be used for instances like the school closing for inclement weather, unexpected early dismissal or an on-campus emergency. Check it out here: https://twitter.com/BishopEustace.
The school also uses other social media sites extensively, including Facebook. For more information, visit their Newsroom.
Bishop Eustace's Annual Open House will take place on Sunday, October 23 from 11am-2pm. Everyone is welcome and pre-registration is not required, but those planning to attend are encouraged to check out the admissions viewbook.
Join Bishop Eustace for A Night of Comedy on November 18 at 6:30pm. Tickets are $85 and include a 5-hour open bar, hors d'oeuvres, dinner and show. There will also be prizes, a 50/50 and a silent auction. This is one of two major fundraisers for Bishop Eustace this year and replaces Monte Carlo Night. See http://www.eustace.org/parent-assocation/bepa/events for more information.
Save the date for Bishop Eustace's second fundraiser of the 2016-2017 school year, the Spring Fashion Show on Thursday, March 23 at 7pm at Adelphia Restaurant in Deptford, NJ.
Bishop Eustace Preparatory School is located at 5552 Route 70 in Pennsauken. For more information on the school, call 856-662-2160 or visit http://www.eustace.org
© SouthJersey.com 2016. All rights reserved. This article or parts thereof may not be reprinted or reproduced by any other party without the express written consent of SouthJersey.com. For more information, please call 856-797-9910.
For more information about what's going on in our local schools and what today's students are up to, visit our South Jersey Schools page.
Article continues below
---
advertisement


---
Author:
Meghan Shott
Archives
---
A TALE OF THREE WEDDINGS
Timber Creek's Leary heads to Illinois
One of Us
Truer Words Have Been Spoken
A Thriving County
Executive Q&A
A Man of Many Faces
Super Women
Vocal Leader
Seeking Acceptance
The Business of Health Care
Mommy's Gone Viral
Singles: December 13
2017 Men of the Year
The Weekender
More...