Super Women 2016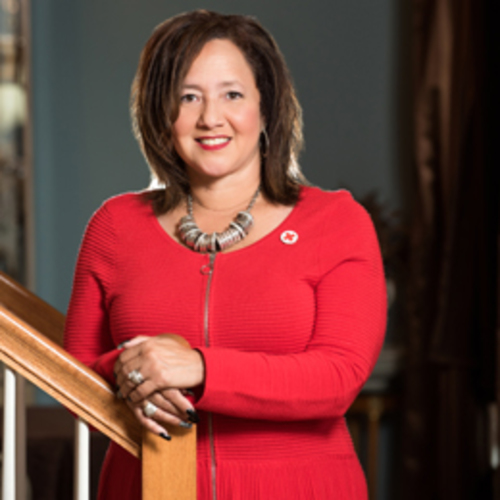 ...From the pages of South Jersey Magazine...
WOMAN OF THE YEAR: JUNE SERNAK
Sernak sums up her daily motivation for service to the community in one motto: Look like a lady, act like a boss. "I come from a legacy of strong women," she says, namely both of her grandmothers. "They were my first teachers and taught me how to not necessarily have it all but want what you have. ... It's important to be authentic and own your successes and failures and never lose your sense of humor. I now get to share their message with my daughter so she is confident, compassionate and comfortable in her own skin."
Our Woman of the Year exemplifies what it is to turn over a new leaf after a setback. Her career in the telecom industry spanned 25 years until she was downsized, giving her the opportunity to reevaluate how she could use her skills to make a difference in the world. This led her to the American Red Cross in 2014, where she is currently the executive director for the Southwestern New Jersey region. Yet while her position has her working to help people all across our area, Sernak is not new to community service.
While dealing with a difficult divorce, a friend suggested she channel her energy and "put [her] woes in perspective with those that truly needed aid." Through the Greater Philadelphia Chamber's Business Volunteer for the Arts program Sernak connected with ArtReach, which gives the disabled community the opportunity to see arts programs in various venues. She served on the board of directors for 15 years and during that time she co-chaired their annual Jazz Brunch fundraiser and witnessed the personal impact of that organization's mission. Sernak has also volunteered for Habitat for Humanity and can even be glimpsed in Jon Bon Jovi's "Who Says You Can't Go Home" music video, which features volunteers building houses.
Sernak forges relationships with the military through her role as Honorary Commander for the Joint Base McGuire-Dix-Lakehurst and is a member of the Burlington County Military Affairs Committee. "My father was in the Army during the Korean Conflict and my mom ran the local draft board in Burlington County," she says. "I have always been amazed by those that serve our military, sacrificing so much for our country. …Supporting our service members and veterans is one of the most important elements of building the strength of our community."
Accolades abound for this Woman of the Year, including being named NAWBO Community Advocate of the Year and one of South Jersey Biz's Executives of the Year and Women to Watch, but her attitude remains humble. "I have a tremendous support system of faith, family and friends that allow me to do what I love. I'm blessed with this opportunity to serve my community. My husband and daughter are involved in all aspects of my career, keeping me humble," she says. "We all have an opportunity to make a difference to someone, and small gestures are just as important as grand ones."
JENNIFER GREEN
Article continues below
---
advertisement


---
Green is a U.S. Army wife and a U.S. Marine Corps mother. Her son, Kevin, was diagnosed with post-traumatic stress disorder (PTSD) and traumatic brain injury (TBI) after his deployments to Afghanistan. When he was deployed less than a year after his diagnosis, like many other veterans, this only amplified his symptoms. Government studies estimate that 22 U.S. military veterans commit suicide every day. Green realized the lifelong effects of war on veterans first-hand and couldn't understand why there were not more resources for those who have given so much to our country. That's why she founded Alpha Bravo Canine, bringing together her professional skills as a certified professional dog trainer, her love of animals and respect and devotion for the military. Alpha Bravo Canine's mission is to provide trained service dogs to U.S military veterans suffering from PTSD, TBI and other combat-related disabilities to help make a difference for other veterans suffering from these mental-health related issues.
MICHELLE GOLLAPALLI
Gollapalli joined Kennedy Health in 2014 and currently serves as vice president of development at Kennedy Health and executive director of the Kennedy Health Care Foundation. In her role, Gollapalli oversees all of the multi-hospital health system's fundraising efforts, including its annual gala and golf outing, both of which raise funds to support various patient-centered programs and services. In 2015, she was honored with a "Women of Achievement" award by the Garden State Council—Boy Scouts of America, which is presented annually to out- standing women in business from the six counties served by the Garden State Council in South Jersey.
LAURA LANE
Since joining the YMCA of Burlington and Camden Counties in 2011, Lane has overseen all aspects of the organization's integrated marketing strategy for the $12 million non- profit organization. As the Y is a nonprofit, Lane spearheads efforts to create cost-effective and measurable targeted marketing campaigns to increase membership, program participation and overall community among the Y's members. Lane is also passionate about serving as a role model for young women. She accomplishes this by taking on summer interns under her wing as part of her mission to inspire the next generation of marketing professionals by teaching these young women the importance of work- ing hard and standing up for themselves. She also volunteers her time and talent to other organizations and was recently asked to serve on the Burlington County Regional Chamber of Commerce Membership Task Force to help lead the efforts to grow membership and retention.
MARY ANN BOCCOLINI
As the president and CEO of Samaritan Healthcare and Hospice, Boccolini's efforts have helped many in the South Jersey community. But, her outreach to other areas of the world is equally impressive. She spearheaded collaboration between Samaritan and third- world hospice Global Partners Care to raise money, provide schooling and more to help Kawempe Home Care in Kampala, Uganda. She continues to share her passion with the South Jersey community as an active member of the Moorestown Rotary Lunch Club since 2001, where she has served on a variety of commit- tees, including chairing the International Service Projects Committee to collect funds for a grant that allows clean well water to be distributed to schools affected by drought and famine in Africa. She has also served as Rotary lead liaison to 120 teens in the Moorestown High School Inter- act Club, sharing with them the importance of community involvement, and helped coordinate a series of educational health seminars for South Jersey women during her time on the Burlington County Advisory Council on Women.
STACEY SANITATE
Sanitate is the owner and artistic director of The Dance Factory in Glassboro. But Sanitate has taken this opportunity a step further to help her community in a variety of ways. First, she began offering creative movement classes for special needs children and young adults. These classes allow participants to express themselves through dance and music. Currently, there are 12 dancers who have become "buddies" in each of the special needs classes. This has even led to a few dancers majoring in special education or movement therapy in college. Sanitate's students also perform at retirement homes, local community days, parades including the Miss America Parade and recently volunteered at the Down syndrome "Rock your Socks" day. Sanitate herself continues to be active in helping others by collecting toys and food for children's special services programs and local food banks.
SHARI VEISBLATT
You might say being an advocate comes naturally to Veisblatt. An accomplished family law attorney in her own right, she has published articles and been a featured guest speaker for organizations across the state of New Jersey, but it's the advocating she does as a volunteer that truly makes her a Super Woman. Veisblatt sits on the board of CASA—Court Appointed Special Advocates—a nonprofit that advocates for children who have been removed from their families because of abuse or neglect. The organization recruits and trains volunteers to be a voice in court for these children, making sure they get services they need and permanent homes. Veisblatt helps fundraise for CASA and another cause close to her heart: Shriners Hospitals for Children, donating her time to the LuLu Shriners circus event.
ERICA HUNTER
South Jersey has long been a second home to the Philadelphia Flyers, and Hunter is helping to make it feel like home for youth athletes as well. She created the Flyers Youth Special Hockey pro- gram, designed to help kids with developmental disabilities such as Down syndrome and autism get on the ice and learn the fundamentals of skating, competition and making friends. Practices are held at the same Voorhees facility that the Flyers use, and kids sport their own orange jerseys while familiarizing themselves with hockey under the tutelage of head coach Mark VonBerg. Hunter works tirelessly to obtain sponsorships and organize a team of over 20 volunteers while keeping costs down for the families of the athletes. Hunter has helped these children celebrate their unique abilities while simultaneously creating a new generation of South Jersey hockey fanatics.
PHOEBE HADDON
Haddon has dedicated most of her life to education and the law, and her accomplishments have not gone unnoticed. She has written extensively on equality and access in education issues, and for four years in a row she has been honored by The National Jurist as one of the "25 Most Influential People in Legal Education." In 2015, she received the Trailblazer Award from the New Jersey Women Lawyers Association, and was similarly honored by the National Association of Women Business Owners in South Jersey in 2016. Haddon is a member of the American Bar Association's Commission on the Future of Legal Services and sits on the board of trustees for Cooper University Health System and is a member of the CEO Council for Growth. She is currently chancellor of Rutgers University–Camden, and oversees the day-to-day administration of 1,300 employees on a campus with more than 6,600 students.
DRESSLER SMITH
This Pennsauken resident has many talents. She's a gifted painter and pastel colorist whose stained glass windows appear in many churches, and her murals can be seen on buildings such as the Ferry Avenue Public Library and City Hall, both in Camden. Her artwork has been acquired for the private collections of celebrities like Oprah Winfrey, Randall Cunningham and Coretta Scott King. Smith has been honored with several accolades, including the Applause Award from the Markheim Arts Center in Haddonfield and the Candace Award from the Coalition of 100 Black Women. She is also a professionally trained vocalist and has directed the St. John the Baptist Church Children's Choir for more than 20 years. Smith is an adjunct professor at Camden County College and author of the book Celebrating Life Through the Arts: The Inspirational Journey of Dressler Smith.
KATHERINE FALCONE
In her professional career, Falcone is president of SOS Group Inc. and founder/president of the Williamstown Chamber of Commerce. She received the 2015 Small Business of the Year award presented by the Gloucester County Chamber of Commerce. However, it's the strides in the community that have her in the Super Women spotlight. Falcone was diagnosed with dermatomyositis, a muscular dystrophy disease, and has been an advocate for the Muscular Dystrophy Association (MDA), helping organize last month's inaugural MDA Walk & Vendor Fair in Williamstown—South Jersey's first of its kind. Falcone spoke at an event for the Myositis Association in Reno, Nev., recently and will attend the 2017 Myositis Conference in San Diego.
DR. MONICA SCOTT
A physical therapist with an office in Woodbury, Scott stays active both in the medical and local communities. She is the former VP of the New Jersey Chapter of the American Physical Therapy Women's Health Special Interest Group and currently serves as a New Jersey Small Busi- ness Majority Representative for the White House Summit meeting. Over the past two years she has visited the White House three times. She is a board member for the YMCA of Gloucester County and member of the NAACP and Greater Woodbury Chamber of Commerce. Scott showed off her fancy footwork when she was crowned the winner of 2015's Dancing with the Gloucester County Stars, for which she raised more than $40,000 to benefit her charity, Center for Family Services.
LUCIENNE BEARD
Beard started her work with the Alice Paul Institute as a volunteer and board member in 1994 before becoming part of the nonprofit's first professional staff. From 2000 through 2007 she served as the institute's program director and helped create the Alice Paul Leadership Program for girls. Since 2012 she has served in the capacity of executive director and oversees all operations and strategic direction. She has also traveled the country lecturing on Paul and her place in women's history. The Mount Laurel resident also serves on the boards of various other nonprofits in the region, but her work helping young women pursue leadership in the future is what is most inspiring.
JENNIFER DUBROW WEISS
Dubrow Weiss is a champion for South Jersey's Jewish community. In 2012, she was named the first female CEO of the Jewish Federation of Southern New Jersey, and since taking the helm she has increased fundraising dollars, helped lead a study of the Jewish population in the tri-county area and expanded the federation's services with the Aleph Home Care program. Dubrow Weiss is also credited with launching the ACHaD program at the Katz JCC for individuals with special needs and their families, coordinating a "Special Games" component of the Maccabi Games, which was only the second time in their history. She has been recognized with several awards, including the AJFCA Chairman's Award, the AJFCA Distinguished Service Award and the New Jersey Association of Jewish Communal Service Leo Brody Jewish Communal Service Award.
LINDA MURPHY
When Murphy's eldest daughter came out as a lesbian after graduating from high school in 2005, she quickly sought out local support groups to help them both navigate this new chapter in their lives. She found none. So when PFLAG, a national nonprofit with 400 chapters across the country, established a local outfit in Collingswood she quickly became the group's first president. "PFLAG has empowered me to go beyond acceptance, and instilled in me a sense of pride in my family and for the entire LGBTQ community," Murphy says. The organization serves all of South Jersey, providing monthly support groups, information about local resources and outreach to those looking to be more informed on LGBTQ topics. "When we all stand together, in our uniqueness, with compassion as our guide, our world will be a better place."
MAURA SCHWARTZ
While many educators were deeply affected by the 2012 shooting at Sandy Hook Elementary in Newtown, Conn., the inexplicable violence hit closer to home for this teacher from Deptford. That's because not only did Schwartz grow up two towns away from Newtown, but her mother, Mary Joy Sherlach, was Sandy Hook's school psychologist and gave her life to protect the students she served. In the winter of 2015, along with her husband Eric, Schwartz created the South Jersey chapter of Mary's Fund to honor her late mother's legacy. The group's mission is to support programs that aid mental and social wellness of children. To date, the group has funded scholarships and donated thousands of dollars to the Mental Health Association of Southwestern New Jersey. "[What] has continued to help me heal is the continued support we receive from families, friends and strangers from around the world, wanting to make something good from the worst thing we've ever experienced. It's helped us put things into perspective and not dwell on the horribleness, the pain and the grief. We have faith in humanity," Schwartz tells us.
BERNADETTE BLACKSTOCK
You could likely fill up this magazine with all of Blackstock's accomplishments. The founder, CEO and president of the People for People Foundation—an organization that helps typically self- sufficient families who have fallen on hard times—has touched the lives of more than 11,000 people thanks to her efforts, and she also helped develop the Heart of South Jersey, a collaborative effort of area nonprofits working together under her leadership. Chosen as a "Woman of Action" by the White House and Rotary International in 2014, Blackstock has also been honored with the President's Call to Action Lifetime Achievement Award for her more than 8,000 volunteer hours. She has served on the board of directors for the Gloucester County Habitat for Humanity; is a trained veteran service officer working as a volunteer at the Gloucester County Veterans Affairs office specializing in women's issues; and is the founder of Wreaths of Remembrance, a project that has laid more than 10,000 wreaths on the graves of veterans in South Jersey. And that's just a few of her accolades. She is currently working on spearheading a project called Camp Salute, an affordable housing development for low-to-moderate income veterans and their families.
DONNA MARIE ROMANI
An active volunteer in South Jersey since 1975, Romani founded Grace in the Mud last year. The charitable organization seeks to help young, at-risk girls ages 9 through 11 develop skills that will aid them in becoming established young women and leaders for the next generation. The nonprofit inspires these girls to pursue the future of their dreams through a fully immersive enrichment program, using a three-pronged approach to promote positive identity formation, character development and civic responsibility. Romani often works with these girls as they transition into adulthood and reach 21 years old. By partnering with local businesses and organizations, Grace in the Mud is able to give the girls hands-on experiences that wouldn't otherwise be available to them. "I would love to see this program grow and be a model for programs like Girls Scouts of America, Big Brothers and Big Sisters," Romani says.
ERIN LAWLER
A substance awareness coordinator at Seneca High School, Lawler's mission is to steer the youth away from the dangers of drug abuse, which is why she founded the Seneca Drug Squad and Be the Dream. These peer prevention groups consist of upperclassmen engaging in the community by volunteering to visit soup kitchens and feed the homeless. In addition, she has helped students in need connect with the Seneca Food Pantry and the Seneca Clothing Thrift Shop. In 2011, she was honored by the Medford Women's Club for her work and was a winner of the W. Cary Edwards State Volunteer of the Year Award in 2015, as chosen by the Governor's Council on Alcoholism and Drug Abuse. By offering kids a chance to make positive decisions she hopes to empower them to make an impact on others. "Life is short, make a difference," is the calling card of her work.
CAMILLE SCOTT
Growing up in a large Catholic family, Voorhees' Scott says she grew up helping people. In 2005, she felt what many people of faith describe as "a call," a message from God that, in this case, told her she needed to make things for the homeless—1,000 things to be exact. She had no concept of how she was going to distribute the scarves, hats and gloves she knitted, but she got to work anyway. As a parishioner of St. Mary's Episcopal Church in Haddon Heights she connected with members of St. Paul's Episcopal Church in Camden and found outlets for distribution. And thus Warm Hands, Warm Hearts was born. Scott had not intended to work past her 1,000-item benchmark, but just a week after she reached that goal she received a check in the mail from Interfaith Ministries to help defray her costs. For Scott, that was a sign that she was meant to keep going. So she continues—and will as long as she is able—knitting these items year- round, even decorating bags to put them in so each recipient feels as if they are truly getting a gift. When asked about her work, Scott is extremely humble and says there are many around the country doing the same thing and that her work is not that big a deal. But to those who are kept warm and comforted by the items she makes, Scott is surely a Super Woman.
Published (and copyrighted) in South Jersey Magazine, Volume 13, Issue 7 (October, 2016).
For more info on South Jersey Magazine, click here.
To subscribe to South Jersey Magazine, click here.
To advertise in South Jersey Magazine, click here.
Author:
Michelle Boyles, Liz Hunter and Peter Proko
Archives
---
More Articles