2023 Women to Watch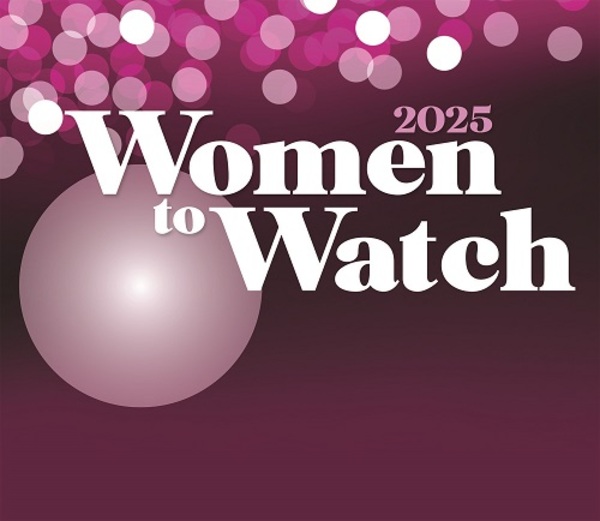 As many of the ladies we're celebrating with this year's Women to Watch list have noted, today's women have more support, more representation and more platforms to use their voices than ever—but true gender equality in the professional world is still a long way off in the staggering majority of industries. Rather than waiting for the world to change, though, the 20 women you'll meet in these pages are taking matters into their own hands, breaking glass ceilings as they burst through the ranks and climb corporate ladders, never forgetting to extend a hand to the future to ensure that tomorrow's female leaders have every opportunity to actively position their own careers for an ever-upward trajectory.
Gabrielle Leonetti, Marketing Director, WCRE
Leonetti describes herself as "self-made," having graduated with an associate's degree she funded entirely on her own and no background in marketing or business until she received hands-on experience in accounting, medical billing and coding, construction, administration, real estate and financing, all which have been part of her on-the-job business education. In 2016, Leonetti became first the marketing representative and then director of marketing at a local asphalt company, and she has previously been recognized as both Marketing Director of the Year and Committee Member of the Year by the Builders League of South Jersey.
On today's impressive young women…
As we continue to evolve in the workforce, I find it inspiring that so many young women know how to set boundaries, expectations and self-worth. They know how to work hard, but know how to set a precedent of respect, ethic and fun while being top professionals.
The women who've inspired her…
Article continues below
---
advertisement


---

I come from a long line of inspirational women, from my grandmom and mom to my mother-in-law who recently passed. I also find inspiration in the childhood friends who are still in my life today, especially Kristin Massi, The Pothole Princess at American Asphalt. She's taken over the construction industry as a single mom, never letting adversities defeat her drive to succeed. She's been my coach, voice of reason, motivator and fire-starter.
Janet Bennett, Vice President, Cardiology Services, Deborah Heart and Lung Center
Bennett joined Deborah as vice president, cardiology services in May 2021. She previously served as director of the heart and vascular program at AtlantiCare Regional Medical Center, where she also was business manager for the cardiovascular service line. In addition to her MBA from Thomas Edison State University, Bennett is a fellow of the American College of Healthcare Executives. She also is active in numerous professional organizations.
On today's impressive young women…
They're not afraid to set their own path. What took me 10-15 years, they are aspiring to within two or three years because their mindset from the start is not "I think I can do that job" but rather "I know I can do that job." They are also very aware of the need for self-care: What once was regarded as selfish or self-serving is now a necessity.
The women who've inspired her…
My mom inspired me personally and professionally due to her dedication to whatever she set her mind to. She had a family and a career when many women did not. She embodied work/life balance before it was a thing: She always made time for friends, volunteering, nature and God. She never stood for status quo and selflessly took on every challenge she encountered in order to help others.
Shereen Chen Gray, Founder and Partner, Chen Gray Law
Chen concentrates her practice exclusively in the area of immigration and nationality law, often working with and advising corporations in the midst of a merger or acquisition, as well as handling individual cases including family-based petitions and naturalization. She speaks frequently on business-immigration issues and is frequently quoted in publications and programs. Every year since 2008, Chen has been the speaker at the Burlington County Law Day Ceremony recognizing new U.S. citizens. She's previously been named among the Outstanding Women of Burlington County.
Regarding challenges women still face…
I think professional women, in all industries, still struggle with finding balance between work and family. You know you need to be on that Zoom call, but you also want to be at your daughter's soccer game or helping your elderly parents. I always take to heart some advice a friend learned from a women's' empowerment seminar: As a woman, it is OK to ask for or hire help. If you can financially afford it, you should have some help cleaning the house or watching the kids for a few hours. As women, we want to do everything and we think we can do everything, but sometimes that extra help is what you need to help you find the right balance.

Carly LePore, Manager Corporate Communications, AmeriHealth New Jersey
LePore joined AmeriHealth New Jersey in 2018 and plays a key role in duties such as protecting and promoting the brand, providing strategic counsel on media relations, making speaking engagements and public appearances, and facilitating internal associate communications. As a member of AmeriHealth New Jersey's Diversity, Equity and Inclusion Council, she also helps cultivate a welcoming, inclusive work environment. LePore earned her B.A. in public relations with a minor in sociology from Quinnipiac University, and has more than a decade of experience in public/media relations as well as corporate communications.
What she'd tell her younger professional self…
Think about your resume beyond work experience. For a fulfilling life and successful career, tap into as many areas of interest as you can. Get involved in your community's nonprofits and organizations. Take opportunities to learn and grow outside your job: that's where you'll meet interesting people and build your network.
The women who've inspired her…
My mom taught me many things, most importantly family values. MiMi, my grandmother, is a cancer survivor, and I am influenced by her fierce, competitive and no-nonsense approach to life. When I started at AmeriHealth, my manager and mentor Jill Roman gave me the support I needed and believed in me when I was a new mother finding work-life balance.

Lynn Cravero, Regional Director of Operations, ACCU Staffing
Cravero, proudly born and raised in Bellmawr, joined ACCU as a recruiting specialist more than three decades ago; five years later and having taken on a leadership role at Tastefully Simple, Cravero chose to raise her three daughters in her hometown. She next found work as a director of two group homes with Arc of Gloucester County, but a call from ACCU CEO Elaine M. Damm encouraged her to accept the regional operations director position more than five years ago. Cravero oversees the continued growth of 15 branches, which includes developing relationships with customers, staff and the local community.
Regarding challenges women still face…
Women have more choices than ever but still struggle. We saw the pandemic's effect on women, who balanced their families and jobs while adding more to their daily duties. I believe there is no time allowed to think about what we have to do, we just do it. Women are always up for the challenge, and I am grateful for the good that may have come from companies recognizing the need for change when it was necessary to develop flexible work schedules and a better understanding of how to hold onto these valuable employees. I would, however, like to see more progress in male wages versus female wages. I encourage all young women to reach for the stars: There is nothing we can't do!
Pamela Downes, Founding Partner, REV Creative Group
After nearly two decades working with clients of various sizes and industries, Downes partnered with Pamela Collins, her client of 10 years, to create REV Creative Group in 2018. As founding partner of the purpose-driven agency, Downes creates dynamic marketing solutions and visual experiences that differentiate clients in their marketplace. She brings 25 years' experience as a creative director to her role and deeply believes that positive energy creates successful relationships. REV's passion is to help brands tell their unique story by working with the right people and doing the right work for the right reasons.
What she'd tell her younger professional self…
I'm incredibly proud of my younger self: I stepped into a large role early on in my career and rose to the challenge, which I believe shaped who I am today while giving me the skills and courage to become a successful entrepreneur.
On today's impressive young women…
Today's young women have confidence and knowledge about themselves that my generation struggled with. I remember turning a blind eye toward certain behavior in the workplace as a young woman who was taught to let things go and not rock the boat. That behavior isn't acceptable today and I applaud young women for standing in their power and knowing their value in the workplace.

Keisha Stephenson Taylor, Ed.D, Senior Director of Alumni & Postsecondary Engagement, NAF Mount Laurel
Dr. Taylor earned her doctorate in educational leadership and innovation from Wilmington University at the age of 29. In her role at NAF—a national nonprofit preparing high schoolers for college, careers and success—Dr. Taylor leads and implements postsecondary and partnership plans to support college access and preparation for future leaders across NAF's network. NAF partners with companies to align high school education with future workforce needs, creating a diverse, inclusive talent pipeline and a pool of future workers.
On today's impressive young women…
I have the pleasure of working directly with the fierce and fearless next generation of leaders. They know how to use their voices, advocate for others and, when necessary, stand up for themselves. We equip our students with future-ready skills to enter the workforce, but what I often see is a new generation of young women who are innately more prepared to take on the world.
What she'd tell her younger professional self…
Be patient and trust the process. When I received my doctorate, I thought I knew everything. Now, I realize we should live in a cycle of continuous improvement. NAF has a culture of lifelong learning and we "walk the talk" through community investment and transparent self-reflection. One way to do this is act on mentorship opportunities: You change a person's life while discovering a lot about yourself.
Denise Soto, Chief Development Officer, Oaks Integrated Care
Soto oversees Oaks' fundraising and marketing, as well as its two food pantries in Mount Holly and Berlin. She is a certified fundraising executive with more than 20 years of nonprofit experience. She received her B.A. from NJCU and M.S. in organizational leadership and management from Springfield College. Soto serves on the board of YMCA Camp Mason and on her municipal Democratic committee.
The women who've inspired her…
My mother is my ultimate inspiration. Desiring better medical care after losing her firstborn to illness, she and my father emigrated from Egypt in the early '70s. She earned her M.A. at TCNJ and became our family's breadwinner, smashing the patriarchal and societal norms of the time and her culture. When cancer took her from us shortly after her retirement, it taught me to not wait to enjoy life, work to live instead of live to work, and embrace aging because every day is a gift.
Regarding challenges women still face…
I believe that while women have made great strides professionally, there are still often fewer seats at many executive tables for us. Instead of focusing on working together and lifting each other up, many women still find themselves in competition with and pitted against each other for those limited seats.

Italia (Lia) Domenick, CPCU, Agency Owner, Allstate – The Domenick Group
Domenick started her career in the mailroom of the country's second-oldest property insurer and was quickly promoted to claims clerk. From there, she worked for major insurers in positions of increasing responsibility, and entered the business-development side of the industry in 2006. Prior to purchasing the Cherry Hill brokerage she oversees today, Domenick served as a vice president for North American Risk Services. She is a graduate of Kingsway Regional High School, Drexel University and LeBow College of Business, and holds a number of professional designations and licenses. In addition to mentoring and volunteer work, Domenick is a member of the CPCU Society of Philadelphia, The Legacy Club, Marlton Business Association, Burlington County Chamber of Commerce and The National Association of Women Business Owners.
Regarding challenges women still face…
Women in business still face challenges, as only 32% of CEOs in the United States are women, while 68% are men—and even in that prestigious role, women earn just 90 cents for every $1 earned by men.
What she'd tell her younger professional self…
If I could tell my younger self one thing, it would be don't wait until your 40s before having the courage to take big career risks. Always believe in yourself!
Noel J. Capuano, Principal, Marcum
Capuano, a CPA, has more than 30 years of experience delivering forensic accounting, litigation and valuation services to a diverse range of clients. She specializes in business valuation in connection with marital dissolution, buy/sell agreements, business disputes, employee stock ownership plans, and estate and gift planning, and has been qualified as an expert witness in various courts in both New Jersey and Pennsylvania. Capuano is a frequent lecturer for professional groups, including Burlington and Mercer counties' bar associations.
On today's impressive young women…
I'm impressed by the poise and confidence they possess in general, but what inspires me is their ability to advocate for themselves and each other. My generation believed that if you worked hard, you'd be rewarded; today's generation is more keenly aware of the need to both quantify, and more importantly articulate, the value they bring. I'm pleased to see more young women pursue a career in public accounting, and to help mentor the women coming up behind them. I've seen so many promising young women leave the profession because they either had no female role models or assumed they couldn't balance an accounting career with raising a family. I have two daughters in the industry and I'm so thankful they both have a large network of young professional women to inspire and motivate them. It's really nice to see, and it's great for the profession.
Pam Boyd, President and Co-founder, Thomas/Boyd Communications
Together with Liz Thomas, Boyd co-founded the full-service marketing communications firm Thomas/Boyd Communications, which is celebrating its 25th year. The firm's client portfolio includes Fortune 100 companies, as well as prominent regional and local businesses and nonprofits. Boyd oversees business operations, business development, client relations and overall communications strategies for the agency's diverse client base. Additionally, she serves on the board of trustees for the Food Bank of South Jersey and SNJDC, and is a volunteer marketing advisor for LUCY Outreach.
On today's impressive young women…
I respect today's younger generation of women for their drive to succeed in business and "ready to take on the world" attitude for causes near and dear to their heart, from education to social justice and more.
What she'd tell her younger professional self…
Get thicker skin and don't take things personally—it's just business! Use every experience—the good and the bad—as a professional growth tool. Challenge yourself to get out of your comfort zone and enter your growth zone.
A female milestone she'd most like to see…
I'd like to see a female president lead our nation in the near future. It's long overdue and it would undoubtedly inspire current and future generations.
Julie M. Murphy, Partner, Stradley Ronon
Murphy is a partner at Stradley Ronon in the firm's financial services practice group, representing clients in all aspects of financial services from commercial finance to workouts, creditors' rights and bankruptcy. Julie leverages her experience to provide clients with seasoned advice in connection with the negotiation and documentation of commercial loan documents, whether secured or unsecured.
What she'd tell her younger professional self…
Careers have a long arc, and you never know where your path will take you. I started my legal career at the height of the financial crisis: At the time, there wasn't a playbook for the unpredictable nature of the job market. My advice would be to embrace saying "yes" until you have to say "no." Be open to all opportunities, even if they are not your intended path.
The women who've inspired her…
My grandmother, born in 1921, went to Fordham Law School, along with my mother, who attended law school in the 1970s. My sisters are both leaders in their respective fields. In the historically male-dominated financial services industry, my colleague and partner at Stradley Ronon, Gretchen Santamour, is in a class of her own. She is a strong advocate for our clients and showed me how to be a better lawyer.
Amy Hennessey, Executive Director, Employing Bricklayers Association
Hennessey has been EBA's executive director for the past five years. Her primary responsibility is increasing its market share through education and information about the benefits of masonry materials through marketing, networking and supporting other associations. Hennessey works with the BAC Local 1 and LDC Local 332 as a board trustee and in negotiations. She prides herself on developing respectful, long-lasting relationships and connections that impact EBA members by helping them and their businesses.
What she'd tell her younger professional self…
Life is neither easy nor fair: It is a journey. Make the best decision at the time with the information you have and don't look back. You will find success personally and professionally by working hard, surrounding yourself with positive and supportive people. Let go of the bad experiences sooner rather than later. Be open to opportunity for experiences and not just financially, and you will find where you are meant to be.
The women who've inspired her…
The characteristics of a person are what inspire me, like honesty, trustworthiness, respectfulness, supportiveness and intelligence. They are mentors and co-workers who respect each other's strengths and weaknesses. We are each other's biggest cheerleaders and confidants. We respectfully share knowledge, experiences and perspectives with laughter to grow and develop personally and professionally. They are younger and older with varied backgrounds: Leigh, Chris, Casey, Carol, Maria, Dina, Donna.

Kathy White-Thomas, COO, Volunteers of America Delaware Valley
White-Thomas has serving in various roles at VOADV since 2004, including Assistant Director of Garrett House, a halfway house for women. She has also served as operations coordinator and vice president of human resources. White-Thomas has modeled her life's work after a quote by Mahatma Gandhi: "The best way to find yourself is to lose yourself in the service of others."
On today's impressive young women…
Today's young women are pushing forward and breaking barriers in many fields despite the gender inequities that remain. Are there more challenges to face? Absolutely. But young woman today do not see limits, rather opportunities to inspire, empower and embrace their unique abilities to lead. Women make up 49.58% of the world's population and in this moment, it is their time for advancement. I love that they recognize this and continue to push forward.
A female milestone she'd most like to see…
A female president. One of the many reasons is a woman's ability to negotiate and bring diverse problem-solving techniques to the table. Our approach to conflict is shaped by a worldview that includes our values, organization skills and patterns of behavior, allowing us to resolve differences, increase collaboration, and use a more supportive management style. I believe a female president would advance gender equality and gender justice while furthering economic development, social justice and political progress for us all.
Donna Schempp, President & COO, South Jersey Industries
In 2022, Schempp was named to her current position as president of SJI Renewable Energy Ventures and senior vice president of SJI Energy Enterprises Group. She's the first woman to lead one of SJI's non-regulated, clean energy-focused business entities, providing strategic oversight and driving full alignment of project development and execution across renewable-energy initiatives. She joined the company in 1992 on the utility side's accounting department and advanced through various roles before transitioning to the non-utility side, being appointed vice president of risk management in 2017. In 2020, she became vice president of SJI's enterprise project management office, and was appointed vice president and COO of SJI Renewable Energy Ventures in 2021.
On today's impressive young women…
What inspires me about today's young women is they are incredibly smart, self-confident and tenacious—all traits I wish I realized I had at the beginning of my career or traits I would have greatly benefited from developing earlier. One of my passions is mentoring young women, and I always tell them if they have confidence and are tenacious, they can do anything they set their minds to.
What she'd tell her younger professional self…
Anyone who knows me knows that my answer would be to relax and not be so serious all the time. Giving your best is good enough.

Lavinia Awosanya, MBA, CFRE, Chief Development Officer, Food Bank of South Jersey
Awosanya leads fundraising, marketing and partnership cultivation strategies for the region's largest hunger-relief organization. She oversees and directs all aspects of donor relations, implementing key strategies for scaling fundraising operations, maximizing results and ensuring the core mission of feeding residents remaining central to all decisions. She holds an MBA from Rutgers University and a B.Sc. in business administration from DeVry University. In 2020, Awosanya received the Outstanding Fundraising Professional award by AFP New Jersey – Southern Chapter and was named one of Philadelphia Business Journal's Women of Distinction. A Rotarian, Awosanya currently serves as board secretary for the Maple Shade Rotary Club.
The women who've inspired her…
The woman who has inspired me the most is my mom. She's the epitome of a woman who can do it all. After a productive career and successful entrepreneurship, she fulfilled her lifelong dream of becoming an author. At almost 80 years old, she leads an active, creative and dynamic life. She impacts the world around her in a beautiful and meaningful way. I'm blessed that she's my mom.
A female milestone she'd most like to see…
I would like to see a woman become the president of the United States. Shattering what seems like the ultimate glass ceiling will inspire women across the globe to step into their inherent purpose and potential.
Hala Shawaf Barson, CEO, VoIP Doctors Business Telecommunications
Barson found her professional calling in devising and implementing technology-driven business solutions to create operational efficiencies, mitigate risk, and make people happy by improving user and client experiences. In 2019, she co-founded VoIP Doctors to empower her clients and technology partners with cybersecurity-focused business telecommunications solutions and engineering. She is engaged in several non-profit organizations focusing on Access to the Arts, Access to Behavioral Health and Addiction Treatment Services, and Diverse STEM Entrepreneurship.
What she'd tell her younger professional self…
Take the leap! Yes, it's terrifying, but you'll survive: You'll either fail and learn or win and learn—and be better for having tried. Be braver sooner. Brave enough to say "YES!" to opportunities that pique your interest, opportunities to be kind and opportunities to utterly fail. Brave enough to pick yourself up, dust yourself off and leap again. And perhaps most importantly, brave enough to say no, no explanation necessary.
The women who've inspired her…
I'm fortunate to come from a family of brave, brilliant and resilient women who have led the way with kindness, humor and fortitude. They've navigated the vicissitudes of academic and corporate life, civil war, regime change and challenges much closer to home with grace and gumption. I'm also blessed with the women in my "family of choice," a small, close circle of friends and mentors who believe that we rise together.

Chantal Capodicasa, Regional VP, TD Bank
Capodicasa joined TD in 2019 and is regional vice president for Burlington, Camden and Mercer counties, using her 19 years of banking experience to lead the regions' commercial and small business banking. She actively supports the bank's DEI employee groups, the Project Search partnership preparing young people with diverse abilities for successful employment, and the Military Spouse Employment Partnership and veteran recruitment. Capodicasa serves on the boards of the Burlington County Regional Chamber of Commerce, YMCA of the Pines, Princeton Regional Chamber of Commerce and the Medford Business Association (President), and is involved with the state's Veterans Chamber of Commerce and Burlington County Animal Alliance.
Regarding challenges women still face…
Women are concerned about balancing their profession and home life, whether it's raising a family, spending time with their partner or caring for aging parents. It weighs on my heart if I have a sick child at home with my husband instead of me, or if I miss a dinner or game because of work; today, though, more households shoulder the responsibilities together, which I believe is setting the right example for our children. One of the best decisions I've made was hiring after-school childcare, giving me peace of mind knowing that homework and daily household chores will be completed. It allows me to come home and spend quality time with my family.
Rachael Glashan Rupisan, Executive Director, Alice Paul Institute
Rupisan is executive director for the nonprofit Alice Paul Institute, which uses the past to inspire others to take action for gender justice now. She previously led fundraising and development strategies for Koresh Dance Company and Philadelphia Ballet. Rupisan holds a B.A. from Temple University and an Executive Women in Leadership certificate from Yale University, and serves on the Leah Stein Dance Company's board of directors.
The women who've inspired her…
Throughout my career, I've had "work wives"—women I'm standing shoulder-to-shoulder with. I'm fortunate to work on a supportive senior leadership team: As women, we need this to both advance our careers and break down the systems and structures intended to tear us apart. These women inspire me to keep fighting.
Regarding challenges women still face…
The past three years have highlighted the cracks in a system that does not support women and men equally. I believe a large part of the challenge is getting people to slow down. Why the urgency over everything? That's a trauma response to a culture that says if you don't work harder than the woman next to you, she'll take your seat—and why is there only one seat? By slowing down, we can prioritize our focus and levels of empathy. Effect positive change by championing women. Embrace the joy of supporting women, even if it means knowing when to give up your seat.
Kathy Gaw-Betz, President, GAW Technology
Gaw-Betz founded GAW Technology, a provider of storage solutions to data centers, in 1990. A woman in a then-male-dominated field, she successfully translated her natural sales skills to the tech industry and today oversees a bustling distribution center in Cherry Hill and a staff of nine employees she considers family. Gaw-Betz volunteers with her church's bereavement group and Camden's Cathedral Kitchen. She was recently named a Top Woman in Technology by Mission Critical Magazine.
On today's impressive young women…
As someone who's lived through many different eras, it's inspiring to witness the changes in the young women of today. Compared to my earlier years, today's young women are bolder, more self-assured and unafraid to stand up for themselves. They are more aware of the fact that we are all equal and they will not be easily intimidated. This kind of confidence and determination to make a difference is something to be admired and respected.
What she'd tell her younger professional self…
The best advice I could give to my younger self is to never be intimidated by people in higher positions. No matter the level of success or knowledge someone may have, it's important to remember that we all have our own value and experiences to bring to the table. We all put our pants on one leg at a time. Remember who you are and keep your head held high.
Author:
Amy Kodrich and Madeleine Maccar
Archives
---
Who's Who in Health Care
Former Shawnee star Doolittle Calls It A Career
Camden County College welcomes Baseball Hall of Fame
South Jersey Football Games of the Week
Out & About
QB Ronnie Borden is Back in the Game
Should fans be worried for the Phillies bullpen?
South Jersey Football Games of the Week
A look at South Jersey's Top H.S. Girls' Soccer Teams
Out & About
Eagles will be fine after close call in opener
High School Football Games of the Week
Is it Super Bowl or bust for the Eagles?
What's New in South Jersey?
From New Jersey to Nashville
More...