2022 Women to Watch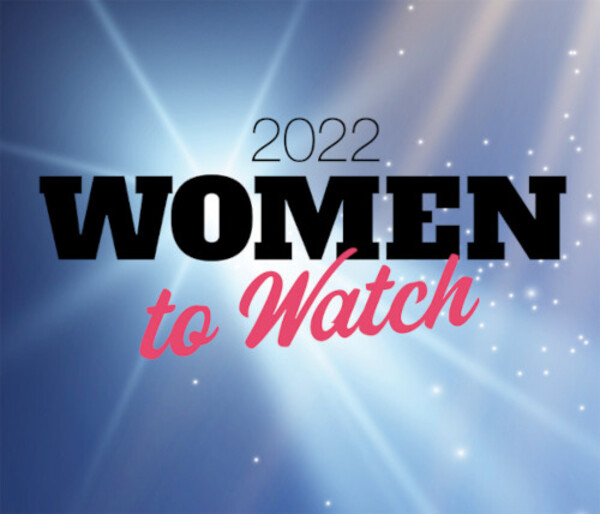 Trailblazers. Mentors. Influencers. Those are just a few of the ways one might categorize this group of women recognized as South Jersey Biz's Women to Watch this year. While these ladies may come from different backgrounds and work in varying professions, they are all doing their part to change the dynamics of the male-driven business world while inspiring future generations of female leaders. Whether they own their own business, are a top-level executive or have simply dedicated themselves to their job and the South Jersey community, these women are certainly ones to keep your eyes on.
Ana Fisher
Owner and CEO, AnA Sourcing, LLC
A shining example of the American dream, Fisher immigrated to the United States from her native Dominican Republic in 1978 and pursued her education at Pierce College in Philadelphia. After graduation, she gained experience in purchasing and supply chain management and was eventually inspired to branch out on her own and create AnA Sourcing. Along with her husband Bernie, she built the business into a multi-million-dollar corporation that serves the needs of the United States government and Department of Defense through sourcing, supply and logistics.
Which female role models have made an impact in your life?
The role model who made the most impact in my life would be my late mother. She taught me many things regarding family values and work ethic. Coming from the Dominican Republic, she taught me to think big in the land of opportunity—America!
If you could meet any woman in the world, past or present, who would it be and why?
This would have to be Jackie Kennedy Onassis; I was always impressed with her elegance. Also, she was a woman who spoke many languages. I also enjoyed the way she represented the country with dignity and class.
Monika Williams Shealey, Ph.D.
Senior Vice President, Division of Diversity, Equity and Inclusion, Rowan University
Dr. Shealey's distinguished career in academia has taken her to several universities across the country, and she arrived at Rowan in 2013 as dean of the College of Education. After six years she moved into her current role while continuing to serve as a professor of special education. Her research has focused on examining the experiences of traditionally marginalized groups in special education and Black women in teacher education.
How do you approach work/life balance?
I used to think that balance was this elusive goal that I was constantly trying to achieve. What I've come to understand is that I define balance and it's not informed by what I see on social media, read or hear from others. For me, balance means feeling comfortable with the reality that when I'm saying yes to work, I'm saying no to something in my personal life, and vice versa.
If you could meet any woman in the world, past or present, who would it be and why?
I would love to meet my maternal grandmother. She died when I was 5 years old and I don't have any memory of her. I'd love to learn about her journey, hear stories about my mother that would help me to understand her better, and as a result of this meeting I would learn more about myself.
Julie Strohlein
Associate Partner, Alloy Silverstein Accountants and Advisors
A CPA with over 20 years of experience, Stohlein has represented a varied clientele that includes the medical, legal and real estate industries. A past recipient of the NJCPA Ovation Award, which recognizes "superstars" in the profession, Strohlein's many charitable causes include serving as treasurer for Impact100 South Jersey.
Which female role models have made an impact in your life?
My paternal grandmother was such a treasure. She had energy, she laughed and teased, she cooked for everyone and she always left her back door unlocked in case anyone needed something. This included not just family, but neighbors and friends as well, whether she was home or not. … I'm sure she had stressful times, but we could never tell. I'd like to be remembered similarly.
How do you approach work/life balance?
I think the "balance" is like a seesaw. Sometimes work does have to be a priority, and it takes up more time than we want it to. But doing a good job and taking care of my clients is fulfilling, which makes me happy. Balancing work and life might not be so much about dividing up the hours in the day, but more about being able to stop worrying about work things when you participate in family things.
Janet Garraty
Director, Gloucester County Chamber of Commerce
In her leadership role, Garraty works to promote Gloucester County as an economic catalyst of the tri-state region and to develop and sustain a strong business community. A long-time business owner herself, her accomplishments include the launch of a local newspaper for women, an online magazine and a brand communication team. A New Jersey native and graduate of Glassboro State College, Garraty has enjoyed successful careers as a security professional, insurance fraud investigator and newspaper reporter.
How do you approach work/life balance?
I'm still working on that! My family instilled a very strong work ethic in me, so my inclination has always been to work really hard. But, I also married well and have been blessed with two wonderful children. Now that they are grown and living in other places, we're always looking to get together. This keeps me grounded.
If you could meet any woman in the world, past or present, who would it be and why?
I'd have to say it would be Golda Meir. Yes, I am old enough to remember when she was prime minister of Israel. There were very few women holding such power back then. I was fascinated with how much strength and intelligence it must have taken to preside over a country that was under constant threat and attack.
Sadayah DuRant-Brown
Associate, Genova Burns
DuRant-Brown received her bachelor's degree from Rutgers University and went on to Rutgers Law School, where she was an associate editor for the Race & Law Review Journal and the recipient of the Pro Bono Scholar Award for devoting over 100 hours of service. She has had several stops during her notable law career, including a stint as an associate township attorney in Mercer County. At Genova Burns, she is an associate in the firm's labor law and cannabis law departments.
How do you approach work/life balance?
It can be difficult at times as a young associate because you're eager to get to work and make an impact but you do not want to neglect your loved ones. My husband and I are both attorneys so it can get quite hectic with our demanding schedules. … No matter how busy I am, I always make sure to be there in the morning when my daughter wakes up and at night when she's getting ready for bed, and home in time to catch the show that my husband and I watch every Wednesday.
If you could meet any woman in the world, past or present, who would it be and why?
I would like to meet Harriet Tubman. I've always admired her strength, determination and bravery.
Dana Duffield
Business Development Representative, National Integrity Title Agency
Born and raised in South Jersey, Duffield got her start at National Integrity as a receptionist while pursuing her degree at Rutgers-Newark University, where she was a captain of the track team and a member of the School of Business mentor program. Since her graduation last May, she has assumed her current role and quickly established herself as an integral part of the firm's growth.
Which female role models have made an impact in your life?
Although I have had so many amazing women role models in my life, if I had to pick one in particular it would be my grandmother. She is a motherly figure to me, and I am so proud of her after years of hearing her stories about raising two sons as a single mother in Philadelphia. She is a tough woman, but a motivational one.
How do you approach work/life balance?
My approach to creating a work/life balance dates back to college when for six days a week I had track practice from 6-11 a.m., went to class from 12-6:30 p.m. and worked at the school gym from 7-11 p.m. This experience instilled the importance of time management, and it has treated me well in adjusting to my work/life balance today.
Bethany Brown
Vice President, Wolf Commercial Real Estate (WCRE)
Brown, a graduate of Shippensburg University, has played many roles during her 15-plus years in the business, including senior associate at Colliers International and general manager for a hospitality brand while building her own real estate investment portfolio in Philadelphia. She joined WCRE in 2020 and specializes in developing and implementing creative strategies for clients in the South Jersey and Philadelphia markets.
Which female role models have made an impact in your life?
I read Madeleine Albright's autobiography, Madam Secretary, in the early [2000s] right after graduating from college. … Reading her memoir and finding out that she didn't hold a government job until she was 39 and already a mother of three really resonated with me. She achieved remarkable things in her career, which didn't even get started until middle age. Her story helped me focus more on finding my passion and less on the pressure of self-imposed timelines.
If you could meet any woman in the world, past or present, who would it be and why?
I just finished the series The Crown and am now obsessed with all things British royalty. So, I think I would choose Queen Elizabeth. She has been queen for over 70 years and has been involved in practically all of modern history's most notable events, not to mention all the scandals.
Minerva Alvarado
Business and Marketing Development Coordinator, SERVPRO
After filling a variety of roles at numerous area law firms, Alvarado switched gears in 2015 when she joined SERVPRO, an industry leader in cleanup and restoration after water or fire damage, storms and disasters, construction and more. She oversees business and marketing development for the largest franchise operation in the tri-state region, which includes locations across South Jersey. A dedicated volunteer since the age of 9, Alvarado was named the Cumberland County Distinguished Citizen and Woman of Achievement in 2021.
How do you approach work/life balance?
As women, we take on a lot of responsibility in work and in life. Taking the time I need for work and life is important, and being true to myself as well. Getting organized, delegating and learning to say no are key. Equally as important is to work when you're working and enjoy life/family when you're not working.
If you could meet any woman in the world, past or present, who would it be and why?
Two women immediately come to mind. I would want to ask both women the very same question you have asked me or I would say, "Tell me about yourself," and listen to every word. [The two women are] my paternal grandmother, Rosín Hernandez, who passed before I was born, and Mother Teresa.
Erica Franklin
Experiential Learning Manager, Rowan College at Burlington County (RCBC)
Franklin leads a variety of community initiatives at RCBC, connecting the college and its students with a multitude of organizations and projects. She was instrumental in opening and continuing to coordinate the college's student food pantry and, most recently, guiding the development of an experiential learning office. In her new role, she helps students find high-quality opportunities to gain hands-on experience in their field of study.
Which female role models have made an impact in your life?
There are many women in history whose inspirational stories are well known, but there are even more whose names and stories of adversity have not been told. The young women I work with at RCBC, for instance, inspire and teach me every day.
How do you approach work/life balance?
This is the perfect time for me to reflect on this question as I will very soon be welcoming a baby girl into the balance! My approach to work/life responsibilities is to proceed with flexibility, recognizing that there will often be times when one requires more from me than the other. Sometimes the balance requires realignment, and that's OK. I have a wonderful, supportive husband and two loving pups who keep me focused on my home life when I'm not working. At work, the students keep me focused.
Kristy Connor
Financial Advisor, Merrill Lynch
Connor takes a holistic approach to financial planning, offering wealth management solutions such as personalized investment strategies, trust and estate services, insurance, and lending and banking. Her ultimate goal is to provide clients with the knowledge, power and confidence to achieve their financial goals. She currently serves as an ambassador to the National Association of Women Business Owners.
How do you approach work/life balance?
It's never easy balancing everything life throws our way. That's why it's important to prioritize my mental health and be sure I'm putting in the work to be my best self every day. I am also so fortunate to be supported on both sides of this scale. I work on a team that allows me the flexibility I need to have a fulfilling personal life. And I am supported by my close family and friends in succeeding in my professional career.
If you could meet any woman in the world, past or present, who would it be and why?
Without question, Ruth Bader Ginsberg. She was a trailblazer for gender equality and a true champion of social change.
Nichelle Pace
Vice President of the Board of Directors, Camden Business Association
Pace is a seasoned media and creative arts professional with more than 20 years of experience in film/vide production, lifestyle marketing and advertising who has led award-winning campaigns from New York to Chicago. Her entrepreneurial spirit also led her to open her own boutique creative agency, Brand Enchanting Media, in 2016. But Pace's real passions are helping her hometown of Camden and issues of diversity, equity and inclusion, which inspired her to launch the Small Biz Digital Bootcamp, a series of workshops to assist local businesses with resources in branding and digital marketing.
Which female role models have made an impact in your life?
First, the women of my family. They have strength and resilience to adversity as women of color. From my grandmom, mother, aunts, cousins and my ancestors, I draw on this strength daily. Second, two women have had a profound impact on me in business. Ronda Plummer, a former marketing EVP of a previous client, was a deliberate, calm, steadfast, strategic and kind leader. Elaine Tan was my first manager/director in the advertising industry; her drive, no-nonsense approach, sincere compassion and mastery of six different languages set the bar high for women leaders.
How do you approach work/life balance?
I practice the power of "no." You cannot pour into others from an empty cup. No matter if it is work/business or home/family, you must be deliberate and set boundaries, take time to recharge and celebrate yourself.
Stacey Rock
President and Managing Partner, Solvix Solutions, LLC
In 2013, Rock took the bold step of launching Solvix Solutions, a company that helps the federal government and commercial clients fill their technology services, hardware and software needs. It did not take long for the firm to take off and become one of the fastest-growing companies in technology. Before starting her own business, Rock spent 10-plus years providing administrative support to high-level executives at Fortune 500 companies. Now she assists those top decision-makers in saving money on products and services, and many have begun to refer to Solvix as their trusted advisor.
How do you approach work/life balance?
I take a low-stress approach to the work/life balance. There isn't "work" and "personal" life—it's blended. As an entrepreneur, there are times my kids need me during working hours and times my job needs attention during off hours. So I prioritize my schedule but also allow for flexibility. I practice patience and support both in and out of the office.
If you could meet any woman in the world, past or present, who would it be and why?
I would love to meet Cleopatra. She was such a brave and intellectual woman. She was a powerful leader who had excellent public communication and diplomacy skills.
Kathy Brancifort
President, First Class Travel
After graduating from Widener University with a degree in travel and tourism management, Brancifort endeavored to combine her love for helping people with her passion for the vacation industry and opened First Class Travel in 1988. For more than 30 years she has created lasting relationships with grateful clients, and today she is proud to run the business with her daughter, Selena Bohinski.
Which female role models have made an impact in your life?
My role model would be my mother. She displays such brilliance, grace and strength. Although having four children, being an accomplished opera singer and music teacher, these qualities did not amount to her beauty and grace that was obvious every time she entered a room. She is the strongest woman I know and I continue to strive to be a role model like her for my family.
How do you approach work/life balance?
I have realized over the years how important family is, but understanding that you need to provide is also important. I remember times where I would pick up my children from daycare or school only to bring them back to the office where they had pizza night and played secretary in the back office. My children are the world to me and always will be. I am fortunate to have a wonderful career in the travel business that has allowed me to travel with my family.
Autum Shingler-Nace
Vice President of Operations, Jefferson Health Washington Township
Shingler-Nace received her doctorate in nursing practice from the University of Pittsburgh and also holds a master's in nursing administration from Waynesburg University. She had stints as the clinical director of the Children's Regional Hospital at Cooper University Health System and as the director of the Surgery Center at Heritage Valley Health System in Pennsylvania before joining Jefferson Health – New Jersey, where she became the assistant vice president of clinical operations in 2019. Last summer, she was promoted to vice president of operations at Jefferson's Washington Township campus, where she oversees daily operations of the hospital.
How do you approach work/life balance?
It's a matter of knowing and learning when the long hours at work are needed, and that has to be a priority for patients and employees, versus my other priority roles as a wife and mother. When long hours are needed, my family is amazingly supportive, but when I need to be a wife and mother to my five children, I step away from the work and focus on myself and my family.
If you could meet any woman in the world, past or present, who would it be and why?
Maybe Amelia Earhart, but personally my grandmother, Della. She died from ovarian cancer about a year before I was born. I remember learning about her amazing character my whole life [and] … it has made me feel like I truly missed out not knowing her. On a lighter note, I am a big Dolly Parton fan, and would love to have time to talk to her about life and career. Her philanthropic and business endeavors, in addition to her adoration for her community, are truly inspiring.
Kristen Cass
Director, Cooper River Operations
A graduate of Rutgers University-Camden, Cass' diverse background and job experiences in retail, food service management and as a childcare site evaluator for the Camden County Department of Children's Services have set her up for success in her current position. Under her leadership, her team carries out the vision of the Camden County Board of Commissioners to ensure residents are offered vast amenities in the area's most popular park. Her responsibilities include oversight of the Camden County Boathouse, Camden County Driving Range at Cooper River, and LaScala Birra restaurant.
Which female role models have made an impact in your life?
I am fortunate enough to have been surrounded by strong female role models during my life, including my mother, who in my younger years was a single mother and has always inspired me to encompass strength and determination; my grandmother, who has taught me so much about selflessness and dedication to family; and my mother-in-law, who empowers me to be a passionate and driven professional. In most recent years, my daughter has come to be my role model in many ways as she grows into a brave, curious and excited young girl.
If you could meet any woman in the world, past or present, who would it be and why?
I would say Audrey Hepburn; she devoted her life to kindness and compassion. She was an amazing mother, wife and humanitarian, with an impeccable fashion sense.
Genevieve Witt
Director of Project Development, BWM Construction
Witt is an instrumental leader at BWM, a construction management company in Gibbsboro that focuses on a collaborative effort and treating each team member and client as a valuable contributor to the project. In her role, Witt helps to identify, assess and develop new business opportunities throughout the tri-state region. A 19-year veteran of the industry, she oversees the design and construction progress of projects to ensure that vision and quality are maintained.
Which female role models have made an impact in your life?
The one who stands out the most is my mother. My mother instilled in me a great work ethic, [to] always be true to yourself and honesty is the best policy in life. My mother's support throughout my life gave me the confidence to know there is nothing I can't do once I put my mind to it.
How do you approach work/life balance?
My approach to balancing work and life is to be organized and prioritize. Being able to meet priorities at work and home helps me feel a sense of accomplishment and control. The more control I have over my daily routine, the less stress I have. My family is a priority in my life. Balancing work and life is challenging at times, but I make sure I remain organized with work and allocate time for my family and friends on a daily basis.
Mary Kay Shea
Chief Financial Officer, 1st Colonial Community Bank
Shea has more than 30 years of financial management experience and extensive knowledge spanning financial and accounting disciplines, including SEC and regulatory reporting, accounting operations and systems, risk management, budgeting, cash and liquidity management, and asset/liability management and reporting. A graduate of the Boston College Carroll School of Management, she held positions of increasing responsibility at several banks before assuming her current role at 1st Colonial almost five years ago. She resides in Williamstown and is the president of the board of trustees for Mainstage Center for the Arts, as well as a longtime volunteer for the nonprofit.
Which female role models have made an impact in your life?
Early on in my banking career I worked with two women, Nancy Mahoney and Pam Feingold, who were great role models. They instilled in me accountability for my work and actions, a strong work ethic and the importance of not taking yourself too seriously.
If you could meet any woman in the world, past or present, who would it be and why?
I would enjoy meeting Melissa McCarthy. I love that she is not your typical Hollywood leading lady. Laughter is what helps me during my most stressful times. My family and I enjoy watching any movie [in which] she has a role.
Debra Rosen
Partner, Archer & Greiner, P.C.
Rosen concentrates her practice in the area of complex environmental and toxic tort litigation with a special emphasis on the defense of multiparty groundwater contamination cases. She also counsels clients on environmental compliance issues and due diligences as well as transactions involving the Industrial Site Recovery Act. Rosen is a member of the Archer board of directors and also serves as co-chair of the firm's personnel committee. Additionally, she is a member of the diversity committee and is a founding member and co-chair of the Archer & Greiner Women Lawyers Network.
How do you approach work/life balance?
The important thing is to know there is no right answer to this question and you have to do what works for you and your family. It really is a balance and sometimes the scale tips to life and family and sometimes it tips to work, and that is OK.
If you could meet any woman in the world, past or present, who would it be and why?
There are many but if I have to choose just one, I would say Ruth Bader Ginsburg. As a female lawyer, she represents everything I want to be. She reached the pinnacle of her profession but did not forget what was important to her and continued to tirelessly fight for what she believed in.
Michelle Gasiorowski
Partner, Bowman & Company
Gasiorowski is a CPA who has 20 years of experience assisting various businesses, particularly law firms and funeral homes, with strategic tax planning to help them thrive in an increasingly difficult business environment. She is also a specialist in auditing employee benefit plans. Gasiorowski prides herself on working closely with business owners as a trusted advisor, and is often able to help them grow their business and meet their goals.
Which female role models have made an impact in your life?
Ultimately my role model will always be my mother. She's guided me through all the childhood challenges, celebrations and accomplishments and is still always willing to listen when I call. As I grew in my professional life, I've been fortunate to cross paths with many women ranging from colleagues to clients to [others] I've met through various organizations in volunteer roles. While coaching for Girls on the Run, each young girl brought something to the team that I could learn from and admire.
If you could meet any woman in the world, past or present, who would it be and why?
Kathrine Switzer, the first woman to officially run the Boston Marathon in 1967. I really admire her story of how she persisted through the race when race officials were chasing her off the course only because she was a woman. I thank her for paving the way for women's fitness and health, so I can sign up for any race I want.
Stacey Zielke
HR Manager, Workplace HCM, Inc.
A South Jersey native, Zielke graduated from Rider University with a degree in psychology before beginning her accomplished career in human resources, which has lasted more than 20 years. She specializes in benefit administration and has the Professional in Human Resources (PHR) and Society for Human Resource Management (SHRM) certifications. At Workplace, she directs the planning, development, implementation, administration and budgeting of all of the human resources functions.
Which female role models have made an impact in your life?
I'm fortunate to have many loving and supportive women in my life, but it is my mother who has had the greatest influence on me. Always my cheerleader, she is the first person I want to share any news with. She has taught me to appreciate everything in life and treat everyone with kindness and respect, and most importantly without judgment.
If you could meet any woman in the world, past or present, who would it be and why?
Betty White—she is what I believe was the epitome of being a kind, loving and respectful human being.
Susan McCann
Chief Operating Officer, Samaritan
For nearly 20 years, McCann has been a key contributor at Samaritan, which is a community leader in providing life-enhancing care such as hospice and palliative medicine. Prior to joining Samaritan, where she oversees all of the organization's clinical programs, McCann spent 16 years in clinical and administrative roles at the National Multiple Sclerosis Society Central N.C. Chapter, the Philadelphia Corporation for Aging and the AIDS Coalition of Southern New Jersey.
Which female role models have made an impact in your life?
My mother worked, farmed and raised eight children, so she has a tremendous work ethic and that is probably my most defining characteristic. I have three older sisters who were strong career role models for me—a teacher, a child psychologist and a health educator. So I always knew my career would focus on helping others. And working in human services and health care, I've been fortunate to work with many strong women leaders, including our Samaritan CEO Mary Ann Boccolini.
If you could meet any woman in the world, past or present, who would it be and why?
There are so many amazing women whose contributions have been ignored [that] helped shape our community and the world. My daughter just taught me about Wilma Rudolph, the African American sprinter who overcame great odds to become an Olympian. … I would like to meet the first female U.S. President. Or maybe I've already met her!
Click here to subscribe to the free digital editions of South Jersey Biz.
Article continues below
---
advertisement


---
To read the digital edition of
South Jersey Biz
,
click here.
Published (and copyrighted) in
South Jersey Biz
, Volume 12, Issue 2 (Februray 2022).
For more info on
South Jersey Biz
,
click
here.
To subscribe to
South Jersey Biz
,
click
here.
To advertise in
South Jersey Biz
,
click
here.
Author:
Matt Cosentino
Archives
---
Who's Who in Health Care
Tight Race in Boys Soccer Colonial-Liberty Division
Should Eagles fans worry over recent wins?
South Jersey Football Games of the Week
Former Shawnee star Doolittle Calls It A Career
Camden County College welcomes Baseball Hall of Fame
South Jersey Football Games of the Week
Out & About
QB Ronnie Borden is Back in the Game
Should fans be worried for the Phillies bullpen?
South Jersey Football Games of the Week
A look at South Jersey's Top H.S. Girls' Soccer Teams
Out & About
Eagles will be fine after close call in opener
High School Football Games of the Week
More...