Maple Shade High School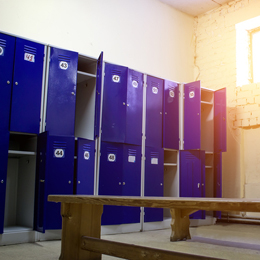 Maple Shade High School is a public high school that serves over 800 students in ninth through twelfth grade from Maple Shade Township, New Jersey. This Burlington County school offers a program of studies that prepares students to move smoothly from high school to post-high school endeavors.
According to the school's website, the program of studies that an individual pursues in high school should reflect his or her aspirations, aptitudes and achievements. Since post high school requirements for employment, college, vocational training and military are constantly changing, students must frequently re-evaluate their immediate and long-term goals.
Maple Shade High School provides many courses to choose from, beyond the state and local requirements. The school offers courses in the areas of English, Mathematics, Social Studies, Science, World Language, Visual, Practical and Performing Arts, Health and Physical Education and other areas.
Maple Shade High School's Performing Arts Department includes Vocal Music, Theatre and Instrumental Music. According to the school's website, the Concert Choir course is open to all high school students and will teach students about good choral music and provide a workable knowledge of sight-singing, part-singing, rudiments of conducting and musical terminology. Students must be interested in singing, possess a good sense of pitch and be enthusiastic. This performing group participates in area music festivals, sings on local stages and in area malls and performs two district-wide concerts in the winter and spring.
The Maple Shade High School Wildcat Marching Band is under the direction of Aaron Moseley. The band is in the midst of their 2016 season and just captured first place at a competition at Shawnee High School as well as winning Best Color Guard, Best Music, Best Overall Effect, Best Percussion and Best Visual. Next up for the band are the New Jersey State Championships and the National Championships.
The Student Government is organized to uphold the standards of Maple Shade High School, encourage the separate abilities of individual students, maintain a high standard of self-discipline among the students of our school, and sustain an enthusiastic school spirit. The membership is composed of a Representative and Alternate from each homeroom who will be elected in September by their homerooms. The President, Vice-President, Treasurer and Secretary of the Student Government will be voted for in May of the preceding year.
Sports at the school include football, soccer, field hockey, cross country, wrestling, basketball, softball, baseball and lacrosse. Follow MSHS sports on Twitter at https://twitter.com/mswildcatnation.
Football players on this season's roster include John Mencarini, Zack Mourey, Chris Snuffer, Ethan Crawford, Dan Sheply, Brett Dougherty, Malachi Ashe, Carlos Ortiz, Braedon Domansky, Matt Klemm, Kyle Kelley, Logan Wallace, Ken Karcher, Joe Finn, Dave Barrientos, Matt McConkey, Brandon Motter and Alex Herrmann. Opponents this season include New Egypt, Pitman, Burlington City, Riverside, Gateway Regional, Riverside, Gloucester Catholic, Florence Township Memorial, Wildwood and Palmyra.
The Maple Shade School District released an app in the Apple App Store and Google Play Store to distribute information in their community. If you'd like to stay updated on parent info, district news, social media posts, calendars and more, search for the app in your app store today.
Follow them on Facebook too: https://www.facebook.com/MapleShadeSchools/.
Maple Shade High School is located at 170 Frederick Avenue in Maple Shade, NJ. For more information, visit http://www.edline.net/pages/Maple_Shade_High_School or call 856-779-1750.
© SouthJersey.com 2016. All rights reserved. This article or parts thereof may not be reprinted or reproduced by any other party without the express written consent of SouthJersey.com. For more information, please call 856-797-9910.
For more information about what's going on in our local schools and what today's students are up to, visit our South Jersey Schools page.
Article continues below
---
advertisement


---
Author:
Meghan Shott
Archives
---
More Articles