Holy Cross High School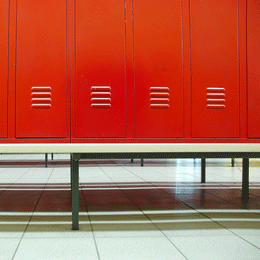 Holy Cross is a coeducational Catholic High School founded in 1957 serving the Diocese of Trenton, the Catholic Parishes of Burlington County, and the surrounding areas of South Jersey. According to the school's website, the school is on a beautiful 78-acre campus located on U.S. Route 130 in Delran, approximately 25 minutes from downtown Philadelphia.
Holy Cross has high academic standards for their students. Each course of study incorporates the religious beliefs of the Roman Catholic Church and challenges them to develop their skills and abilities. Of the school's graduating seniors, 99% go on to further their education at either a two-year or four-year college or university. Every student receives a Tablet PC and there is campus-wide Wi-Fi.
College prep courses are offered to all sophomore, junior and senior students, and Holy Cross also offers Advanced Placement courses. Students can study areas such as Arts, Business, Technology, English, Mathematics, Health & Physical Education, Social Studies, Religion, Science and World Languages.
Holy Cross High School offers almost 50 clubs and after-school activities for students. They include Student Council, Yearbook, Newspaper, Chess Club, Dance Team, Art Club, Spanish Club, Ski Club, Mock Trial, National Honor Society and Music Appreciation Club just to name a few.
Staff on this year's Cross Roads newspaper include Editor-in-Chief Katie Ward, Assistant Editors Gabby Mongrandi and Greta Gareth as well as Brian Pontious, Mary Rensel, Jordan Stewart, Mary Kate Clothier, Sarah Karcher, Jennifer Relovsky, Hannah Kozieja, Began Gebhardt and Annemarie Donachie.
The school's 39 sports teams provide training, camaraderie, good health and exercise habits as well as discipline to nearly half of the student body. Spirit Clubs and Mission Ministries promote school and community involvement. The members of the Student Leadership Team attend conferences bringing new leadership skills to the school community. All are sources of school pride, involvement and belonging to their members and fans, according to their website.
Holy Cross' girls soccer team is coming off a few tough losses. Players on the team include Alexis Smith, Brianna Parise, Elizabeth Gurba, Hannah McHugh, Jenna Merchell, Jennifer Walsh, Jessica Romano, Josephine O'Donnell, Julia Kuzy, Rachel Benson and Taylor Bracey.
The Holy Cross football team is gearing up for their last game of the year against Delran. The 2016 roster includes JeanCarlo Berrios, Miles Cook, Jordan Baxter, Ryan Bergman, Andrew Paolini, Cole McCord, Eric Hoffman, C.J. DeGeorge, Mateo Asis, Jeff Undercuffler, Mike Siwak, Dave Horn, Matt Verrico, Robby Ramirez, TJ Pawlicki, Jack Fusco, Tim Petrucelli, Colin Turnbull, Nick Bottino, Bobby Cristella, Brandon Sheppard, Zach Weller, Bill Sullivan, Christian Cowley, Randy Nunez, Nick Werkheiser, Brian Beck, Sean Schmidt, Dylan Sturtevant, Josiah Pettis, Brendan Evans, Isaiah Howard, Kyle Chandler and Paul Ginty. Holy Cross has a Facebook page. Visit http://facebook.com/holycross.institutionaladvancement for information about the school.
The Alumni Association at Holy Cross plans lots of events each year, including golf outings, fundraisers at local restaurants, car shows and shore events. See http://www.holycrossacademy.org/Page/144.
The Holy Cross Academy Alumni Association will be hosting a Geator at the Cross event with Jerry Blavat on Saturday, February 4, 2017 from 7pm – 12midnight at the school. Tickets are $50 per person which includes a buffet, beer, wine and soft drinks. Sponsorships from $100 to $500 are also still available. For more information and tickets, go to http://www.holycrossacademy.org/Page/158.
In addition, check out the alumni Facebook page for more details on these and all alumni events: https://www.facebook.com/groups/84482928136/.
Holy Cross High School is located at 5035 Route 130 South in Delran. For more information about the school, call 856-461-5400 or visit their website at holycrosshighschool.org.
© SouthJersey.com 2016. All rights reserved. This article or parts thereof may not be reprinted or reproduced by any other party without the express written consent of SouthJersey.com. For more information, please call 856-797-9910.
For more information about what's going on in our local schools and what today's students are up to, visit our South Jersey Schools page.
Article continues below
---
advertisement


---
Author:
Meghan Shott
Archives
---
More Articles