Rancocas Valley Regional High School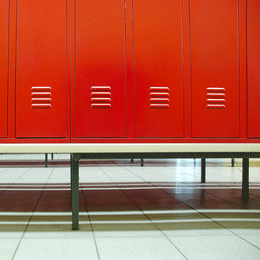 Rancocas Valley Regional High School, originally named Mount Holly High, opened its doors in 1936. In the 1960s, it was named Rancocas Valley High School. The district is comprised of Eastampton, Hainesport, Lumberton, Mount Holly and Westampton townships. More than 2,000 students attend RVRHS.
The school prides themselves on offering an array of opportunities that allow students to excel in academics, athletics and the arts. RV offers a range of college prep, honors, advanced placement, business and industrial arts classes. An exciting addition to their curriculum is the Virtual High School (VHS). VHS allows their students to access over 150 courses online. Courses include pre-veterinary medicine, DNA technology and advanced placement economics.
The school has also partnered with Burlington County College to offer students enrolled in select courses such as AP Biology I, AP Calculus, AP Psychology, AP English, AP History, AP Italian, Video Production, TV Broadcasting and others, an opportunity to earn both high school and college credit.
Congratulations to RVRHS November students of the month Jamilet Bermudez, Milan Mistry, Deidre Valley, and Jakiah Saffold. The students will be honored at the November Board of Education meeting and will also enjoy breakfast this month with Principal Joe Martin and their nominating teachers.
In addition to the school's curriculum, RV offers over 40 clubs and activities, including their award-winning dance club, robotics club, drama and music classes, and athletics. Over the years, RVRHS's girls softball team and boys soccer team have earned state championships. The RV school spirit is shown at a number of activities including homecoming festivities, Red and White Night and Mr. RV.
RVTV is a Governmental/Educational Access Channel serving the Townships and Public School Districts of Eastampton, Hainesport, Lumberton, Mount Holly, and Westampton. The channel is operated out of Rancocas Valley Regional High School. Programming includes Morning News, Spotlight, Game of the Week, Special Events, RV Insider, MHTPS Programs and Playback Classics. Visit the channel's website for more information.
The RV Media Club is just one of the many exciting activities at the school. Participating students record RV and community events, sports, concerts, graduations and other ceremonies and edit programs to be broadcast on RVTV. They also serve as show hosts, sports announcers or crew members on RVTV programs and the Morning News.
The Rancocas Valley Regional High School dance team has been in existence since 1999. The team is comprised of students from grades 9-12. During the course of the year, the team competes in 4 to 5 competitions as well as parades. Current members include Meghan Kneringer, Mikaela O'Hara, Paige Palli, Hannah Schwarzmann, Marissa Brown, Gianna Castro, Caitlyn Kowalski, Madison Dempsey, Tara Gee, Gianna Luisi, Heather Martin, Julia Mumbower, Haley Poinsett, Deni Ricucci, Emerson Steffe, Grace Sterling, Olivia Bedell, Lauren Bradley, Kiah Champion, Abby Kowalski and Gabriella Vergantino.
Athletic teams at the school include baseball, basketball, football, lacrosse, soccer, wrestling, volleyball, field hockey and softball.
The RVRHS girls volleyball team has had great wins this season against Cinnaminson, Gloucester County Tech, Hopewell Valley Central, Absegami, West Windsor-Plainsboro South, Princeton, Collingswood, Moorestown, Notre Dame, just to name a few. Players include Allie Morgan, Allison Couts, Danielle Steff, Danielle Taylor, Emily Kelty, Jill Solan, Jocelyn Biggi, Katlyn Harper, Kaylea Clark, Lauryn Bayley, Maya Dingle and Shauna Marques.
The RV Alumni Soccer and Field Hockey games will be played on Saturday, November 26 from 10am-1pm at the RV Turf Field. Cost is a $10 donation which will go towards the soccer and field hockey scholarship funds or $15 to include a long sleeve shirt.
Follow RVRHS on Facebook at https://www.facebook.com/RVRHS.
Rancocas Valley Regional High School is located at 520 Jacksonville Road in Mt. Holly. For more information about the school, call 609-267-0830 or visit rvrhs.com.
© SouthJersey.com 2016. All rights reserved. This article or parts thereof may not be reprinted or reproduced by any other party without the express written consent of SouthJersey.com. For more information, please call 856-797-9910.
For more information about what's going on in our local schools and what today's students are up to, visit our South Jersey Schools page.
Article continues below
---
advertisement


---
Author:
Meghan Shott
Archives
---
More Articles