Cedar Creek High School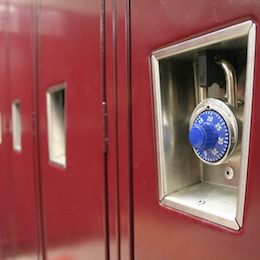 Cedar Creek High School, located in Egg Harbor City, is one of the newer high schools in southern New Jersey. Opening in September 2010, the school originally took in grades 9-10, but expanded to include grades 9-12 in 2012. Cedar Creek is part of the Greater Egg Harbor Regional High School District along with Absegami and Oakcrest High Schools.
This school serves approximately 900 students from Mullica Township, Egg Harbor City, Port Republic, and Green Bank/Washington Township, along with select areas of Galloway and Hamilton Townships. Cedar Creek boasts opportunity and choice in academics, athletics and extracurriculars.
Cedar Creek's curriculum includes classes in the areas of Business, English, English Language Learning, Health and Physical Education, Mathematics, Performing Arts, Related Arts, Science, Social Studies, Special Education, World Languages, and also has a Testing/Remediation Program. The school also offers Advanced Placement courses in English Language and Composition, English Literature and Composition, Spanish, Calculus AB and BC, Statistics, Biology, Chemistry, American Government and Politics, US History, Psychology, and Macroeconomics.
Cedar Creek offers four Magnet Programs, Engineering and Environmental Science, Biomedical Science, and Homeland Security and Public Safety. A student may choose one of these programs their first year of high school and take specialized courses throughout their four years at the school, which will prepare them to specialize in one of these fields at the college level. These programs were established to attract some students from Oakcrest and Absegami and help with some of the overcrowding at those two schools.
According to the school's website, their Performing Arts department features state-of-the-art facilities for music, chorus, drama, and media, including an 800-seat Performing Arts Center and a TV studio capable of both live-broadcasts and digital editing.
Cedar Creek High School's extracurriculars include Academic Team, Art Club, Band, Drama Club, Key Club, Media Club, Mock Trial, Multicultural Club, National Honor Society, Newspaper Club, Step Team, Student Council, Yearbook, as well as other options. The school offers 23 different sports in which their students compete as a member of the Cape Atlantic League including Cheerleading (fall and winter), Cross Country (boys and girls), Field Hockey, Football, Soccer (boys and girls), Tennis (boys and girls), Basketball (boys and girls), Winter Track (boys and girls), Wrestling, Swimming (boys and girls), Baseball, Golf (coed), Softball, Track (boys and girls) and Crew (boys and girls).
The Cedar Creek football team has had two shutout wins this season against Buena and Mainland and ended the season with a record of 12-2. Players on the team this season include Isaiah Watson, Dom Simmons, Shane Jones, Isaiah Campbell, Kamaal Reed, Avory Cruse, Mike Gulig, Connor Shulby, Jesse Milza, George Ramp, Malachi Melton, Bo Melton, Frank Rivera, Russell Riek, Lamar Fisher, Michael Ricci, Jeremy Taylor, Jr., R'Mohni McGaney, Julian Connerton, Pat Moran, Joey Pollino, Aaron Richardson, Joe Curry, Hared Sharraf, Riley James, Robert Belk, Evan Martinelli, Jessie Nikolaev, David Dunkley, Cole Laughlin, Kyle Caivano, Ryan McLaughlin, Jaylen Marable, Jaquan Robinson, Rasheed Ransome, Owen Bowles and Andrew Mahieu.
Girls volleyball players this season include Nina Casselberry, Lesly Cruz, Taryn Richardson, Julianna Snider, Ryan Moran, Olivia Tort, LoriAnn Chambliss, Gabbie Luko, Cayla Sydow, Hailey Cornell, Alex Zaremba, Riley Lower, Anna Nelson, Gina Grunwalk, Gabby Ade and Angelina Cox.
Keep up with current events at the school by visiting their Facebook page: https://www.facebook.com/pages/Cedar-Creek-High-School-New-Jersey.
Attention parents of Cedar Creek students! Get one-on-one instruction to show you through the technology your child is using in school on Wednesday, December 7 at 6:30pm in the Performing Arts Center.
Head out to Cedar Creek High School on December 13 at 6:30pm to hear some sounds of the season from the school's band and choir students in the Performing Arts Center. Cedar Creek High School is located at 1701 New York Avenue in Egg Harbor City, New Jersey. For more information about the school, call 609-593-3560 or visit http://www.edlinesites.net/pages/Cedar_Creek_High_School.
© SouthJersey.com 2016. All rights reserved. This article or parts thereof may not be reprinted or reproduced by any other party without the express written consent of SouthJersey.com. For more information, please call 856-797-9910.
For more information about what's going on in our local schools and what today's students are up to, visit our South Jersey Schools page.
Article continues below
---
advertisement


---
Author:
Meghan Shott
Archives
---
More Articles