Middle Township High School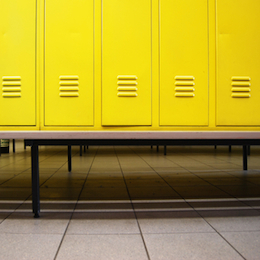 Middle Township High School aims to provide students with an educational foundation that prepares them for life beyond high school. Students have the opportunity to learn a variety of subject areas, as well as participate in the arts, athletics and other activities. Located in Cape May County, the school serves nearly 1,000 high school students from Cape May Court House as well as Dennis Township, Avalon and Stone Harbor.
MTHS prides themselves on meeting the diverse needs of their students and the learning community, according to their website. The school has over 170 courses from which students can choose. There are also many Honors and Advanced Placement courses at the school, including Algebra, Geometry, Pre-Calculus, Calculus, American Government, U.S. History, World History, Psychology, English, English Literature, Spanish, Biology, Chemistry, Physics, Biology, Chemistry and Computers Science.
There are also 21 athletic teams at Middle Township High School, including football, soccer, cross country, field hockey, tennis, cheerleading, basketball, wrestling, swimming, baseball, softball, golf, lacrosse, tennis, and track.
Middle Township's Athletic Department has a Facebook page: https://www.facebook.com/pages/Middle-Township-High-School-Athletics/122025891300925.
The school recently congratulated their wrestler Gary James Nagle in his 5-2 double OT decision over top-seeded Hammonton wrestler Daniel Figueroa, after winning against Millville's Steven Raines and Winslow Township's Dante Trader. Also included in the wrestling update on their Facebook: Rafael Rodriguez and Austin Cominsky were both third. Eric Lamb, Romeo Rodriguez, Carson Haas, Karl Giulian and Gio Berardis were all fourth. Gage Gomez, Gavin Gomez, Christian Cortez-Lopez and Maxwell Hamann-Brown all went 1-1.
Middle Township's girls soccer team recently finished their season with a 11-6-3 record. Players on this year's team included Alaina Wharf, Allison Hunter, Bailey Mericle, Bridget Ruskey, Elise Fiore, Emma Carlson, Emma Fiorucci, Emma Stanford, Katherine Gimeno, Kelly Geary, Krista Salvadore, Logan Thomas, Maribeth Novsak, Rachel Wade, Stephanie Sawyer and Sue McInness.
Football season also just ended. Players on the team included Matt Harris, Matt Marino, Jalen Freeman, Riley Derose, Shawn Scott, Chris Rivera, Aaron Garcia, Zee Bland, Seth Loeffler, Cameron Hamer, Gary Nagle, Tom Stahler, John Zarfati, RJ Tozer, Drew Harris, Cody Kern, Romeo Rodriguez, David Hayes, Wyatt McCart, Daquan Getty, Karl Giulian, Joey Trombetta, Ricky Cahill, Bryce Elsey, Ryan Nagle, Joel White, Jack Eidenberg, Dominic Arizzi, Tyler Cruz, Kyle Matthews, Lorenzo Notch, Evan Harris, Maxwell Brown, Douglass Watkins, Tre Shawn Harris, Thomas Jefferson, Nick Eidenberg, Miles Sapp, David Bond, Dylan Cruz, Harrison Tozer, Austin Cominsky, Dawson Tallant, Gilberto Rivera and John Camara.
MTHS offers over 30 after-school activities in which students can choose to participate. Just some of the many are Art Club, Bible Club, Culture Fair, Drama Production, El Club Latino, French Club, Helping Hands Club, Junior American Red Cross, Mock Trial, Musical Theatre, National Honor Society, Spirit Band and Student Council.
According to the school's website, Project TEAM (Teachers Enhancing Achievement through Motivation) was initially created as a teacher-student mentoring program designed to promote success for at risk students by fostering a structured relationship between a student and a concerned faculty member. However, in the past few years, it has evolved to include all students who would like to be part of a social, service-based club. Any student who would benefit from mentoring is recommended for membership by faculty, administrators, and counselors. Teachers who participate do so as volunteers. Various activities are held throughout the year for all teachers and students involved.
The Middle Township Performing Arts Center will be hosting Elementary School #2 Drama Club's "Snow Way Out! A Vacation in Winter's Wonderland" on January 6 and 7 at 7pm. Tickets are $5 each. Middle Township Middle School's James and the Giant Peach Jr. will also be performed in the venue on March 24 and 25. Tickets are $10 for adults and $5 for seniors and students. For more information, go to www.middlepac.net.
The Performing Arts Center also has a Facebook page: https://www.facebook.com/MTPerformingArtsCenter/.
Middle Township High School is located at 300 East Atlantic Avenue in Cape May Court House. For more information about the school, visit http://www.middletwp.k12.nj.us/highschool/ or call 609-465-1800.
© SouthJersey.com 2017. All rights reserved. This article or parts thereof may not be reprinted or reproduced by any other party without the express written consent of SouthJersey.com. For more information, please call 856-797-9910.
For more information about what's going on in our local schools and what today's students are up to, visit our South Jersey Schools page.
Article continues below
---
advertisement


---
Author:
Meghan Shott
Archives
---
More Articles