Cumberland Regional High School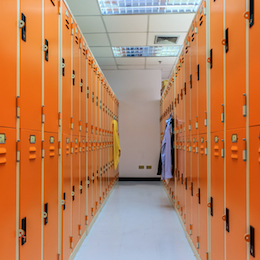 Cumberland Regional High School, located in the northwest part of Cumberland County, serves students from Deerfield Township, Fairfield Township, Greenwich Township, Hopewell Township, Shiloh Borough, Stow Creek Township and Upper Deerfield Township.
Ground was broken on the school on May 12, 1976, and there were 322 members in its first graduating class in 1978. According to the school's website, more than 11,000 students have graduated from the high school since then. The school enables students to reach their full academic potential and provides many opportunities for them to learn both inside and outside of the classroom. CRHS aims to inspire and encourage not only the students within their building, but also staff, family and the surrounding community.
The school's colors are orange and brown and their mascot is the colt. Course areas include Agricultural Education, Fine Arts, Family & Consumer Science, Language Arts, Mathematics, Music, Science, Social Studies, Special Education, Student Community Service, Technology and World Language.
CRHS was awarded a $100,000 New Jersey Department of Education grant that will allow the school to "develop and implement a Biomedical Life Sciences Academy program and enhance its existing academy programs to provide students with opportunities to cultivate knowledge, skills, experience, and credentials leading to college and career success in high-demand fields of study and employment", according to a news update on the school's site.
Cumberland Regional High School offers many clubs, organizations, academic teams and non-athletic activities for the students. Outside of their coursework, participating students continue to learn valuable lessons in leadership, cooperation, character, teamwork, decision-making and communications, according to the school. Offerings include A-Team Tutors, Audio Visual Club, Concert Choir, Marching Band and Band, Colt's Tale Newspaper, FCCLA, Gay-Straight Alliance, Invictus Yearbook, Key Club, National Honor Society, Native American Awareness Club, Peer Mediation, Step Team, Student Council, Students Against Destructive Decisions, Team Theatre and many others.
The SADD Club's goal at CRHS is to make the student body more aware of the harmful effects of drinking and drugs. The organization sponsors events during Red Ribbon Week, promotes an alcohol- and drug-free semi-formal and prom, as well as sponsors safe, fun alternative activities like 3vs3 basketball, powderpuff football, and a Rock-n-Roll concert. The school's Red Cross Blood Drive is also sponsored by SADD.
Three members of the Cumberland Regional High School FBLA placed in the Southern Regional Events on earlier this month. Jon Stewart placed 4th in Business Calculations, D'Mar Crosell placed 4th in Cyber Security and Alayna Pierce placed 6th in Cyber Security. They'll represent the school at the NJ FBLA State Leadership Conference in March.
Congratulations to National Art Honor Society inductees Nicholas Archer, Mallory Barry, Gabriella Casper, Tarrell Clark, Octavia Collins, SyDonnie Dawkins, Jordan DeVito, Britton Everly, Erin Hall, Sarah Harkcom, Emma Kiefer, Joshua Loew, Ciara Moore, Sabrina Moore, AJ Santos, Allison Saul, Carmen Vera, Ashley Wheatley and Madison Mayhew.
Congrats to 2016 National Technical Honor Society inductees Connor Bondi, Mark Boutros, Seth Davis, Allison Jenkins, Casey Kline, Paul Kuntz, Ryan Morgan and Cynthia Garcia.
International Thespian Society inductees this year include Shelby Dutkiewicz, Jordan Ingersoll, Madison Nash, Emma Rieco, Rachel Wax, Alison Burke, Morgan Davidson and Sabrina Moore. ?
Many students also participate in athletics at the school. Sports include basketball, cross country, diving, field hockey, football, soccer, swimming, tennis, winter track and wrestling. Athletes this fall season included Roy Crawford, Lamark Jones, Jr., McKenzie Hatcher, H Walker, Romone Gayle, Damir Braxton, Antwine Rivera, Dre Palmer, Riley Anderson, Des Martinez, John Herman, Bryce Dunn, Marshawn Brown, Cam'Ron Smith, Troy Hepner, Tyrell Russell, A Stephens, Ben Pierce, Brian Pettit, Christopher Rodriguez, Dante Terrigno, David Keen, Dechanelle Loatman, Demetrius Kent, Devon Wilson, Donny Yamasaki, Duray Rainner, Elijah Weeks, George Sapp, James Bryant, J Collins, Joseph Colon, Kye Broughton, Marquan Richmond, Rae Robinson, T Marguglio, Tyler Broughton, Wynn Murray, Abigail Sprouse, Devon Patchell, Jenna Jorgenson, Kaeleigh Anderson, Katelynn Keen, Kelsey Pastirko, Lauren Willis, Lindzey Mosley, Makayla Pepper, Mikaela Sima, Paige Blake, among others.
CRHS athlete Haley Hulitt recently commited to Quinnipiac University for softball.
Cumberland Regional High School is located at 90 Silver Lake Road in Bridgeton. For more information, call 856-451-9400 or visit crhsd.org.
© SouthJersey.com 2016. All rights reserved. This article or parts thereof may not be reprinted or reproduced by any other party without the express written consent of SouthJersey.com. For more information, please call 856-797-9910.
For more information about what's going on in our local schools and what today's students are up to, visit our South Jersey Schools page.
Article continues below
---
advertisement


---
Author:
Meghan Shott
Archives
---
In Good Health
2017 Executives of the Year
Superior Sandwiches
Raise a Glass
Impressive New South Jersey BBall HOF class
The Promise of Public Transportation
Empowering the Next Generation
Singles: January 3
River Revitalization
Spreading Cheer
Singles: December 27
Winter Retreat
Are Holiday Parties Back in Favor?
Support System
Singles: December 20
More...