South Jersey Product Joe Flacco Had an..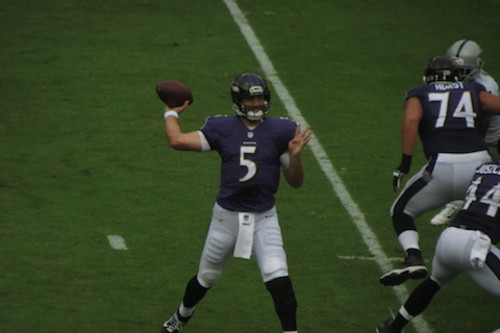 South Jersey Product Joe Flacco Had an Up And Down Comeback Season
Audubon product Joe Flacco remains the most high profile South Jersey player in the NFL. Flacco has enjoyed an outstanding career that includes being named the MVP of the Super Bowl after leading the Baltimore Ravens to the title following the 2012 season.
Flacco has been known for his durability until suffered a season-ending torn ACL in the 10th game of the 2015 season.
Through diligent rehabilitation, Flacco was back to his accustomed starting role during this past season's opening game.
Once again he would play all 16 games, the eighth time in his nine-year NFL career he has done so.
It was an up and down season for Flacco. The Ravens were in the playoff hunt until losing to the Pittsburgh Steelers, 31-27 in the next to last game of the regular season.
It was a bitter loss, one in which the Steelers' Antonio Brown stretched forward to barely have the ball cross the end zone, completing a four-year touchdown pass with nine seconds left.
It was a bitter loss for the Raves to their biggest rival.
With a meaningless game the new week the Ravens lost 27-10 to Cincinnati to finish the season 8-8.
Yes, it was a big improvement from the previous year when the Ravens, who were 3-7 in games started by Flacco, finished 5-11.
For Flacco, this was a year in which he started slowly and then picked up some steam as the season advanced.
He set several individual records. He completed 436 of 672 passes for 4,317 yards, all personal bests.
He also threw 20 touchdown passes but 15 interceptions.
The reason Flacco had to throw so much was because the Ravens didn't establish the run enough. They averaged 4.0 yards per carry but never stuck to the run long enough in the eyes of many experts.
Either way, Flacco's 15 interceptions were the second highest of his career.
Still, to be able to come back from such a difficult injury and play in all 16 games is a tribute to Flacco's dedication and toughness.
Flacco, who turned 32 on Jan. 16, just completed his ninth NFL season. The most impressive statistic is that he is 10-5 overall in 15 playoff games and owns a Super Bowl ring.
He is 13th all-time in playoff passer rating (88.6), just ahead of three-time Super Bowl winner Troy Aikman (88.3).
Baltimore has missed the playoffs in consecutive years, the first time that has happened since Flacco has been a starter.
He earned the starting spot from the first day of his rookie season.
It appears that the way he improved during the season that Flacco has several more quality seasons left to improve on his already impressive resume.
© SouthJersey.com 2017. All rights reserved. This article or parts thereof may not be reprinted or reproduced by any other party without the express written consent of SouthJersey.com. For more information, please call 856-797-9910.
For more Local Sports features, visit our South Jersey Sports page.
Article continues below
---
advertisement


---
Author:
Marc Narducci; Photo by Marc Narducci
Archives
---
More Articles