Sixers Looking to Strike it Rich NBA...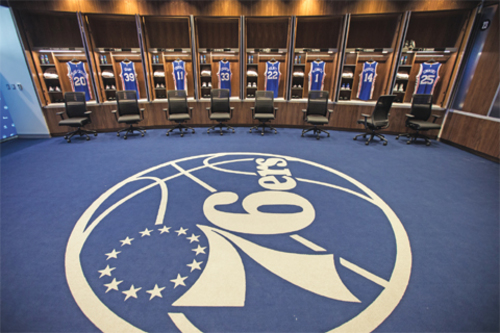 Sixers Looking to Strike it Rich NBA Draft Lottery
And now comes the wait for the 76ers. May 16 could the date that defines the franchise for many years. What the Sixers do this offseason could shape the face of the franchise, which many feel isn't that far off from actually taking off.
Of course the team will have to be healthier in the future as injuries decimated the squad, especially as the season wore on.
This was the fourth straight year that the Sixers had a terrible team, but this season they did improve by 18 wins, finishing 28-54.
That was with the top overall NBA draft choice Ben Simmons missing the entire year with a broken foot. Center Joel Embiid, who missed each of the previous two seasons due to foot surgeries, was available for 31 games before suffering a season-ending torn meniscus.
Embiid showed enough in his brief time to indicate he should be a future all star, if he can stay on the court.
He was on a minute restriction due to his previous foot injuries and still averaged 20.2 points, 7.8 rebounds and 2.5 blocked shots in just 25.4 minutes per game. As with all top player, Embiid also brought out the best in his teammates.
If he can stay healthy, and that is a big if, then the Sixers can move forward. He likely never will be somebody will play 82 games, but if he could get above 60 next year and keep moving up each subsequent season, the Sixers would sign up for that right now.
Jahlil Okafor, Sergio Rodriguez and Robert Covington all had late, end-of-the-season injuries.
That explains an eight-game losing streak to end the season.
Yet the Sixers fans (and probably the organization) weren't angry at the way the team sputtered down the stretch. That's because the Sixers ended with the fourth worst record in what is considered a deep draft.
The Los Angeles Lakers finished third.
The Sixers own the Lakers first round pick, but it is top-three protected. Which means if the Lakers fall out of the top three after the draft lottery, that pick goes to the Sixers.
It's possible that the Sixers could receive two top-five picks, have plenty of cap room to entice a free agent, and will presumably be getting everybody back healthy.
Okafor's troublesome knee still bothers him, he said at the Sixers final press gathering last week.
He had surgery in March of 2016 and was originally not expected to be out long. Yet the fact that it is still bothereing him and that he played just 50 games this season, will make it even more difficult to trade him.
It appears that Okafor and Embiid can't mesh together on the court, but Okafor if healthy, can help a team with his low post scoring.
That team might have to be the Sixers until there is evidence he is pain-free.
Either way, this is a team that will have several interesting parts, especially Simmons, who will be a 6-foot-10 point guard with out of this world passing ability.
So there is much more to be optimistic about, but it all begins with the activity of the ping pong balls in less than a month.
© SouthJersey.com 2017. All rights reserved. This article or parts thereof may not be reprinted or reproduced by any other party without the express written consent of SouthJersey.com. For more information, please call 856-797-9910.
For more Local Sports features, visit our South Jersey Sports page.
Article continues below
---
advertisement


---
Author:
Marc Narducci
Archives
---
More Articles