Step It Up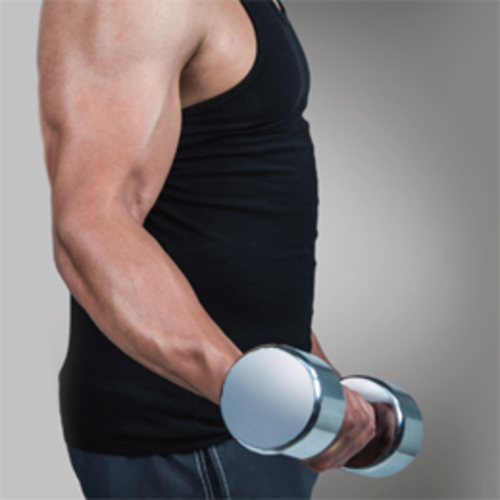 ...From the pages of Suburban Family Magazine...
Whether you're just someone who is keeping fit to stay healthy or you're an athlete looking to improve for your sport, personal training can take your fitness game to the next level.
When it comes to something like lifting weights, every single rep counts, says Sam Balducci, owner of Giant Fitness. Maintaining a proper form while lifting is also important. But when you're doing a workout on your own, it's easy to let your form or even some of your reps slide. Oftentimes when people start getting tired, they start to break form, says Balducci.
But bring in a personal trainer and that all changes.
"Our personal trainers are going to be watching you to make sure you're doing it correctly," he says. "Not only will you be more motivated to push through the set, but a personal trainer will tell you if you're not doing something correctly. That will help you improve your form and get better results, but also make it safer for you to perform the exercises correctly. Sometimes people try to [lift] too much weight which is why they start breaking form."
Balducci says that having a personal trainer help you with your workouts also helps you stick with them. That accountability aspect goes a really long way in keeping you coming back.
Joe Barth, owner of The Hit Doctor Baseball & Soft- ball Academy, knows all about accountability. An athlete for most of his life, Barth says that putting the reps in is the key to success.
"The training methods are better than ever before but at the end of the day, unless you put those reps in, you're not going to be successful," Barth says. "At some point your career might end because there are athletes that are better than you—and that's OK because that's how it works. But you never want it to end because you didn't try hard enough. If you want to be the best, you have to put in the time."
Barth says he watched Mike Trout (now a center fielder for the Los Angeles Angels) advance through the program and says he was the type of player who pushed himself as hard as he could. With a trainer there alongside you—helping to keep you going—that effort can be easier.
Sometimes it's also going back to the basics and really working on some key skills. At the Parisi Speed School at the Cherry Hill Health & Racquet Club, Liz Madden, Parisi director, says that coaches work with youth athletes on basic mechanics in order to help them improve their athleticism. While they're in a group setting, Madden says there is a personalized feel to the coaching.
"As performance coaches, we are trained to notice small differences in techniques between every kid and give our corrections accordingly," she explains.
Improving everyday health
Article continues below
---
advertisement


---
Of course, personal training isn't just for athletes.
Tina Ermert Bortner, BA, ACE, community health educator and worksite wellness coordinator for Lourdes Health System, works with everyday people who are trying to up the ante with their workouts so that they improve their health. In partnership with Cherry Hill Health & Racquet Club, Bortner serves in both a personal trainer role and also runs group exercise classes. Bortner says she believes that goal setting is the key to success.
"It's important to find out what the goal is for each person and then constantly be reminding them of the benefits," Bortner says. "It's not always easy to stay motivated, but by having someone remind you of your goals, that can be the extra push that you need. And being involved in a group setting also creates a sense of accountability. You don't want to let your buddies down, so you show up."
Bortner says that she hopes that people would give personal training or group exercise classes a fair chance as she thinks there is a lot of opportunity for people to meet their fitness goals this way. It can be challenging to go out and do a workout completely on your own, but having a trainer—or a group—that is there for you can make all the difference.
It's possible that some people shy away from these types of opportunities because of fear that they'll be put on the spot or intimidation that they can't keep up, but Bortner says not to let preconceived notions scare you away.
"For our classes, it's the no-judgment zone," Bortner says. "Everyone has their own reasons why they come and everyone is at a different level— and that's all OK."
Madden says the Parisi School has also accommodated athletes of all ages and abilities.
"The youngest I've coached was a 5-year-old soccer player that maybe could not have paid enough attention in a regular class, but wanted to get better with his cuts and quick feet and improve his arm action," Madden says. "We've coached kids that needed a lot more attention to their technique, so a one-on-one setting was implemented. The biggest change I see is the improvement in the athlete's confidence and leadership ability. This directly affects how they do on their field of play. When they become more confident in their movements, it's amazing to see the type of athlete they become on the field."
At the end of the day, whether it's on the field or just in the gym, making an effort to get fit and improve your workout will pay off as you begin to meet your goals. And with a coach or trainer there to help you along the way, you'll have the proper guidance on the road to success.
Published (and copyrighted) in Suburban Family Magazine, Volume 8, Issue 1 (March, 2016).
For more info on Suburban Family Magazine, click here.
For information about advertising in Suburban Family Magazine, click here.
To find out where to pick up your copy of Suburban Family Magazine, click here.
Author:
Lindsey Getz
Archives
---
More Articles