Best of Health Care 2017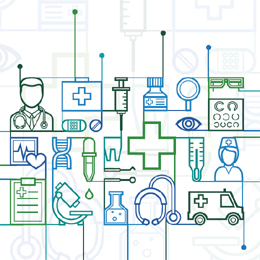 ...From the pages of South Jersey Biz...
Navigating the ever-changing landscape of medical care is no easy task, especially in the face of changing government regulations. But our annual Best of Health Care winners take each step in stride. Knowing that they will be faced with new challenges every day, these providers continue to push the scope of care for local residents forward and ensure South Jersey maintains a competitive edge in the world of modern medicine.
LIFETIME ACHIEVEMENT
Richard Miller
PRESIDENT AND CEO, VIRTUA HEALTH CARE
President and CEO since 1998, Miller has led Virtua in innovative directions by creating a values-based culture defined by the Star Initiative, adopting Six Sigma and transforming a group of community-based hospitals into technologically advanced regional medical centers. In addition to an enterprise alliance with GE Healthcare, Virtua has formed clinical alliances with nationally renowned organizations such as Penn Medicine and The Children's Hospital of Philadelphia. He will retire at the end of 2017.
Betsy Ryan
Article continues below
---
advertisement


---
PRESIDENT AND CEO, NEW JERSEY HOSPITAL ASSOCIATION (NJHA)
Ryan is the first woman to lead New Jersey Hospital Association, a nonprofit trade group representing the state's hospitals and other health care systems that provides leadership on quality and patient safety, education and advocacy in Washington, D.C., and Trenton. As CEO, she oversees NJHA, the Health and Research and Educational Trust of New Jersey, and the for- profit Healthcare Business Solutions. Ryan has garnered many national awards for her research and leadership in health care, and is stepping down effective July 2017.
EMERGING LEADERS
Dr. Carman Ciervo
EXECUTIVE VICE PRESIDENT AND CHIEF PHYSICIAN EXECUTIVE, KENNEDY HEALTH
In his role as executive vice president and chief physician executive at Kennedy Health, Ciervo works directly with president and CEO Joseph W. Devine in providing oversight of the multi-hospital system's strategic growth and initiatives in several key areas. As a member of Kennedy's senior leadership team since 2010, he has played a key role in Kennedy's continued growth and transformation, working directly on hospital initiatives related to the employed-physician model, population health and clinical excellence.
Dr. Annette C. Reboli
INTERIM DEAN, COOPER MEDICAL SCHOOL OF ROWAN UNIVERSITY
Reboli wears many hats—professor, author and interim dean of Cooper Medical School of Rowan University. She is responsible for oversight of the Office of Medical Education, including both undergraduate and graduate medical education; the Office of Faculty Affairs; and development of hospital and ambulatory affiliations for the medical school. Over the course of her career, she has garnered over $5 million in research support from a variety of sources, including the National Institutes of Health and National Institute of Allergy and Infectious Diseases.
Tracey Commack
ASSOCIATE EXECUTIVE DIRECTOR, PENN MEDICINE CHERRY HILL
Commack is a passionate and progressive leader with two decades of health care experience. She started her career as a scheduler, and made her way to her current position as executive director for the 150,000-square-foot multidisciplinary facility, offering comprehensive, convenient care in South Jersey. The facility consolidated multiple locations in the Cherry Hill area, adding services to create a setting where patients can take care of almost all of their outpatient health care needs in one place.
UNSUNG HEROES
Dr. Sally Halim
FOUNDER, VILLAGE EYECARE
A South Jersey native and Rutgers University graduate, Halim is heavily involved with helping those in need and giving back to the community. After founding Village Eyecare in 2011, she dedicated herself to serving the community by starting the Mis- sion for Vision program with area school nurses; providing students in need with an eye exam and pair of glasses. Village Eyecare also contributes eye wear vouchers and monetary donations to several local charities and fundraising events throughout the year.
Amelia Pernicello
CERTIFIED HOME HEALTH AIDE (CHHA), SAMARITAN HEALTHCARE & HOSPICE
After witnessing Samaritan Healthcare & Hospice care for her mom, Pernicello felt inspired. In 2006, she started to work for the nonprofit organization so she could give the same care toward other families going through the same experience. Her dedication, work ethic and compassion for hospice patients recently earned her the Samaritan Healthcare & Hospice Judy Taylor Award for Home Health Service Excellence.
RESEARCHERS
Dr. Pedram Kazemian
MEDICAL DIRECTOR OF CLINICAL RESEARCH, DEBORAH HOSPITAL
Kazemian and his department are currently involved in over 30 trials exploring new treatments and procedures in electrophysiology, interventional cardiology, peripheral vascular disease and preventive cardiology. He is also part of an elite team that performs complex ablations using the Stereotaxis Remote Navigation System, which delivers radiofrequency energy to treat recurring heart arrhythmias. In addition, Kazemian is among the pioneering electrophysiologists who are now performing robotic-assisted complex ablations.
Dr. Stefan Zajic
PRINCIPAL RESEARCH SCIENTIST, CORIELL INSTITUTE
Zajic focuses on the Coriell Personalized Medicine Collaborative (CPMC), a research study examining the clinical utility of genetic information. In this role, he works with the study team to execute a number of chief initiatives—experimental design, data collection and analysis, the pursuit of research funding—and ensures that the CPMC continues to operate on the cutting-edge of genomic research. Active areas of research include noise-induced hearing loss, sleep, alcohol use and addiction, over-the-counter pain medication and stroke.
SAFETY
Inspira Medical Center Woodbury
Working with a staff of nearly 2,200, Inspira Medical Center Woodbury provides an array of diagnostic, therapeutic and rehabilitative services in a community hospital setting. The acute-care, nonprofit hospital serves Gloucester County as well as parts of Salem and Camden counties. The Woodbury Center recently received the Leapfrog Group's Top General Hospital distinction and was one of 115 Top Hospitals recognized across the country, showcasing its commitment to patient safety and quality.
INNOVATION
Dr. Rahul Shah
PARTNER, PREMIER ORTHOPAEDICS ASSOCIATES
A neck and spine specialist, Shah is performing one of the newest innovations in spine care in South Jersey that draws patients from all over the East Coast. It's a minimally invasive surgery where two posterior small incisions are made at the base of the patient's neck, allowing Shah to target the area where the nerves are dam- aged. Patients are able to go home the same day with significantly improved range of motion, pain and strength. This procedure is so new; Shah travels around the country teaching spine surgeons how to perform this innovative posterior cervical decompression and fusion technique.
Lourdes Health System
Cardiac rehabilitation is a comprehensive program that helps patients recover from a heart event and learn skills to make healthy lifestyle changes. Lourdes now offers patients Moving Analytics, a home-based cardiac rehab program aimed at preventing hospital readmissions at no extra cost. Using the app, Movn, patients can access their care plan through a mobile device, ask questions through chat and watch educational videos. Clinicians then use a web-based portal to track progress, communicate with patients and administer care plans.
South Jersey Radiology
South Jersey Radiology (SJRA) has been on the forefront of technology for 70 years through a program of constant equipment upgrades. They offer an array of MR coils that precisely match each body part with the appropriate coil, including knee, wrist, ankle, breast, torso, head and spine. CT scanners include the advanced dual-source technology of Siemens Medical Systems, regarded as the standard for cardiac imaging. SJRA is also the first site in the area to offer 3D mammography and a SPECT-CT scanner for advanced nuclear medicine studies.
COMMUNITY OUTREACH
AtlantiCare Health System
As part of its Community HealthCare Access Program (CHAP)—AtlantiCare's ongoing efforts to assist displaced casino employees from Atlantic, Cape May and southern Ocean counties—the group initiated The AtlantiCare Scholars Program in 2015 in partnership with Atlantic Cape Community College, offering scholarships to those who qualify and would like to pursue work as an EKG monitor technician, certified home health aide, central service technician or patient care technician. Between 2015 and 2016, 28 students participated in the program, with five more enrolled in classes for spring 2017. AtlantiCare has hired five of the program graduates to date.
Southern New Jersey Perinatal Cooperative
PENNSAUKEN, CAMDEN, ATLANTIC CITY
The Southern New Jersey Perinatal Cooperative (SNJPC) is a regional leader in maternal and child health. For more than 30 years, the agency has been dedicated to empowering families in South Jersey to live healthier lives. SNJPC offers a comprehensive set of programs that address critical issues such as infant mortality, smoking cessation, lead poisoning, perinatal substance abuse, breastfeeding, teen pregnancy and child development. The number of people served by Cooperative programs speak for themselves. In 2016 alone, nearly 40,000 people received some type of direct service from the agency. An additional 4,600 were enrolled in a case management program. The Cooperative efforts go beyond its various programs and services for families. SNJPC works closely with policymakers, health care providers, government agencies and individuals to improve the system of care so families can live healthier, more confident lives.
HEALTH CARE EDUCATION
Cooper University Health Care
Through a full-time summer internship program, Cooper is offering students interested n administrative careers a hands-on experience that includes shadowing a mentor who will expose them to different areas in health care leadership. During the internship they may work on research projects, process improvement initiatives and pro- gram development. Because they are an academic, tertiary hospital, education is a key part to Cooper's mission and just as they are involved in the education of future medical professionals, this program allows them to expand upon that by also preparing future health care administrators and leaders.
Rowan University School of Osteopathic Medicine
By 2020, the state will be faced with a physician shortage of 2,800 doctors, ac- cording to Dr. Linda Boyd, senior associate dean for academic affairs with RowanSOM. That is precisely why, for the first time in more than a decade, the school is growing its problem-based learning curriculum, which presents students with a clinical case based on a real patient story on their first day of medical school. The expansion includes a renovated space on campus featuring cutting-edge technology and classrooms and increasing from one group of students to four with plans to add an- other two within the next five years. "Today's medical students want to be more actively engaged in their learning and PBL delivers just that. ... Our PBL students are dedicated to really understanding how the body works, rather than just focusing on their exam score," Boyd says.
TRENDSETTERS
Continuum Health Alliance
Research shows that, in years to come, there will be a shortage of primary care physicians available to serve the growing patient population. Continuum Health Alliance, a physician enablement company, has begun taking steps to address this issue, most recently with the acquisition of Partners in Care, an independent provider network and health care management company. Continuum is making strides in helping its clients transition to value-based care programs, allowing physicians to remain independent while delivering the high-quality care their patients expect.
HEALTH CARE HEROES
Team Hearing:
Dr. Murtuza Jaffari,
PRESIDENT,
Ali Jaffari,
HEARING INSTRUMENT SPECIALIST
and Kathleen (Kathy) Van Stine,
RECIPIENT
Swedesboro's Team Hearing recently established The Gift of Hearing, a nomination- driven promotion in which it awarded a pair of hearing aids to Van Stine, owner of SpectraCare Home Health. Hearing impaired since birth, Van Stine has not worn a hearing aid for the last 21 years due to the cost. Nominations were open to the community and the staff at Team Hearing unanimously chose Van Stine for her selflessness and passion for helping others. With this gift, Team Hearing has drastically improved the recipient's quality of life.
HEALTH CARE PARTNERSHIPS
Fox Rehab Cherry Hill
In an effort to improve the traditional model of rehabilitation, Fox Rehab has partnered with senior living operators in the community to help them manage residents with multiple chronic conditions. Fox steps in for residents whose medical conditions have become more complex and, along with their understanding of the business aspect of senior living care, is able to provide solutions to improve residents' outcomes.
Published (and copyrighted) in South Jersey Biz, Volume 7, Issue 3 (March, 2017).
For more info on South Jersey Biz, click here.
To subscribe to South Jersey Biz, click here.
To advertise in South Jersey Biz, click here.
Author:
Michelle Boyles, Liz Hunter, Peter Proko and Julie Shannon
Archives
---
More Articles