Home & Garden: Ahead of the Curve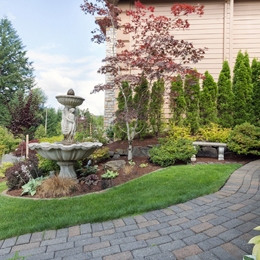 ...From the pages of House & Home magazine...
At many points during this incredibly mild winter— particularly those 75-degree days in February—it felt like spring had arrived early. Now that it's almost officially here, homeowners are eager to get out and enjoy their outdoor spaces.
For landscaping and hardscaping professionals in the area, that means their busy season is about to begin, and it's important to be aware of the trends their customers are interested in.
"Whether it's trends, styles, design options or material choices, we're always pushing as a company to stay aware of what's new and up-and-coming," says Dean Stafford of Dean's Landscaping. "Typically, we will explore and discuss various options with clients early in the process to determine their preferences. This type of back-and-forth is usually very helpful and beneficial to the final project we end up building."
House & Home spoke with several professionals to find out more about certain trends coming to the forefront this year.
SUSTAINABILITY
With more and more homeowners intent on being environmental- ly responsible and having landscapes that are easily maintained, area professionals have had to em- brace the sustainable movement.
"Sustainability continues to be in demand as I'm meeting with clients and talking about projects," Stafford says. "It seems as though there is a genuine desire for people to have construction materials, plant choices and even design styles that are sustainable."
One aspect of sustainability that is gaining popularity is the addition of a functioning garden so homeowners can grow their own vegetables. Gina Villante at C.M. Jones believes some people have an initial fear about the challenges of having a garden, but they soon realize it's a worthwhile endeavor.
"Some people are afraid they aren't doing things right or don't know how to care for their gar- dens," she says. "I think that's where we as landscape professionals come in to help educate and guide the homeowner to have their successful garden. Having your own garden isn't only good sustainability-wise, but is also mentally stimulating and is found to be a stress relief for a lot of people."
"I usually tell people to start with what they like to eat and see how gardening feels for them," Stafford adds. "Obviously, you reap what you sow, and the more you put into it, the more you get out of it. I also encourage people to plant a little more than they think they're going to need, be- cause it is awesome to take the excess and donate it to a local food bank. It's easy and it's cheap."
LAWN-LIKE ALTERNATIVES
Article continues below
---
advertisement


---
Although the pros and cons of artificial turf's impact on the environment have been debated, there is little argument over how far the latest products have advanced regarding look and feel.
Experts we spoke to say the product looks very natural and can mimic different types of grass, like Kentucky bluegrass or fescue. Still, despite the gains made with artificial turf, its use is more prevalent in places like Arizona and California where water shortage is an issue. Most of the professionals in this area have not seen it used on a large scale.
"I have not seen it used much in the residential setting and don't really see it taking off too much in the residential sector," Villante says. "I think lawn alternatives are more geared toward the commercial sector [for] playgrounds, etc.
"I had one client in the past who did transform their front lawn into a 'minimal mow' concept. As a result, the client has spring bulbs that cover the entire square footage of his front lawn and enjoys a field of tulips and daffodils for a few weeks in the spring."
DWARF SHRUBS
Dwarf varieties of certain plants and shrubs can be used to replace larger trees and massive shrubbery, and are especially beneficial on the smaller lot sizes that usually come with new homes.
"Dwarf shrubbery has its appeal," says Diane Marrazzo of Marrazzo's North River. "Low maintenance seems to be highest on the request list. Dwarf shrubs are slow growing, generally dense in texture and substance. They feel almost carefree; clients like hat feature." Stafford says the types of dwarf shrubs he uses include conifers such as hinoki cypress or dwarf varieties of spruces for texture effects in the landscape. As for flowering shrubs, he cites dwarf varieties of Weigelas, dwarf roses, dwarf crape myrtles and dwarf spireas for sunny spots, and for the shade, varieties of compact azaleas, rhodendrons and illiciums.
Some of Villante's favorite shrubs to plant are Otto Luyken laurels, winter gem boxwoods, goldflame spireas and limelight hydrangeas.
But homeowners should make sure to include variety in their landscape design, mixing different textures with varying height plants for a more aesthetically pleasing look.
HARDSCAPING
One trend that has been popular for years is the use of hardscaping in outdoor living spaces for patios, walkways, retaining walls, fire pits and pool decks. Nobody sees it going out of style anytime soon.
"It's been growing and grow- ing every year by 20 percent," says Tom Fox of Eddington Supply. "You wouldn't believe how many people put this on their property, and you definitely get your money's worth."
Natural stone or manufactured products, or a combination of both, can be used to great results.
"This year we're starting to sell a little natural bluestone, but almost everything we sell is manufactured," Fox says. "A lot of it is made to look like natural stone. Sometimes it's easier to work with manufactured stone because all the measurements are identical and it lays a lot better. You save a lot of money in the labor even though the pieces might cost more."
Another product gaining traction in hardscaping is the permeable paver, which can be used for driveways, pool decks or patios. Stafford explains that the permeable pavers act as a drain, direct- ing rainwater back into the soil or to be used for another purpose, such as running a small water feature on the property.
"Permeable pavements are amazing," Stafford says. "Talk about being sustainable and being good stewards of the environment. And now that they've been out for several years, the permeable pavers are gorgeous. They're just as at- tractive as a more traditional installation, with all different textures, sizes and colors. They're definitely a viable and good solution."
No matter which of these trends homeowners opt to incorporate into their properties this year, it's clear that the industry continues to evolve. With the right planning and a little imagination, it's possible to create a back- yard oasis that will last for years.
"I think it is such an honor to be able to create spaces for families that will allow them to make lasting memories," Stafford says. "We as landscape and hardscape contractors need to be aware just how blessed we are to be able to do that. It is, and always has been, an art form. When you take the time to get to know your clients and take pride in knowing various materials and styles, you're really creating masterpieces in people's backyards."
NATURAL STONE
As hardscaping continues to play a major role in the outdoor living segment, homeowners have plenty of man-made products to choose from when having a patio, walkway or fire feature installed on their property.
As beautiful and durable as those products are, natural stone should also be considered.
"What I probably like the most about natural stone is that you can dress it up or dress it down," says Dean Stafford of Dean's Landscaping. "It is just as appropriate on a very modest, small country home with an organic feel to it, or on a very high-end installation where you're doing a much more formal pattern. Stone is classic; it never goes out of style. In the 30 years I've been doing this, it's just as popular as ever."
Depending on the property, natural stone simply might make more sense than a manufactured product.
"A lot of what is 'trending' with pavers is they are designed to look like stone and mimic the textures and natural beauty of stone," Stafford says. "There are times when that's very appropriate. If you're talking about a suburban development with newer homes, that would feel right at home there. But if you're talking about a 100-year-old, classic Chester County stone home, you're not going to put pavers there. It would be out of character with the property."
More often than not, however, Stafford likes to blend natural and man-made products with his designs.
"Oftentimes, we will do a patio and it may be in a stone-like paver," he says."Then we'll do a fire pit or fireplace built of natural stone. Combining them is a wonderful way to tie everything together. It's all about blending and creating a pleasing and believable environment."
With the trend of outdoor living showing no signs of slowing down, natural stone can also be used for fireplaces, fire pits, sitting walls and more.
"Hardscaping is still popular in the industry, some more elaborate than others," says Gina Villante of C.M. Jones. "The main goal all homeowners have when they get into hardscaping is that everyone wants space to entertain, have guests over, relax, etc. I find that hardscaping and landscaping go hand in hand. You aren't going to have a patio without fluffing it up with some curb appeal."
RESOURCES
C.M. Jones, Inc.
Exton, Pa.
(610) 644-7224 CMJonesInc.com
Dean's Landscaping
West Chester, Pa.
(610) 793-2386
Deans-Landscaping.com
Eddington Supply LLC
Bensalem, Pa.
(215) 639-0990
EddingtonSupply.com
Marrazzo's North River
Wycombe, Pa.
(215) 598-1412
MarrazzosNorthRiver.com
Published (and copyrighted) in House & Home, Volume 17, Issue 8 (March, 2017).
For more info on House & Home magazine, click here.
To subscribe to House & Home magazine, click here.
To advertise in House & Home magazine, call 610-272-3120.
Author:
Matt Cosentino
Archives
---
More Articles