Phillies Bullpen Looking to Overcome a..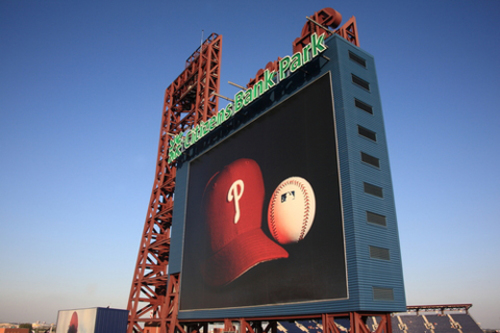 Phillies Bullpen Looking to Overcome a Most Difficult Start
While nobody expected the Phillies to be contender in the National League East this season, there was realistic hope that improvement would occur.
Yet entering Tuesday, the Phillies had a 14-21 record and were nine games behind the first place Washington Nationals.
After 35 games last season the Phillies were 20-15.
So what is the difference?
It's not just one or two things. And while it is no consolation, the Phillies have played better than their record indicates.
They have had the misfortunate of already playing the Nationals 12 times already. Washington is just 7-5 against the Phillies and 17-8 against the rest of its schedule.
Stop if you've heard this before – Washington is a serious World Series contender. Then again, the Nationals seem to crumble in the postseason.
The Nationals have won three of the past five East Division titles, but failed to advance past the NLDS all three times.
This year's Nationals team is woefully short in one area – the bullpen.
Yet this is about the Phillies and like the Nationals, they have also struggled in the bullpen.
Though the first 35 games, the Phillies had blown nine saves, which was tied for the most in MLB. The Phillies have had 14 save opportunities, meaning that their 35.71 save percentage has been the worst baseball.
Two relievers who have done a solid job have been Pat Neshek and Hector Neris. Neshek had been spectacular before losing Sunday's second game of a doubleheader to Washington. Take away the one game when Neris allowed three consecutive home runs to lose to the Los Angeles Dodger, and he has been impressive.
Luis Garcia has a 1.42 ERA, but he has spent time at Triple-A Lehigh Valley and only appeared in seven games with the Phillies.
Nothing demoralizes a team like a leaky bullpen.
The Phillies offense has shown more life this year, although getting third baseman Maikel Franco (.209 average) on track remains a top priority.
Centerfielder Odubel Herrera entered Tuesday batting .255 and had struck out 36 times in 137 at-bats.
These are two of the Phillies chief offensive players and they need to produce.
Yet even if they improve, if the Phillies bullpen doesn't begin to show more consistency, it won't matter.
The Phillies have such little margin for error. Almost half of their 35 games were decided by one run. The Phillies are 7-10 in one-run games.
It's safe to say that the bullpen performance has been the most disappointing development in what is coming on the first quarter this season.
Photo Credit: Editorial credit: Frank Romeo / Shutterstock.com
© SouthJersey.com 2017. All rights reserved. This article or parts thereof may not be reprinted or reproduced by any other party without the express written consent of SouthJersey.com. For more information, please call 856-797-9910.
For more Local Sports features, visit our South Jersey Sports page.
Article continues below
---
advertisement


---
Author:
Marc Narducci
Archives
---
The Long Journey in a High School Football Season
Four South Jersey Regional Football Champions
A Familiar Voice
Men of The Year 2021
Joining the Family Business
Giving Kids a Shot
Deck the Halls
High School Football Regional Championship preview
South Jersey Coronavirus (COVID-19) Developments (December 1)
There is still a place for Thanksgiving football
Eagles soap opera continues
A Familiar Voice
Executives of the Year
Observations of the South Jersey Football Teams in championship play
'Lifeblood of the Economy'
More...