Healthy Through the Heat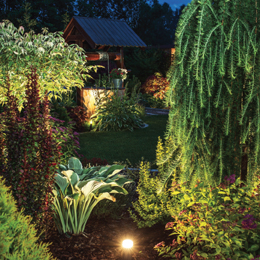 ...From the pages of House & Home magazine...
As spring's mild temperatures begin to fade and days get hotter, every homeowner wants to make sure their lawn and landscape stay as healthy as possible. From keeping grass green and weeds at bay, to summer's favorite flowers and ways to incorporate a water feature, the professionals we spoke with have years of experience keeping their clients' outdoor spaces looking good no matter what.
With their help on the following pages, your summer landscape will have its best season yet.
LAWN MAINTENANCE
Keeping a lush green lawn throughout the summer can be a challenge for the typical homeowner. There are weeds that look like grass, or unsightly brown patches that can pop up, ruining the overall curb appeal of your home. This is where professional expertise helps. Beyond weekly mowing, a landscape maintenance company can educate homeowners on how to keep the lawn healthy.
Gina Villante, landscape designer/project manager of C.M. Jones, says she tells clients the best time to water a lawn is in the early morning or evening. "You never want to water during peak afternoon hours, as that is the hottest time of the day," she says. "Water sitting on plant material or a new lawn during peak heat hours turns into a magnifying glass on the material, and can burn leaves if hot enough. [For] how often one waters, I always suggest doing a simple soil test, by poking your finger in the soil and feeling if it is dry or damp to determine if water is needed. Too much water can be just as big of a problem as not enough water."
Others warn against watering too late at night, which can create fungus on the grass. "Early morning is the best time to water lawns, and all plants for that matter," says Rebecca Whitelock, sales manager of design/build services at Plantique Landscaping. "There is less likelihood of pests and diseases because the plant has all day for the water to be absorbed."
How often and how short grass is mowed can also make an impact. "Grass should be mowed every week, sometimes every other week if we get a dry summer," says Villante. Leaving the blades longer will help to keep roots cool during the hottest months. And while some prefer to have their lawn clippings bagged, experts say it's optimal to mulch the clippings, putting them back into the soil. "A lot of people think lawn mowing is easy, but there is a technique and method to get freshly mowed lines and no excess clippings."
SUMMER PLANTS
Article continues below
---
advertisement


---
Who doesn't enjoy having bright, vibrant, colorful plants and flowers throughout their garden? If you think it's too late to incorporate this into your landscape, think again. "It is definitely not too late to plant perennials or annuals for this year," says Whitelock. "Actually for annuals, a good rule of thumb is to wait until at least Mother's Day before planting them. Because annuals only last one season and get killed off by cold weather, waiting will hopefully give adequate time for the danger of frost to [pass]. Perennials can be planted almost at any time, provided they receive consistent watering to help their roots get established."
Diane Marrazzo, design and sales consultant for Marrazzo's North River, offers several suggestions for perennial color, such as phlox, coneflowers, astilbe, hollyhock, coral bells, daylily and sedum, to name a few. For shrubs, she suggests hydrangea, knockout rose shrubs, rhododendron, azalea, butterfly bush or rose of Sharon.
"There are many varieties of these perennials and plants," she says. "They each have their own habit for growing. It is very helpful for the novice gardener to seek the advice of a professional before choosing [them]."
We also asked our experts about the term "drought-tolerant" and what it means. "The biggest misconception is that drought-tolerant means drought-proof. It does not," says Whitelock. "Drought-tolerant means that a plant has natural tendencies or has been bred to handle periods of inconsistent rainfall."
Marrazzo says these plants will do their best to survive if you neglect them, but that doesn't mean you should. "If you are going to invest money into your landscape, you must remember one thing: if you are thirsty, so are your trees and plants. Water regularly."
Container gardening is an ever-popular hobby of many homeowners who may want to use them as accents on their porch, deck or patio, or to plant small amounts of vegetables and herbs for summer cooking.
Villante says, "Container gardening is all about creating your center focal point for the container, then balancing off of that. When I do containers I like to create drama in the center, then balance some more low growing plants off of that. Summer is the best to display a container garden because you have larger options of material than you would in the fall or spring."
Whitelock says to choose something tall for the center, then add cascading plants around the perimeter. "It's always fun to incorporate different textures and foliage colors for added impact," she says. "Try grasses or plants such as coleus or coral bells."
No matter how pretty these plants can be throughout the yard, weeds are an inevitable part of summer landscaping, but there are safe ways to prevent them.
"A safe method without using chemicals is simply installing a landscape weed barrier fabric before [planting] a new landscape," says Villante. "This will help you for years down the road to keep weeds minimal."
One thing is not recommended by our experts: the use of the common weed killer Round-Up. "There has been much press regarding the toxicity of and highly carcinogenic effects of [this]," says Marrazzo. "We did not like ever recommending this product for many reasons." Sometimes, the best tool for weeds is manual labor, as Marrazzo remembers her own father doing when she was young.
"All landscaping needs some type of maintenance and needs weeds hand-pulled here and there," says Villante. "It should be done every three weeks to keep it under control."
WATER FEATURES Thinking about summer and the heat, something that can bring a relaxing vibe to your landscape— as well as a possible cool down for birds, are water features.
"Water features can muffle surrounding noise pollution from roadways while providing a unique focal point to the landscape," says Whitelock.
According to Jason Turpin, co-owner of Turpin Landscaping, a pond or pondless waterfall can truly be the icing on the cake. "For us at Turpin Landscaping, and for most of our clients, a water feature brings serenity to a backyard," he says.
There are a variety to choose from, depending on a client's wishes, some require more maintenance than others. "Ponds are very popular," Turpin says. "Ponds are mini eco-systems and they attract many different creatures, from birds, bees and frogs, and even beautiful koi fish."
When Turpin creates a pond, they offer one of the lowest levels of maintenance, requiring only cleaning out the pond in the spring and adding annuals. The homeowner may only need to empty the skimmer when needed. "Our most valued compliment is when it is said that our pond looks like it has been there forever, even though it was recently installed. By using local stone sources, liners are hidden and colors blend into your environment."
Pondless waterfalls are among the trending water features for their simplicity. "What could be easier than a stream and waterfall that circulates and disappears into a bed of stone and gravel?" Turpin asks. "Waterfalls are the best of both options for those who desire the sight and sound of water but do not want fish, water lilies or maintenance."
If it's something you've been considering for your landscape, it's not too late. "Installation on new ponds are done all summer and into the fall months," says Turpin. "If the weather cooperates, we are able to install in the late fall right up until Christmas."
With the help of these experts, your landscape will thrive well beyond just summer.
RESOURCES
C.M. Jones, Inc.
Exton, Pa.
(610) 644-7224
CMJonesInc.com
Marrazzo's North River, Inc.
Wycombe, Pa.
(215) 598-1412
MarrazzosNorthRiver.com
Plantique Landscaping
Allentown, Pa.
(610) 395-6940
Plantique.com
Turpin Landscaping
Coatesville, Pa.
(610) 380-1119
TurpinLandscaping.com
Second photo courtesy of C.M. Jones
Published (and copyrighted) in House & Home, Volume 17, Issue 10 (May, 2017).
For more info on House & Home magazine, click here.
To subscribe to House & Home magazine, click here.
To advertise in House & Home magazine, call 610-272-3120.
Author:
Liz Hunter
Archives
---
More Articles