Investing in the Future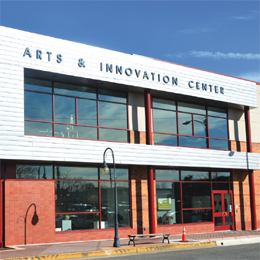 ...From the pages of South Jersey Biz magazine...
It's a delicate balancing act for an area to remain true to its roots—those which served it well for dozens of decades—but also embrace a changing economy and new opportunities. Cumberland County is successfully walking this line with the help of local businesses, government agencies and higher education parties all working together for a common goal of showing the beauty and potential in this unique South Jersey community. From its foundation in glassmaking and established food production industry, to its strides in health care and technical education, Cumberland County has more than meets the eye, and businesses are taking notice.
A Changing Landscape
One of the biggest drivers of development in the county is the Cumberland County Improvement Authority (CCIA). For 30 years, the CCIA was solely in charge of operating the landfill, but about four years ago it also became involved in spurring business and project development, led by Gerard Velazquez, executive director.
"Initially there was hesitation from private businesses who wondered why the government was taking the lead on these projects, but over the past couple of years we've shown everyone our intention is not to change the world, but change Cumberland County little by little, and we're not going to succeed unless private entities invest in [the] county," he says.
In the last three years Cumberland County has realized more than $110 million in private investment, creating over 900 jobs. Velazquez says within another year, this number could be as high as $250 million.
Some of the most notable projects in that number are the new John F. Scarpa Technical Education Center (TEC) of Cumberland County and the Center for Workforce and Economic Development, located on the campus of Cumberland County College (CCC), as well as the Arts and Innovation Center (AIC) in Millville's downtown. This 20,000-square-foot facility is the first of CCC's off-campus buildings where students can immerse themselves in their coursework for fine arts, and new areas of education in cyber security, tourism and hospitality can be explored.
The CCIA is also working with Rutgers University and the city of Bridgeton to develop The Food Commercialization Center, a projected 27,000-square-foot facility adjacent to the existing Rutgers Food Innovation Center. Partnering with the CCIA on this is New Jersey Community Capital (NJCC), a nonprofit community development financial institution that has helped finance several projects in and around Cumberland County through its THRIVE SJ economic initiative—namely the senior housing development in Vineland and the AIC in Millville, says NJCC Program Manager Laura Wallick.
"The development of this center will act as a catalyst for economic growth by providing affordable, flexible space for emerging food companies both domestically and internationally who will create living-wage jobs for area residents," says NJCC President Wayne Meyer. "NJCC is partnering with the CCIA on the project and will offer low-cost loans to the prospective tenants for leasehold improvements, equipment purchases and working capital."
Another development project in the works is a multi-faceted Energy HUB that will include construction of a new data center, which will bring approximately 32 high-paying tech jobs.
Established businesses are also finding incentives to remain in Cumberland County with the help of the GROW NJ program, which eight county-based companies have been awarded, including $8.2 million to Northeast Precast. It will expand its operations at the Lascarides Industrial Park in Millville while adding 50 new jobs.
According to James Watson, director for construction and economic development at the CCIA, this program has helped keep businesses in the community while they expand. "We encourage them to grow where they are and it has become a good attraction tool because Millville, Vineland and Bridgeton seem to get more money than other areas, which is giving it good international exposure, and companies from Pennsylvania, New York and California have shown interest," Watson says.
"Businesses want to move where there is excitement and movement," he continues. "This becomes appealing to private developers who want to get in on the ground level."
Vineland's new mayor Anthony Fanucci is echoing the county's aggressive plans for economic retention and development in his own city. Vineland has long been known for its food production concentration, but Fanucci says it has so much more to offer. "We have highway access and we're the midpoint between Philadelphia and Atlantic City, and just a couple of hours from New York," he says. "We may be the largest city in the state by square miles, but we have small-town appeal with [an] approximately 62,000-person population, with farmland, a great downtown and a variety of history."
Fanucci, who is a business owner himself, has a unique understanding of the struggles facing small businesses. "Sometimes people can focus too much on attracting new businesses that they forget the people they have," he says. "We want to keep the businesses we have happy and assist them while also driving new prospects in. We are aggressively targeting those not normally thought of, like larger retail and more professional services, accountants, engineering firms."
On the construction front, Vineland's senior housing complex downtown is well underway, and other newcomers in this bustling location could potentially include two microbreweries. Plans for a new police station are out for bids and Fanucci says expansion of other public services through rehab or construction is in mind. "We want to preserve the history, not tear down, and do what we can to keep the décor and integrity of Vineland," he says.
One of the biggest initiatives planned to fuel this economic engine is running fiber optics citywide. "We want to make Vineland a fast, smart city, and looking at the next level, we'd like Vineland to become its own ISP (internet service provider)," Fanucci says. "By doing that, [we] will attract small- to medium-sized tech companies, offering a lower utility cost, high quality of life and fast infrastructure." Combined with Vineland's already affordable electric, water and sewer rates, this would create what Fanucci says is an entire package for businesses.
"Since announcing this initiative we've been flooded with calls from a variety of people," he says. "We have restaurants seeking information from the Economic Development Authority, and interest from web development and marketing companies looking at space. It's in line with what the millennial generation is looking for."
Addressing the County's Needs
Article continues below
---
advertisement


---
While there's no denying the economic potential in the millennial generation, it's also important to embrace the new industries where they show interest. Cumberland County's "economic development triangle"—where the TEC school, Center for Economic and Workforce Development and CCC meet—is a hub for education, employment training, certification and business development. Together these organizations are identifying growing industries where employers are seeking qualified candidates.
Beginning with CCC, whose president is Dr. Yves Salomon-Fernandez, students can earn certificates as well as associate's, bachelor's or master's degrees, all of which can be completed on the same campus through university partners like Georgian Court University or Delaware Valley University.
This year, the CCC has developed a number of new academic programs, says Salomon-Fernandez. "[Such as] the beverage tourism/tasting program, which can be taken as both a workforce development certificate and associate degree that transfers into Stockton's B.S. degree in tourism. The AIC will serve as the primary home to [this] program, which is intended to support the workforce need of the growing winery industry in the region," she says.
Cyber security is also another new offering at the AIC, and Salomon-Fernandez says the CCC is developing a robust strategic plan for that super sector specifically.
The college also graduated its first Certified Production Technician class, which was a new course developed based on feedback from business partners in the community, along with the Center for Economic and Workforce Development and its Cumberland County Department of Workforce Development. According to Executive Director Allison Spinelli, this leg of the economic development triangle helps address the issues businesses are having in finding skilled candidates and works with the TEC and CCC to create new programs.
"We've identified health care, advanced manufacturing, transportation, logistics and distribution, retail, tourism and financial services as key industries in our area," says Spinelli. "For instance, in transportation, logistics and distribution, there are a variety of career tracks available, and we want to show them what's out there. ... It's not just about getting them a job, but showing a career path where you can advance and you won't be stuck in entry level."
From an employer perspective, the Department of Workforce Development acts almost like an HR tool. "Our business partners can use our business resource center for what we call hiring events," says Spinelli. "Businesses let us know the vacancies they have and we do a prescreening of individuals who meet the minimum qualifications and do prep work with them. Employers are free to conduct interviews and make offers on the spot, and if they don't have luck with these candidates, we solicit their feedback on what skills candidates need, or how we can modify what we're doing to serve them."
At the forefront of health care services, which continues to be an in-demand workforce industry, is Inspira Health Network, headquartered in Cumberland County. As an employer of 2,100 county residents, it continues to invest and commit to the community at large. The health care provider works in concert with the CCC on health care courses and certifications and wants to keep those educated resources in the county. Through Inspira's residency programs, patients now have better access to specialists, says COO Betty Sheridan.
"We are growing as a health care provider and providing specialists this area didn't have before, like cancer specialists and surgeons," she says. "It's been really great coming together as health care professionals to give a next level of care within the community."
Inspira is growing in other ways too. In Vineland, they opened two urgent care centers, and Inspira Medical Center Vineland will be adding a senior emergency department, providing specialized care for senior citizens within the ER, says Sheridan. It's scheduled to open this fall. Inspira Health Center Bridgeton will also see a renovation of its emergency department and the addition of an inpatient detox unit to its behavioral health services unit.
"Everyone is working together as a county and we are taking these initiatives based on a community health assessment to identify the health needs and address those of the highest priority," says Sheridan. "In Cumberland County we developed and distributed drug deactivation packets—called Deterra—to deactivate old prescriptions. This is a safe and easy way to dispose of medications and reduce the number of leftover pills that a child or a visitor in your home could get hold of." She says 50,000 of these packets were distributed in the community.?
Inspira also plans to work on a project to help eliminate the homeless population in the county, a challenge for 2020, and is partnering with other organizations to find housing.
It's clear that the efforts of private businesses and public organizations are focused on quality of life for everyone who lives and works in Cumberland County. "We have a diverse population, which makes for a strong community and diverse tourism opportunities from the race track and the bay shore to nature trails and fishing," says Watson of the CCIA. "There are a lot of different things to come here and be involved in and areas of growth, and we have a lot of land to provide."
What Businesses Are Saying
Premier Orthopaedics
Dr. Thomas Dwyer, president and CEO
"There is a lot of loyalty in the county between the businesses and the community at large. Our focus is to bring university-level care to a rural setting and in our hometown where we work and play. We are excited for our new flagship office in Vineland where we provide state-of-the-art orthopedic care."

NEW JERSEY COMMUNITY CAPITAL
Wayne Meyer, president
"Cumberland County has a wealth of unique assets that, with access to affordable financing and support services, are being enhanced to bring job creators to the area. It's an exciting time to be working in the county, and South Jersey, and we look forward to building on this momentum." ."

MEMBERS 1ST OF NJ FEDERAL CREDIT UNION
Lizzy Kennedy, marketing and business development specialist
"In recent years, Cumberland County has gone through a major transformation from old worn-out buildings to new or remodeled downtown district areas and residential establishments. With this new development, businesses can take advantage of this ever-evolving county to grow their businesses and help the local economy. This county has a lot to offer businesses from spacious buildings in the industrial parks to available retail space in the Cumberland Mall or storefronts in the main streets of our downtown areas." ."

LAURY HEATING AND PLUMBING
Sean Laury, CFO
"My great-grandfather chose this location. We service all of South Jersey, so Vineland is a good central location. ... New Jersey's Clean Energy Program is currently offering a $4,000 rebate to homeowners when they install energy efficient heating and cooling systems in their homes, and many people in Cumberland County are taking advantage of this incentive in recent years." ."

CAPITAL BANK OF NEW JERSEY
David Hanrahan, president and CEO
"Cumberland County has very good raw material for businesses, including inexpensive land, low tax rates, an available workforce and government entities that are supportive and cooperative. More recently, the leadership team at the Cumberland County Improvement Authority has changed the Authority from being just a landfill operator to also being a real engine for economic development and growth in the county." ."

STANKER & GALETTO
Peter Galetto, president
"Vineland and Cumberland County are mid-way to the Shore communities, so Cumberland County supports business at the Shore and Philadelphia with a labor force and a lower cost to do business." ."

ACE PLUMBING,?HEATING & ELECTRICAL SUPPLIES ?
John Sperratore, general manager
"Our company was founded in Cumberland County in 1950, so we are deeply rooted here. With our headquarters being centrally located in Cumberland County, we are able to service the entire South Jersey corridor. Even though Vineland has more square mileage than any other New Jersey city, it still has the feel of a close-knit,small town." ."

CUMBERLAND INSURANCE GROUP
Paul Ritter, president and CEO, and deputy mayor of Hopewell Township
"This is a good place to own a business because the location is centralized between major cities, and the cost of land is very affordable. It's also becoming a destination for festivals in Hopewell Township, walking and biking trails, and the Amish market." ."

LILLISTON FORD
John Lilliston, owner
"Lilliston Ford has been ... in Cumberland County for 35 years. It was appealing as a location because [it] seemed like it had so much potential for growth and significantly new business opportunities. Also, we are part of the Urban Enterprises Zone which gives a reduced tax to help consumers in our area...as well as a tax relief for us as a business in this county."
Published (and copyrighted) in South Jersey Biz, Volume 7, Issue 5 (May, 2017).
For more info on South Jersey Biz, click here.
To subscribe to South Jersey Biz, click here.
To advertise in South Jersey Biz, click here.
Author:
Liz Hunter
Archives
---
More Articles