An Infinite Palette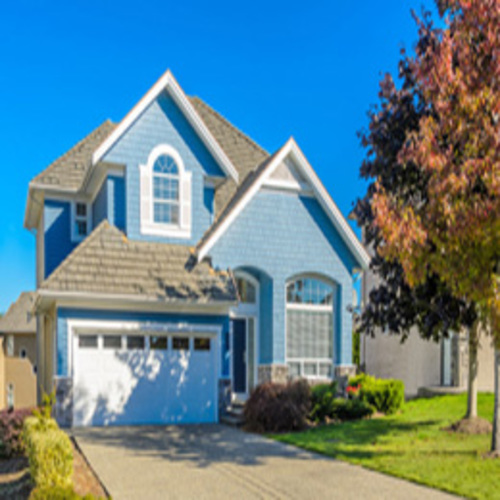 ...From the pages of House & Home Magazine...
The miracles performed with the help of a can of paint are endless. Transform old furniture, brighten up a dingy wall and yes, even reinvent the exterior of your home, all with some paint. But as simple as it sounds, it's the process of narrowing down that infinite palette of colors to your top three or four that might actually end up adorning the outside of your home—for all to see. That thought can cause some hesitancy in people to change the status quo, avoiding rocking the proverbial boat with neighbors, but there are ways to bring in color without going to the extremes.
FINDING A COLOR FAMILY
It's not uncommon for people to feel naturally attracted to certain colors, and it's certainly important to choose colors you can live with. If you're unsure, professionals in the industry can lend their expertise, but homeowners should take some steps on their own first.
"A homeowner should create a vision of what their desired outcome or look they want to achieve," says Greg Parkhill of Brush Masters XP. "Homeowners today are able to utilize apps such as Houzz and Pinterest, which offer phenomenal ideas."
In addition to these sites, homeowners can also search on some of the industry's leading paint manufacturers, such as Sherwin-Williams or Benjamin Moore, for color inspiration. Online tools let you virtually visualize any color on your home.
Many homeowners will find inspiration in their own neighborhood. "Each community and neighborhood is different in its own way," says Parkhill. "Color selections should really be based upon the vibe throughout the individual's neighborhood. You don't want to be the house that stands out like a sore thumb, yet you don't want to have the same exact color as your next-door neighbor."
Although it's not a common issue, it's not inconceivable for that to happen. "If [a client] likes the same colors, I might ask them what they like about those colors, and suggest going for a shade lighter or darker," says Mark Rossi of Spectacular Painting. "You don't want to be the exact same. There's nothing unique about copying someone else's house." The experts at Janville Roofing & Siding say exterior colors always lean on the safe side, nothing too trendy. They recommend using no more than three colors unless it's a Victorian—which is a style that has more details to be highlighted. Homeowners should choose a color for the body of the home, the shutters and door and then the trim.
While narrowing down the colors, Dave Carhart of Star Painting and Wallcovering, says don't overlook the permanent elements of the home's exterior. "You want to coordinate with any stone work, brick, the roof," he says. "Your house style can also lend itself to a certain color family." This could include bright white for a Coastal Cape Cod, rusty earth tones for a home with stucco or a moss green Craftsman.
"Working with a painting professional will put your mind at ease," continues Carhart. "They wouldn't let you make a bad choice."
Rossi says he tries not to let his opinions influence his clients, though. "I don't encourage folks to go to the extremes, and I don't usually do anything in primary colors," he says. Parkhill offers another tip for homeowners to consider how light hits their home. "Sun exposure plays a large role in how a color may change throughout the day," he says, adding that it's smart to apply paint samples to parts of the home and see how it might change.
CHOOSING A CONTRACTOR
Article continues below
---
advertisement


---
Just as important as researching colors is researching the company that will be responsible for doing the work. Carhart says there's no shortage of quality painters out there, and homeowners should pick the one they like best, but not base their decision on price. "Do your homework on insurance, if they use subcontractors and make sure they can back up their work," he says.
This sentiment is echoed by all of the professionals we spoke with. "In today's time where budgets come first, a lot of folks focus on lowest price and worry about credentials later," says Parkhill. "[Homeowners] should first always verify their license number. It's the easiest step to make sure they are licensed with the state. This can be done with a quick search on the Consumer Affairs site."
Rossi says Consumer Affairs keeps a better record than the Better Business Bureau. "If a company doesn't have a good reputation, you'll find that out at Consumer Affairs," he says. "Homeowners should also be careful about contractors who are more concerned with getting a deposit up front than on delivering a product worth paying for. There's nothing wrong with requiring a deposit, but it protects them more than the client."
Janville also suggests checking the quality of paint being used, saying that not all paints are created equal. They say there are industry standards set by the Painting and Decorating Contractors of America and Paint Quality Institute, recommending procedures (including pressure washing the home before painting), and double coating paint to get a home to the eight-year mark on durability.
RESOURCES

Brush Masters XP
Cherry Hill, N.J. 
(856) 899-9183 
Janville Roofing & Siding
Lansdale, Pa.
(215) 368-5200
JanvilleRoofing.com
Spectacular Painting
Moorestown, N.J.
(856) 979-9451
SpectacularPaint.com
Star Painting & Wallcovering
Collegeville, Pa.
(610) 409-7980
StarPaintingAndWallcovering.com
Published (and copyrighted) in House & Home, Volume 17, Issue 12 (June, 2017).
For more info on House & Home magazine, click here.
To subscribe to House & Home magazine, click here.
To advertise in House & Home magazine, call 610-272-3120.
Author:
Liz Hunter
Archives
---
More Articles