Home & Garden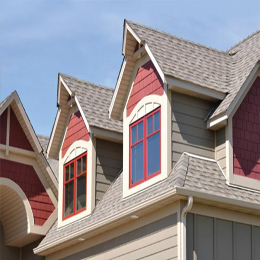 ...From the pages of House and Home Magazine...
A PERFECT ROOF OVER YOUR HEAD
If your current home needs a new roof, chances are a lot has changed since it was first installed. Some of the most reliable options remain on the market as go-to products, but other new types are also worth considering. To learn more, we spoke with local roofing professionals who provided valuable insight on current options, materials and enhancements to create the perfect roof.
POPULAR ROOF TYPES
One of the most notable developments in the roofing market is the advancement of materials. Asphalt shingles remain the predominant choice of homeowners and professionals still highly recommend them, especially with their updates in recent years. Shingle boasts an updated look and is the material that most frequently comes with a limited warranty.
"A lifetime, dimensional, high-definition shingle that's impact resistant—that is the best shingle and the most popular out there right now," says Charlie Seitchick, founder of World Roofing, a division of World Contracting NJ.
Mike Brown, owner of Brown Builders, says shingles aren't the same as they were a few decades ago. "The way they manufacture shingles now, they are thicker," he says. "And they are treated with a stain guard to prevent staining and streaking, which can be unattractive on your home."
And though gray and brown shingle roofs may be most commonly seen, Brown says there are at least a dozen colors available to match anyone's taste. "Asphalt shingles can even be made to look like cedar or slate roofs, without the cost associated," he says.
Shingles also serve as agents of correction because they compensate for inconsistencies in your home. "A dimensional shingle takes out any of the imperfections on your roof," says Seitchick. "Houses that settle, a rafter a little bit higher than another rafter; [a shingle] gives the illusion that everything is three-dimensional." This makes shingle roofing an ideal option for those with older homes or ones with non-traditional layouts.
Consumers may be familiar with the standard asphalt shingle collection, but today's market also offers all-metal roofing in addition to the original assortment.
"We have metal roofing, and we actually have a metal roof that can be made to look like shingle, slate or tile," says Adam Parnes, owner of Global Home Improvement. A relatively new option, metal can be a fantastic choice for those looking for a little more customization. Parnes also points out that color choices are expansive and vary by the manufacturer. "All of the styles have different colors; there is slate gray, a stone blend and they even have a bronze blend."
Along with the varied color selection, metal roofs also offer increased durability and outstanding stain-resistant properties. "The metal roofs are better across the board; they last two to three times longer than an asphalt roof, [have] a high wind rating and, more importantly, they don't stain or discolor like traditional asphalt roofs," says Parnes. "It's a non-porous material, so you don't have algae or mold that grows on the roof."
QUALITY INSTALLATION
Article continues below
---
advertisement


---
Despite differing preferences in materials, all of today's best contractors agree on one thing: There is no substitute for a quality installation completed by a fully- trained and certified employee. Accordingly, Mark Goldey, owner of Roof Masters, works tirelessly to ensure that his team always delivers the best, because he knows that roofing choices can be overwhelming to an outsider.
"There are a lot of roofers, but what [national roofing manufacturer] GAF offers now is a training class with them to become certified," says Goldey. "Certified contractors are the only ones who can offer these 50-year warranties; this has cleaned up the business a lot, [because] not everybody can become certified." For their part, GAF has enjoyed great success by offering the highest quality products and the longest warranty available.
Brown says through the GAF program, installers must follow certain restrictions and code, including how many nails to use per shingle. "The lifespan of an asphalt roof can be 30-50 years, but it all depends on installation," he says. "When I do a roof with GAF, we offer a 50-year manufacturers' warranty right from GAF, and it's transferrable within the first 20 years for one time, which is a big selling feature for a home."
He also urges homeowners to have the elements under- neath the roof inspected, like the sheathing, and adhesives that help prevent shingles from blowing up with the wind. "We put a membrane down on our sheathing as a shield for ice and water. ... And we also do ridge venting, which is a lot better [for uniform cooling], without the need for an electric exhaust fan for ventilation," Brown says.
Seitchick says his preference is a synthetic felt, "which rating wise is better for your house [because] it lets your roof breathe."
No matter the material, contractors today want homeowners to look at the roof less as one aspect of a home and more as its own structure entirely. "Look at not just the material, but look at the roof as a system," says Parnes. "You need to consider how the roof is sequestered as well as how the roof is ventilated. It needs to work with your home and your attic, so ventilation and insulation are [the] biggest factors, and having a system that works is crucial."
With stronger materials, better installation techniques and new certification options, it's easy to see the vast enhancements that have been made in today's roofing industry. Those seeking to upgrade or replace their roof will feel at ease knowing that their investment is sure to yield positive results because the message is clear: A new roof will be made stronger, installed with higher precision and better completed by a certified contractor.
RESOURCES
Brown Builders (609) 254-9673 Voorhees, N.J.
Global Home Improvements (888) 234-2929, Feasterville-Trevose, Pa., GlobalHomeInc.com
Roof Masters LLC (856) 931-2054, Bellmawr, N.J., RoofMastersNJ.com
World Roofing Siding Windows: a division of World Contracting NJ LLC, (856) 882-8421, Voorhees and Egg Harbor Township, N.J., WorldRoofingNewJersey.com
Published (and copyrighted) in House & Home, Volume 17, Issue 13 (July, 2017).
For more info on House & Home magazine, click here.
To subscribe to House & Home magazine, click here.
To advertise in House & Home magazine, call 610-272-3120.
Author:
Stephanie Joyce
Archives
---
More Articles