Producing Change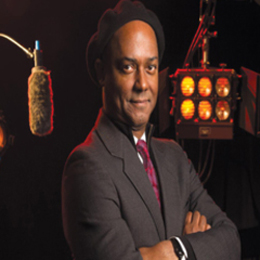 ...From the pages of South Jersey Magazine...
Hébert Peck knows a thing or two about success—especially with his latest film earning an Oscar nomination during this year's Academy Awards. The Haitian-born producer spent his childhood in various places from Haiti, Africa, France and ultimately, America. Today, he is the assistant director of broadcast operations at the Rutgers University Television Network (RU-tv), runs his own production company, Orelus Media, in addition to working alongside his brother, director Raoul Peck of Velvet Films.
The duo, along with producer Rémi Grellety, worked together on the 2016 documentary- turned-indie hit, I Am Not Your Negro, which is quickly becoming an important piece of work on how race is perceived. It's based on the work of late American novelist, essayist and activist James Baldwin, as it features footage of his personal appearances prior to his death in 1987, text from his unpublished book, as dictated by Samuel L. Jackson, while simultaneously presented with past and present footage of racial prejudice in America.
Despite the nomination, Peck measures the film's success on its effect with viewers. "We were certainly quite honored the film got nominated," he says humbly. "That also meant a lot more people became aware of it—either if they were aware of James Baldwin and now they got back to him or if they were not aware of who James Baldwin was—at least they would look him up."
The Voorhees resident recently spoke with South Jersey Magazineabout its production, the road to the Academy Awards and why we as a society still have a long way to go.
The making of the documentary…
Article continues below
---
advertisement


---
This was a project that was 10 years in the making. … My brother Raoul wanted to do something on James Baldwin, who had been a really important person in his life as an American writer. Initially when we were looking for the rights, the Baldwin estate traditionally wasn't responsive to many requests like that, they were very protective of Baldwin's legacy and so nevertheless, Raoul wrote a letter and within three days, got an answer. … That first meeting with Gloria, who is Baldwin's younger sister and oversees the estate, went very well. In fact, she had seen some of Raoul's previous work and was really welcoming and gave us access to all of [Baldwin's] work including private letters, private correspondence, published and unpublished works, which, in the industry, is kind of unusual. ... [There was also] a private letter that Baldwin had wrote to his literary agent about the next book he wanted to write and in it, he basically explained what the book was about, why he wanted to write it, why he needed to write it, how he was going to write it, the important information he wanted to put in it, personal experiences he wanted to share and then the importance of the book to us as a society. Of course, Baldwin died before he was able to complete that book, but for a filmmaker, having that book, that treasure, was a great opportunity. … [Raoul] had decided the criteria to tell the story would be no talking heads, no voice of God that you typically hear in documentaries explaining to us what's going on, it needed to be a pure Baldwin experience so that this is really Baldwin talking to us, the audience, almost as if we were inside his head, and lastly, he would only use Baldwin's words and nothing else.
Tapping into Samuel L. Jackson…
He's a classically trained theater actor and he was one of the first choices from the beginning. When he agreed to do the film, the directions as a director from Raoul were very clear and short. … Raoul said, 'I'm not interested in having you do a voiceover, nor mimicking Baldwin—but really to read the text and make it yours and really feel everything that you say.' When Samuel Jackson read the text and made it his [and] felt every word, everything he said was gold. Every silence, every change in the different tones that he used, it was so powerful. It was kind of brilliant to have him on [it].

Resonating with the current times...
The whole idea, initially, for the film was to bring Baldwin back into our lives, back to his rightful place as a great American writer of the 20th century. His writing is forceful, clear [and] unapologetic, but yet it comes from a place of love and so that was always the purpose. … I was watching the film and the whole time I felt like [Baldwin] was talking to us as if he wrote this stuff this morning and, to me, that means two things: It really shows [how] great of a writer Baldwin was in terms of [getting] to the core of things and then secondly, we as a society still have a way to go. We've had a lot of progress, but the fact that these words still resonate so clearly, so viscerally; we still have some work to do.

Entering the Oscar race…
We were always concerned about the impact of the movie and the longevity of the movie with audiences. So we were so thrilled when the film was invited to the 2016 Toronto International Film Festival (TIFF) to premiere. Then, that first screening, everyone got on their feet and gave a standing ovation to the film. It was incredible and from that first screening, that never stopped. When it left Canada and started coming to the U.S., it was the same reaction. We were going from festival to festival and people were really responding, the reviews were great and were becoming really quite powerful. … When [Magnolia Pictures] picked it up, they immediately said, this is a film that should be considered for an Oscar and therefore we want to try to enter it in that arena and see what people say. … For us, we wanted people to see it … you try not to think about those things because … it's very tricky if you start thinking about the award just to get awards because then you're not going to be making very good work. … It was certainly a great experience and quite humbling.
Published (and copyrighted) in South Jersey Magazine, Volume 14, Issue 4 (July, 2017).
For more info on South Jersey Magazine, click here.
To subscribe to South Jersey Magazine, click here.
To advertise in South Jersey Magazine, click here.
Author:
Josephine Cusumano
Archives
---
In Good Health
2017 Executives of the Year
Superior Sandwiches
Raise a Glass
Impressive New South Jersey BBall HOF class
The Promise of Public Transportation
Empowering the Next Generation
Singles: January 3
River Revitalization
Spreading Cheer
Singles: December 27
Winter Retreat
Are Holiday Parties Back in Favor?
Support System
Singles: December 20
More...