It Will Take Years to Evaluate the Phillies Recent Trades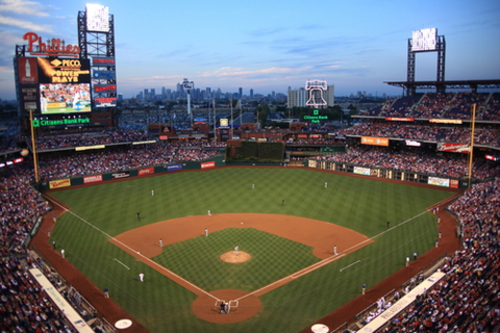 The Phillies made several deals leading up to the July 31 non-waiver trade deadline and it will take years to see if they benefited from it.
General manager Matt Klentak acquired several veteran players with the idea in mind of flipping them at the trade deadline.
One of those players didn't work at all, with the Phillies earlier releasing Michael Saunders after signing him to a one-year, $9 million deal.
Here were the Phillies recent trades.
1. Acquired pitcher McKenzie Mills and international spending right from Washington for infielder-outfielder Howie Kendrick
Acquired minor league pitcher Seth McGarry From Pittsburgh for reliever Joaquin Benoit and cash considerations.
Acquired outfielder Hyun Soo Kim, minor league pitcher Garret Cleavinger and international spending rights from Baltimore for righthander Jeremy Hellickson.
Acquired minor leaguers shortstop Jose Gomez, reliever J.D. Hammer and starter Alejandro Requena from Colorado for reliever Pat Neshek.
That is a lot of wheeling and dealing, and whether it amounts to much remains to be seen.
None of the players they traded fit into their long-term plans and here is a look at who they acquired.
McKenzie Mills - A 6-foot-4 lefthander who turns 22 in November, Mills was 12-2 with a 3.01 ERA for Washington's low-Single A Hagerstown team. He had 118 strikeouts in 104 2/3 innings over 18 starts. These are impressive numbers in what has been a breakout season for the 2014 18th round draft choice.
Seth McGarry – A 6-foot righthander, McGarry has compiled impressive statistics for Pittsburgh's advanced Single-A Bradenton. He had a 1.34 ERA in 31 relief appearances, with 38 strikeouts and 14 walks in 40 1/3 innings. McGarry turns 24 in January. He is relaitviely old to be competing in high Single A. He was an eighth round draft choice in 2015 from Florida Atlantic
Hyun Soo Kim – He is 29 and has an expiring contract so his Phillies career should be a brief one.
Garret Cleavinger – The 23-year-old lefthanded reliever had a 6.28 ERA for Baltimore's Double-A Bowie team. He was a third round pick in 2015 out of the University of Oregon. For Bowie he had 42 strikeouts in 38 2/3 innings but had also walked 23.
Jose Gomez – The 20-year-old shortstop was hitting .324 with four home runs and 33 RBI and an .811 OPS for Colorado's low Single-A team Asheville. This season for Asheville he played 49 games at shortstop, 12 at second base and 10 at third base.
J.D. Hammer – the 6-foot-3, righthander was a 24th round draft choice in 2016 out of Marshall University. A hard-throwing reliver, he was 4-1 with a 1.20 ERA in 24 games for Asheville with 47 strikeouts and five walks in 30 innings. He is 23, which is a little old for low Single-A. In his first game for the Phillies advanced Single-A Clearwater, he threw two scoreless innings.
Alejandro Requena – The 6-foot-2 Requena turns 21 in November. He was 8-3 with a 2.85 ERA in 19 starts for Asheville. In 117 innings he struck out 97 and walked 25.
Many of these minor leaguers had impressive statistics, but all appear a long way from the majors if they get there at all. The Phillies are in rebuilding mode, and this is what young, losing teams do, but evaluating these deals will take many, many years.
Article continues below
---
advertisement


---
Author:
Marc Narducci
Archives
---
Dick Allen a glaring omission in recent Hall of Fame vote
One Last Thing: Off the Ice
The Long Journey in a High School Football Season
South Jersey Coronavirus (COVID-19) Developments (December 7)
Sandwich Supremacy
Four South Jersey Regional Football Champions
A Familiar Voice
Men of The Year 2021
Joining the Family Business
Giving Kids a Shot
Deck the Halls
High School Football Regional Championship preview
South Jersey Coronavirus (COVID-19) Developments (December 1)
There is still a place for Thanksgiving football
Eagles soap opera continues
More...