Weighing The Options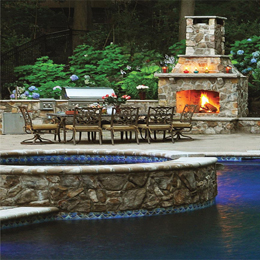 ...From the pages of House & Home...
The summer season is upon us and that means you are in your backyards with swimsuits on, lathered in sunscreen and getting ready to dive into your pools on these hot 80-degree days. But for those lacking in the pool department, it means cozying up to the neighbor across the street with the Olympic-size pool or hanging at your brother's house while his three kids hang on you in their 5-foot-deep above ground.
That's not exactly how we imagine summer.
Although you may feel like you are a burden to your pool plentiful counterparts, visiting those homes with pools can actually be very helpful in deciding what you want for your own personal backyard resort. House & Home spoke with experts in the pool department about the biggest question you face when getting a pool: fiberglass, concrete or vinyl?
FIBERGLASS
After speaking with our experts, there was a resounding agreement from all of the companies' perspectives that the fiberglass pool choice was typically the least popular when compared with concrete and vinyl.
"A fiberglass pool is [made of] layers of fiberglass that are applied to a mold and the inside of it is gel-coated or coated with whatever you want to put inside of it," says Dominic DiCesare, general manager of Blue Haven Pools. "Basically, a fiberglass pool is like building a boat—but inside out."
While digging a hole and dropping this type of pool into the ground is definitely easy construction-wise, DiCesare says all of those layers of fiberglass sit in the ground with moisture causing it to penetrate through the layers of fiberglass where it can get blistering.
"Fiberglass is not a self-supporting structure, it has some mold to form but there is no real structure to it," DiCesare adds. "You need to have water pressure and ground pressure that holds it together. If for some reason the pool is empty for a period of time, it could implode and if the ground fails or gives out, it could explode. There are a lot of things that you need to hold that pool together in the ground."
Walter Beyer, president of Stardust Pools, echoes DiCesare's sentiment when it comes to the structure of fiberglass pools.
"Fiberglass is a shell pool where you dig a hole and drop it into the ground. There are no footings or bracing," he says. "They aren't really popular in the Northeast with the shifting and moving of the pool. They are made for warmer climate areas."
What homeowners tend to like about fiberglass pools is the smooth feel of the interior. But with so many quality products today, they can get that same feel within another pool structure.
CONCRETE
Article continues below
---
advertisement


---
One of the most popular pool choices for in-ground pools is concrete—often referred to as a gunite pool. What attracts most homeowners to gunite pools is their ability to be extremely diverse when it comes to shape.
"You can custom shape a [gunite] pool to anything you want," says Beyer. "You can draw a picture of what you want like a golf club or a clover; there is no certain shape [the pool needs to be]."
Mike McCool, general manager at Swim-Mor Pools, also nods to the customizing factor of gunite pools. "Gunite is a form of concrete that is pneumatically applied which enables a homeowner to design the pool into whatever shape and size they want," he says. "Although you can build a gunite pool as elaborate or as simple as you like, when talking about benefits of gunite over the other pool options, I always like to point out two general points: No. 1, pretty much every commercial pool you have been in has been a gunite/concrete pool and, No. 2, probably every elaborate pool you have seen in any movie, vacation spot, TV show, etc. is most likely a gunite pool."
Why is this, you ask? McCool says gunite pools are by far the most customizable and structurally durable pool you can build. They may be typically more expensive, but McCool makes a great point when comparing the price of customizing another pool option.
"Customizing a vinyl or fiberglass pool will substantially drive up the cost, while the same customization is more affordable than you might think, as well as many options that are not even available on vinyl or fiberglass pools," McCool says.
When it comes to the maintenance of a gunite pool, Stephen Fahs, owner of Country Club Pools, says gunite finish is porous and will need brushing weekly to avoid algae growth in all of the crevices in the pool's surface.
"Maintaining a proper chemical balance is critical to maintaining the integrity of a gunite pool's finish," Fahs adds. "Both vinyl pools and fiberglass tubs will be easier to maintain as the finish is not porous and any water issue can be addressed with the proper chemicals."
VINYL LINERS
Another popular choice in pool structures is vinyl because they tend to be cheaper than gunite pools.
"With a vinyl [pool] you can do any shape, but it's more economical to do predetermined shapes," reasons Rich Cording, Sr., certified landscape architect and pool designer at CLC Landscape Design. "They come in freeform, kidney, rectangle, etc. They are basically a steel frame that is held together with concrete footing around the base of it that holds it in. Then it has this liner that goes on the inside that is very soft to the touch to swim with." Cording says an advantage to vinyl, besides being least expensive—or close to it—is that it's kid-friendly. "The vinyl is soft to touch so when kids dive into the pool," he says "... if they hit their head on the wall they don't get knocked out, they don't scratch themselves on it."
In the '70s and '80s, Cording says people didn't want vinyl pools because they looked tacky and were cheap—they were right. "I didn't start using vinyl until the 2000s," Cording says. "I tried them as an alternative and now I am in love with them because they have up-graded."
Michael Wimmer, vice president of design and sales at Plantique, agrees that vinyl liners can offer a more custom look to an in-ground pool than fiberglass pools, while costing less than a typical gunite.
"While they have come a long way in the last 10 to 15 years, there are still limited shapes and sizes to select from as well as liner patterns and colors that are available," Wimmer adds. "Vinyl liner pools can be customized but, depending on the desired lay- out, might put the project in the same cost bracket as a gunite pool."
Another thing to think about is exposure to the ground. Wimmer notes that vinyl pools have the thinnest barrier between the water in the pool and the outside environment.
Whether you think fiber- glass will suit your needs, a gunite pool is everything you want for customizing or you'd choose a vinyl liner for the kids, you could be swimming in your own backyard by next summer.
RESOURCES
Blue Haven Pools Tri-State area (800) 219-2141 BlueHaven.com
CLC Landscape Design Ringwood, N.J. (973) 839-6026 CLCDesign.com
Country Club Pools Inc. Hatboro, Pa. (215) 675-7550 CountryClubPools.com
Plantique Inc. Allentown, Pa. (610) 395-6940 Plantique.com
Stardust Pools East Brunswick, N.J. (732) 254-3330 Stardust-Pools.com
Swim-Mor Pools Mount Ephraim, N.J. (856) 456-3332 SwimMor.com
Published (and copyrighted) in House & Home, Volume 17, Issue 13 (July, 2017).
For more info on House & Home magazine, click here.
To subscribe to House & Home magazine, click here.
To advertise in House & Home magazine, call 610-272-3120.
Author:
Kaytlyn Mroz
Archives
---
More Articles