Acting on Instinct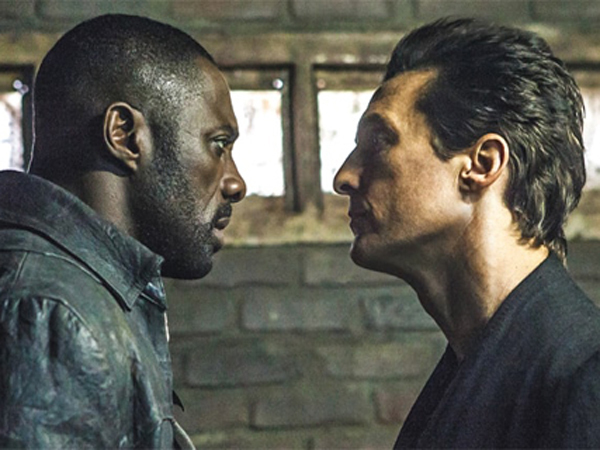 ...From the pages of South Jersey Magazine...
 It's only fitting that Texas native Matthew McConaughey finally gets to unleash his inner gunslinger in The Dark Tower, an epic western based on the original Stephen King novels that hits theaters this month. Up close and in person, McConaughey thrives on adding a level of showmanship to his conversation with you. His eyes light up when a question arouses his curiosity, and it's that same relentless, restless spirit that gives him that unmistakable movie star aura.
The Dark Tower stars McConaughey as The Man in Black (aka Walter Padick), a mysterious figure whose destructive agenda brings him in eternal conflict with The Gunslinger (aka Roland Deschain), played by Idris Elba.
The highly anticipated summer blockbuster will likely help McConaughey overcome the tepid reaction to his latest two movies, Gold and Free State of Jones, both of which died at the box office. For his part, the Oscar-winning actor was highly enthused by his work on The Dark Tower and had several conversations with Stephen King himself in preparation for the role.
"[Stephen and I] spoke about how Walter has the world by a string and he always has a half-cocked smile on his face about it," McConaughey, 47, says. "He sees himself as the minister of truth."
Adds McConaughey: "It's a dark tale of Christianity, it is. The epic, mythical battle of good versus evil. There's multiple worlds happening, that you can inhabit simultaneously and you will see myself, (Walter) and Idris (The Gunslinger) go head to head." One of the interesting elements concerning the conflict between these two archrivals is that Elba's Gunslinger character has great respect toward McConaughey's villain.
"Both want to conquer a world they still know little about. Roland hates Walter, and yet instead of feeling anger or resentment, he has an almost reverent attitude toward him," says Elba. Though McConaughey grew up very much a Southern boy, his mother Kay was born in Trenton and relocated to Texas after meeting and marrying her husband. He and his wife Camilla Alves keep a house in Austin to stay close to his mother, a former schoolteacher who is now the grandmother to Levi, 8, Vida, 6, and Livingston, 4.
When discussing his career and public perception, McConaughey says, "I would hope that people think of me as an actor who makes a lot of courageous choices. I don't think they have any one idea of the kinds of characters I play, except that I like to play outsiders."
We had the opportunity to sit down with the actor to talk about his latest film and found out why his family serves as both a support system and inspiration.
THE INTERVIEW
Q: You shot The Dark Tower instead of taking a break in your work schedule. What made you change your plans?
MATTHEW McCONAUGHEY: I was really looking forward to several months off but when they offered me a part in a film inspired by Stephen King's Dark Tower, I couldn't refuse. I also loved the idea of playing a very, very bad guy and getting to work with Idris Elba, an actor I have tremendous respect for.
Q: There is talk that The Dark Tower could become a future film franchise. Would you be interested in that?
MM: It's a possibility. There are a lot more stories to be told and this could be the first of a series. I've never been part of a film franchise before, so I'm hoping that this one succeeds because I would like to do another. We'll have to wait and see.
Q: Are you enjoying this time in your career? Everything seems to have turned around for you in the last several years.
MM: The Lincoln Lawyer (2011) was the beginning of that process and it was like the beginning of a new chapter for me. That film had some commercial pop and I liked the idea of making a film that I would want to go see if I was standing in front of a theater and trying to make up my mind. That kind of became my measuring stick for deciding which roles I wanted to play.
Q: But you then took a break after The Lincoln Lawyer.
MM: I didn't work for 18 months after that because I couldn't find anything on that level. As I've said before, I unbranded. I wanted to start doing things differently and it paid off. So I went off and did some smaller projects like Killer Joe, The Paperboy and Mud. Those were all antihero roles and even if those films didn't attract big audiences they changed the way people thought about me and what kind of actor I wanted to be. And I also did Magic Mike, which no one had any idea would take off the way it did.
Q: It must be satisfying to look back at that time even though it was also a risk on your part.
MM: You've got to take risks from time to time. A lot of people were wondering what the hell I was doing, but those movies had a way of altering peoples' expectations about me and it helped re-establish who I was not just with audiences but with directors. I would never have been considered for the part in Dallas Buyers Club if I hadn't made those smaller films.
Q: You've often credited your father and your memory of him as inspiring you to play larger-than-life characters.
MM: I put some of my dad in Kenny [from Gold] and whenever I come across a character who has a huge appetite for living it often makes me think of my dad. It's important to have a sense of adventure and search for things or opportunities that shake up your life.
Q: You're a big fan of going on exotic trips. Do you still get a chance to do that even though you're a father to three children?
MM: Yes. I love taking trips to wild places in South America or Thailand, sometimes by myself, and sometimes I'll go with my kids if they're old enough for the vaccinations you usually need. My wife also understands that it's important for me to sometimes get away on my own and be able to write or just think a bit by myself although I usually never stay away for more than a week or so now. She always tells me that I can stay as long as I need, which is very gracious of her, but I also know that she has to bear a lot of the burden of looking after the kids when I'm shooting a movie so I try to be as respectful of her time and our time together as a family as I can.
Q: Are you still close to your Jersey-born mother and the rest of your family back home in Texas?
MM: We're still very close, she's still going strong (at age 84). She has a lot of energy and I don't know how she does it. I'm also very fond of my middle brother Pat, who's seven years older than me. I've always admired and been inspired by him. I remember when I was growing up I thought he was way cooler than James Dean. He had the best sound system I've ever seen in his car and he would play the latest songs and let me listen to them. He would make sure no one would ever try to tease or bully me in school and he also taught me how to play golf and let myself be guided by my heart and not by my head.
Q: What's the ideal McConaughey evening at home with your wife and children?
MM: It would be enjoying our time cooking together. I like to prepare ribeye steaks on the grill in the garden and be able to sit down and enjoy a bottle of Amarone (an Italian red wine) while our kids are playing in the garden. That's home for me.
Published (and copyrighted) in South Jersey Magazine, Volume 14, Issue 5 (August, 2017). 
Article continues below
---
advertisement


---

For more info on South Jersey Magazine, click here. 
To subscribe to South Jersey Magazine, click here. 
To advertise in South Jersey Magazine, click here. Author:

Adam Reilly
Archives
---
Just Getting Started
Sixers offer hope for Philadelphia sports fan
Shawnee's Joe Kessler Continues his amazing run
On the Horizon
New key rules for seeding high school boys & girls basketball teams
2022 Annual Resource Directory
Setting the Standard: Top CEOs/CFOs 2022
Tax-Saving Tips
Early story lines in the South Jersey boys' basketball season
South Jersey Soccer Coaches Association names the best of the best
Is Jalen Hurts the Eagles QB of the Future?
South Jersey Coronavirus (COVID-19) Developments (January 14)
Big Season for Timber Creek grad Devin Leary of N.C. State
Camden-Lenape highlights the best of South Jersey boys' basketball
Just Getting Started
More...