Ministry Care Packages Made For Homeless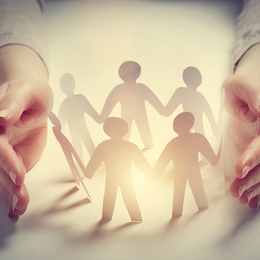 CAMDEN, NJ (CBS) — Filled with snacks and hygiene products, more than 100 bags going out Sunday to the homeless in Camden were decorated with inspirational words by local kids.
"It says 'write your own script'," says 14-year-old Ty-Asia Brooks holding up a bag she decorated.
She and the rest of the kids who wrote these encouraging words share a common, tragic thread – each lost loved ones to violence.
"In 2011 I lost my cousin, he was like my father figure and it hurt me real bad and I just didn't know how to deal with it," says Brooks.
What they needed was a safe place to heal, and they found it at Saving Grace Ministry on Spruce Street in Camden.
The support group was founded by Nyzia Easterling, who lost her first husband to gun violence in Camden.
"He was shot 18 times," she recalled Saturday, "at the time we were raising one child."
Over the last seven years, Saving Grace has helped more than 400 children who lost family members to violence.
They offer mentorship, tutoring, counseling, and, most importantly, hope for a better tomorrow.
"If kids are not reached then the violence continues. If you don't go after the teenagers angry about their fathers being murdered and their friends being murdered, then they become the next murderer," explains Easterling.
Easterling says while hurt people often hurt others, healed people can do great work healing others.
Sunday they'll have a Saving Grace "Amazing Race" doing good deeds throughout Camden, including giving school supplies to kids and care packages to the homeless.
"We pour into them and we always tell them to pour into others," says Easterling.
The Amazing Race is open to anyone who wants to volunteer, meet at 426 Spruce Street on Sunday 8/13 at 9 A.M.
After the Race there will be a community fun day with food, games, and giveaways from 12 P.M.-5 P.M. at the same location.
For more information visit https://cmdsavinggrace.wordpress.com
Article continues below
---
advertisement


---
Author:
http://philadelphia.cbslocal.com/2017/08/13/camden-ministry-makes-care-packages-for-citys-homeless/ - Cleve Bryan
Archives
---
South Jersey Coronavirus (COVID-19) Developments (February 26)
South Jersey Coronavirus (COVID-19) Developments (February 23)
South Jersey Coronavirus (COVID-19) Developments (February 19)
South Jersey Coronavirus (COVID-19) Developments (February 12)
South Jersey Coronavirus (COVID-19) Developments (February 5)
South Jersey Coronavirus (COVID-19) Developments (February 1)
South Jersey Coronavirus (COVID-19) Developments (January 29)
South Jersey Coronavirus (COVID-19) Developments (January 28)
South Jersey Coronavirus (COVID-19) Developments (January 22)
South Jersey Coronavirus (COVID-19) Developments (January 21)
South Jersey Coronavirus (COVID-19) Developments (January 14)
South Jersey Coronavirus (COVID-19) Developments (January 8)
South Jersey Coronavirus (COVID-19) Developments (January 4)
South Jersey Coronavirus (COVID-19) Developments (December 23)
South Jersey Coronavirus (COVID-19) Developments (December 21)
More Articles