7 Arrested After Police Find Alligator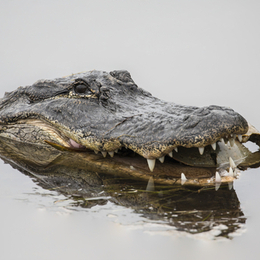 ATLANTIC CITY, N.J. (CBS)—Seven people were arrested, including one person connected to a man's fatal overdose, after authorities searched an Atlantic City motel.
The arrests were made on Tuesday morning following the search of 80 rooms at the Bayview Inn & Suites in Atlantic City.
Police say Jamal Campos, 25, is being charged with first-degree strict liability homicide drug induced death following the overdose death of Adam O'Gara on April 22, 2016, in Egg Harbor Township, NJ. O'Gara's death lead authorities to Campos, the Atlantic County Prosecutor's Office said in a news release.
Campos is also being charged with possession with intent to distribute 100 wax folds of heroin and third-degree possession of heroin.
In addition to the arrest of Campos, police say six people were also arrested on unrelated warrants:
Tariq Heard, 27, of Atlantic City Chinaisy Rodriguez, 25, of Atlantic City Gazelle Williams, 40, of Atlantic City Jonathon Frith, 25 Ravil Magianov, 59, of Brooklyn, NY Bashaun Whitted, 25, of Atlantic City The Atlantic County Prosecutor's Office says a total of 33 people, including some children, were removed from the property.
Cash, narcotics, air soft guns, seven dogs and an alligator were also seized from the motel. Authorities say one pit bull was shot when the animal "made an aggressive move towards officers".
The 3-foot alligator was found in the pool of the motel. It was later transported to the Cape May County Zoo.
Article continues below
---
advertisement


---
Author:
http://philadelphia.cbslocal.com/2017/08/15/7-arrested-atlantic-city-motel/ - Brian Longo
Archives
---
More Articles