Girls Cross Country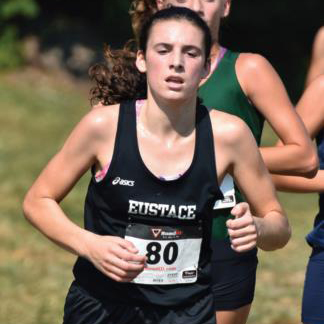 BISHOP EUSTACE Crusaders
PLAYERS TO WATCH: Bishop Eustace brings back five runners who placed in the top 20 at sectionals, including junior Katy Storti, who repeated as the champion with a time of 19:54. Clare Morelli is another talented junior who took fifth at sectionals and 13th at states, along with second in the Olympic Conference National Division. Sophomore Rachel Orr had a strong rookie season that included an eighth at sectionals and 28th at states, while juniors Suzanne Picciano and Teresa Faust were also strong competitors at sectionals. Seniors Abigail Gilson and Brielle Bianchini and junior Maria Elena Johnson are other contributors.
OUTLOOK: This is shaping up as another big season for the Crusaders, who were sectional champions in 2016 and also placed sixth at states.
CAMDEN CATHOLIC Fighting Irish
PLAYERS TO WATCH: Junior Annie Miles emerged as Camden Catholic's top runner as a sophomore and had solid showings at the major meets, including a 10th-place finish at sectionals. She also took sixth in the Olympic Conference National Division and 13th in Camden County. Sophomore Breanne Nunn will look to follow up a promising freshman campaign in which she placed right behind Miles at sectionals in 11th. Sophomore Natalie Wisnoski and junior Kimberly Powers are other key returners, while seniors Theresa Gardner and Fiona Xiao will look to aid the team as well.
OUTLOOK: The Irish have a lot of returners back and will look to build on the potential they showed last fall.
CHEROKEE Chiefs
PLAYERS TO WATCH: Cherokee returns a talented trio at the front of the pack: senior Sophia Eick, junior Gabby Moraschi and sophomore Kate Rathman. Eick took fifth in the Olympic Conference American Division and eighth at the Burlington County Open, and capped her season by running 20:01 at sectionals for 28th. Moraschi was fourth in the Olympic American and 19th in the county, and was right behind Eick at sectionals in 31st place. Rathman was actually the team's highest finisher at sectionals as she clocked in under 20 minutes for 24th. Senior Shannon Young is also a top runner and others to keep an eye on are sophomore Riley Gleason and senior Kayla Fericy.
OUTLOOK: The Chiefs posted top-five finishes in the county and conference meets and placed ninth at sectionals last year. With most of their best runners back in the fold, don't be surprised if they move up a few spots.
CHERRY HILL EAST Cougars
PLAYERS TO WATCH: Two young stars enjoyed breakout seasons last year for Cherry Hill East and it will be exciting to see what they can accomplish this season. Junior Sarah Pierce ran 18:05 at sectionals to claim first place and was also the Olympic Conference champion. She went on to place 13th at states. Sophomore Grace Yoon placed fifth at sectionals and second at states, clocking under 19 minutes both times. The teammates capped the year by placing back-to-back at the Meet of Champions, with Yoon in 21st and Pierce in 22nd. Junior Dani Lazarus is another strong runner who placed ninth in the conference and 27th at sectionals, while senior Jill Westman took eighth in Camden County. Sarah Brown and Erin Krassan are juniors hoping to make an impact.
OUTLOOK: Expectations should be high for the Cougars, who took fourth at sectionals and 12that states in 2016. Yoon and Pierce should have them in contention at the big races this fall.
CHERRY HILL WEST Lions
PLAYERS TO WATCH: Cherry Hill West brings back most of its best runners, including senior Keller Bean, who took 10th in Camden County and was the Lions' top finisher at sectionals in 37th. Sophomore Cameron Wright was at the front of the pack as a freshman and junior Mirasha Williamson—who placed 17th in the county—rounds out the top three. Junior Elizabeth Santana finished 22nd in the county, and senior leaders are Cassaundra Hoch, Emily Santana, Sally Johnston, Danielle Rash and Melissa Palladino.
OUTLOOK: The Lions hope to make some noise at the conference and sectional meets with Bean leading the way.
CLEARVIEW Pioneers
PLAYERS TO WATCH: Julia Rothstein has high hopes for her senior season after another strong campaign last fall. She took fourth at both the Gloucester County and Tri-County Conference races and ran 18:58 at sectionals to finish ninth. She went on to place 27th at states. Magdalene Henry is another impressive senior who took seventh in the conference, 11th in the county and 25th at sectionals. Sophomore Kyra Borodin seemed to finish right behind Henry at all of the big races and is another key returner, along with junior Gabrielle Beske-Somers and senior Rachel Doring.
OUTLOOK: The Pioneers were runners-up in Gloucester County and the Tri-County Conference and finished fifth at sectionals and 14th at states. They have a strong core of runners and will be a team to watch this fall.
EASTERN Vikings
PLAYERS TO WATCH: Senior Adena Cohen was one of the key runners for Eastern last year and should set the pace again this fall. She placed 25th at the Camden County meet in 2016. Junior Emma Gubman was the Vikings' best finisher at sectionals and junior Julia Kirk is another tough competitor. Other returners are seniors Caitlin Hargrave and Lea Ives, juniors Kristaileen Quinones, Jade Kenny and Anna Friedman and sophomore Zoe McKay. Newcomers to watch are sophomore Pauline Maki and freshman Morgan Bromley.
OUTLOOK: The Vikings placed sixth in the county and 12th in the Olympic Conference last year and hope to turn some heads at those meets this season.
GLOUCESTER CATHOLIC Rams
PLAYERS TO WATCH: Almost the entire roster is back for Gloucester Catholic, including junior Mia Simila, who broke through as the No. 1 runner in 2016. She placed 30th at sectionals and was also the Rams' top finisher at the Tri-County Conference and state meets. Lauren Young is another key returner who took 36th at sectionals. Other returners are juniors Ciara Mondel, Nikki Reed and Devon Tindley. Freshmen Savannah Forand and Lauren Ridinger are newcomers to keep an eye on.
OUTLOOK: With most of their best runners back in the fold, the Rams are primed to make progress this season.
HADDONFIELD Bulldawgs
PLAYERS TO WATCH: It's a new era at Haddonfield following the graduation of three-time state champion Briana Gess, who has moved on to the University of Virginia. Stepping into the leadership roles are seniors Lilly Minor and Izzy Miller, who placed eighth and 10th, respectively, at sectionals last year. They also both placed in the top five at the Colonial Conference Championships and competed at states and the Meet of Champions. Lilly Sirover is a promising sophomore who ran 20:19 at sectionals to place seventh. Senior Erin Hoffman is another key returner who took 13th at the conference meet and sophomore Samantha Stadler will contribute as well.
OUTLOOK: The Bulldawgs secured their first state championship since 2008 last year, claiming the Group II crown. They also extended their streak of sectional titles to seven in a row. Despite the loss of a stellar senior class, they hope to remain competitive.
KINGSWAY Dragons
PLAYERS TO WATCH: Kingsway graduated an outstanding senior class that was led by Rachel Vick, who took third in the Meet of Champions last fall. But the cupboard is far from bare. Senior Alexis Mullarkey is ready to step into the No. 1 role after running a 19:44 at the MOC to take 28th. She also placed 14th at sectionals, sixth in the Tri-County Conference and eighth in Gloucester County. Junior Lauren Krott is primed for another strong season following top-10 finishes in the county and conference and a 15th at sectionals. Sophomore Allie Pierontoni and junior Holly Chambers are other strong competitors.
OUTLOOK: The 2016 season was another banner one for the Dragons, who repeated as county, conference and sectional champions before capping the year with a fifth-place finish at states. They'll remain competitive if the lineup develops behind the top four.
LENAPE Indians
PLAYERS TO WATCH: Seniors Meghan Vizzard and Talia Hartman return as the leaders for Lenape and hope to close out their careers with a strong season. They both placed in the top 20 at the Burlington County Open, and Vizzard ran 20:50 at sectionals to place 48th, the highest finish on the team. Alexa Woltjen, who ran 5:01 in the 1,600 during the spring season, is expected to make a huge impact on the South Jersey scene despite running cross country for the first time this fall as a senior. Briana Garcia is another senior expected to post competitive times at the big races. Juniors Hayley Conway and Erin Scioli and sophomore Rebecca Thomas are hopeful of being major contributors as well.
OUTLOOK: The Indians had a strong fifth-place showing at the county meet and took ninth in the Olympic Conference. The addition of Woltjen to the strong senior class will help them remain competitive and improve on last year's results.
MOORESTOWN Quakers
PLAYERS TO WATCH: Miriam Coneby made an immediate impact for Moorestown as a freshman and will look to follow it up this spring as a sophomore. She clocked a 20:07 at sectionals to place sixth and was the Quakers' top finisher at states. She also took second in the Burlington County Scholastic League Liberty Division and ninth at the Burlington County Open. Senior Emily Hurren is right at the front of the pack as well and placed 14th at sectionals. Cailin Field is another senior leader and sophomore Avery Jaffe showed potential as a rookie.
OUTLOOK: An impressive 2016 season featured the BCSL Liberty Division title, a runner-up finish at sectionals and a third in the county open. More success appears likely this fall.
MOORESTOWN FRIENDS Foxes
PLAYERS TO WATCH: Senior Samantha Ghazal is one of the key returners for Moorestown Friends after being the team's top finisher at the Friends School League Championships. Senior Caroline Cook and junior Felisa Patel are other key runners who hope to keep lowering their times as the season progresses. The Foxes also will be counting on several varsity newcomers to replace four seniors who graduated from last year's squad.
OUTLOOK: Moorestown Friends won its last three dual meets to finish with a 4-7 record and hopes to stay competitive in 2017.
PAUL VI Eagles
PLAYERS TO WATCH: Paul VI returns a terrific duo in junior Annie Skiles and sophomore Bridget Lyons. Skiles has placed in the top five at sectionals each of the last two seasons, including a fourth last year. She also took 16th at states and second in Camden County. Lyons' debut season featured a second- place finish at sectionals in 20:02. She also finished first in the Olympic Conference National Division and third in the county. Junior Amelia Smith and senior Erin Siciliano were both in the top 20 at sectionals, and other talented returners are juniors Sarah Schultes, Miranda Zevallos, Hannah Whitmire and Carly DeGirolamo and sophomore Amelia Shelton.
OUTLOOK: The Eagles were crowned county champions, took second at sectionals and eighth at states last year. With Skiles and Lyons leading the way, there's no reason they can't contend for multiple titles this fall.
SENECA Golden Eagles
PLAYERS TO WATCH: Although several strong runners graduated, Seneca is excited for the season to arrive thanks to talented returners like seniors Carley Tool and Sydny Warner. Tool bounced back from an injury-plagued sophomore season to take sixth at sectionals and 20th at states, clocking in under 20 minutes both times. She also had top-10 showings at the Burlington County Open and Olympic Conference Championships. Warner was in the top 10 at sectionals for the second year in a row and is also primed for a big final season. Junior Reilly Ritter is a solid No. 3 runner, while juniors Kayla Handt and Jordan Guerrera will look to round out the top five. Chelsea Richards, Morgan Hough and Evelyn Locke are sophomores expected to contribute after showing tremendous improvement as freshmen.
OUTLOOK: The Golden Eagles just missed a threepeat at sectionals as they took second and went on to place seventh at states. They were also Olympic Conference champions and runners-up in Burlington County. Count on more of the same in 2017.
SHAWNEE Renegades
PLAYERS TO WATCH: Shawnee comes into the season with high hopes thanks to a deep and talented crop of returners. That includes sophomore Isabella Turner, who was the Burlington County champion and took seventh at sectionals last year. She ended her rookie season by clocking 19:45 to finish 29th at the Meet of Champions. Returning seniors include Claire Rankin, who was fourth in the county meet and 19th at sectionals, and Georgia Larzelere, who was the team's top finisher at states in 38th place. Laura Mavracic is yet another key senior, and juniors Grace Kearns and Laura Tenet both placed in the top 10 at the county meet and the top 20 at the Olympic Conference meet. Sophomores Maddy Yeager and Katy Morgan and junior Alexandra Strich are also back in the fold.
OUTLOOK: The Renegades were in the top five at all of the major events in 2016, taking first in the county, second in the conference and sectional meets, and fourth at states and the Meet of Champions. They will be serious contenders again this fall.
WASHINGTON TOWNSHIP Minutemaids
PLAYERS TO WATCH: Rebekah Leone is primed for a terrific final season and will once again set the pace for Washington Township. Last year she placed in the top five in both the Olympic Conference and Gloucester County meets and ran 19:13 at sectionals to finish 11th for the second straight season. Sophomore Kate Cochran flashed potential as a freshman, including a 36th-place finish at sectionals. Christina Fath and Julia Reilley are key seniors who return in the top five, while junior Bella Marchese and senior Taylor Tracy will also contribute.
OUTLOOK: The Minutemaids' solid 2016 season featured fourth-place showings at the county and conference meets and a 10th at sectionals. They should be competitive at the major races and Leone could be in contention for individual wins as well.
To see a complete list of our Fall Sports Schedules, click here to go to our digital edition.
Published (and copyrighted) in Suburban Family Magazine, Volume 8, Issue 5 (July, 2017).
Article continues below
---
advertisement


---

For more info on Suburban Family Magazine, click here.
For information about advertising in Suburban Family Magazine, click here.
To find out where to pick up your copy of Suburban Family Magazine, click here. Author:

Matt Consentino
Archives
---
More Articles