Girls Volleyball Fall Preview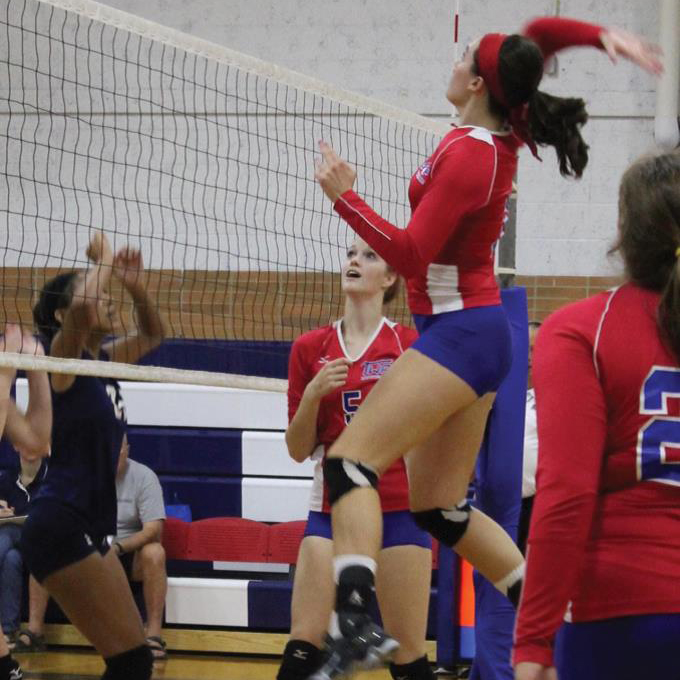 ...From the Pages of Suburban Family Magazine...
CAMDEN CATHOLIC Fighting Irish
PLAYERS TO WATCH: Seniors Madeline Dutterer and Veronica Cava, who both served as captains last year, are back to spark Camden Catholic. Dutterer, an outside hitter, had 88 kills to lead the team for the second year in a row and added 146 digs. Cava, a setter, had team-highs with 270 assists, 173 service points and 118 aces. Juniors Jenn Nguyen (48 kills, 71 digs) and Francesca Spinosi (73 digs) and sophomore Julie Rosica (40 kills) are other key returners. Other players expected to have an impact are seniors Danielle Dymond and Cece Ensell and juniors Gillian Kenney and Mala Samol.
OUTLOOK: The Irish bring back most of their starting lineup from a 12-14 season and should contend for a winning record this fall under new head coach Melanie Kaiser, a former standout player at Sterling and Rutgers—Camden.
CHEROKEE Chiefs
PLAYERS TO WATCH: Senior outside hitter Kayleigh Kitchen emerged as Cherokee's top player in 2016 and is primed for a strong final season. She had 260 kills, 116 digs and 46 aces on her way to all-conference first-team honors. Senior setters Alaina Santacroce (294 assists) and Alexis Bickett (140 assists) are the conductors of the offense. Santacroce earned all-conference second-team recognition. Seniors Erica Marchlowitz (87 digs, 54 aces) and middle Marlana Stipa (38 kills, 36 aces) are also veteran contributors. Other returners include seniors Amber Conley and Allison Hussey and juniors Brooke Strauss and Makenzie Jackson.
OUTLOOK: The Chiefs went 17-10 and were crowned Burlington County champions despite breaking in an entirely new starting lineup last year. With Kitchen and several other key players back in the fold, this is shaping up as another successful season.
CHERRY HILL EAST Cougars
PLAYERS TO WATCH: Cherry Hill East graduated a terrific senior class that featured five all-conference players. Fortunately the Cougars still have a talented player to build around in junior outside hitter Sarah Pintel, who led the team with 187 kills. At 6-foot-4, Pintel cuts an imposing figure at the net and should be one of the top players in South Jersey. Senior middles Star Beasley (56 kills, 20 blocks) and Ela Majkut will be key returners offensively. Defensively, seniors Alana Cohen (78 digs) and Jihee Lee will look to contribute while junior Rachael Boyle hopes to take on a bigger role at outside hitter.
OUTLOOK: The 2016 season was one to remember for the Cougars, who compiled a 21-6 record to set a school record for wins and reached the Group IV state quarterfinals. They went 8-0 to claim the Olympic Conference American Division title and only lost to one South Jersey team all season. Despite the losses to graduation, they have a bright future with four returning seniors and Pintel leading the way.
CHERRY HILL WEST Lions
PLAYERS TO WATCH: Cherry Hill West suffered heavy losses to graduation, with 10 seniors moving on. The good news is that senior outside hitter Sofia Russo is one of the returners. She had 70 kills to lead the team for the second straight season and will be one of the top players in the Olympic Conference this year. Caitlyn Warfield (30 digs) is another key senior and junior Alexa Caputo is an experienced setter who had 46 assists.
OUTLOOK: After posting a 6-13 record in 2016, the Lions hope to add a few more wins if the varsity newcomers develop around Russo, Warfield and Caputo.
CLEARVIEW Pioneers
PLAYERS TO WATCH: Clearview graduated a good portion of its starting lineup but has several promising returners to build around. That includes junior outside hitter Cameron Cooey, who had 55 kills and 84 digs in a breakout sophomore season. Junior Savanna Heggan is an experienced setter who had 107 assists and will direct the offense. Defensive specialist Sam Gehringer and middle Lauren Robitaille are senior leaders, and Alison Hacker and Melanie Andreou are juniors expected to play bigger roles.
OUTLOOK: The Pioneers went 8-14 in 2016, doubling their win total from the year before. They hope to keep improving this fall.
EASTERN Vikings
PLAYERS TO WATCH: Eastern broke in a new starting lineup last fall and most of those players are back in the fold. That includes senior middle Jen Hoffman, who led the team with 87 kills to go with 26 blocks. Amanda Ravitz (49 kills, 19 blocks) is another senior middle and senior opposite Kara Trinkle (73 kills) will be a key factor on offense as well. Juniors Ariana David (72 kills, 27 digs) and Myyona Boyd (37 kills) are also big contributors and senior Araya Hebert will add depth at outside hitter.
OUTLOOK: The Vikings went 9-12 and fell in the opening round of the Group IV playoffs during a rare losing season. Look for them to bounce back after gaining valuable experience.
GLOUCESTER CATHOLIC Rams
PLAYERS TO WATCH: Gloucester Catholic graduated its top offensive weapons, including Cassie Hickman, who had 213 kills, along with Alexis Gawason, Vicky Caldas and Katie Girardi. But senior setter Taylor Caldas returns to direct the attack after finishing with 143 assists and adding 29 kills as a junior. She will serve as team captain with senior Lauren Rossi (178 digs, 89 assists), who will be a key player at defensive specialist and setter. Senior Brooke Cloak, who is returning from a shoulder injury, will be an important piece of the offense at outside hitter. Sophomore outside hitter Emily Duer showed potential as a rookie and could be ready for a bigger role, and junior Tatiana Placencia will also contribute at outside hitter. Other returners include seniors Amy Gartland and Kiersten Labbree, junior Kate Orgera and sophomore Heidi Wolf. Freshman Lauren Wethman is a promising newcomer.
OUTLOOK: The Rams went 13-12—improving by six wins from the season before—and qualified for the Non-Public playoffs in 2016. They will surely miss Hickman but will look to post another winning record.
KINGSWAY Dragons
PLAYERS TO WATCH: Kingsway graduated six starters and seven total seniors from a magical season, so this year's team will have a completely new look. The top returner is senior libero Camryn Norman, who led the team with 152 digs. She is also an effective server and finished with 28 aces. Riley Bradson, Christa Marsh, Alexa Plachuta and Kendrah Cooper are other senior leaders, while juniors Hetvi Patwa and Shianne Watson will be asked to do a lot more now that they are upperclassmen.
OUTLOOK: The Dragons went 23-4, compiled a perfect 10-0 mark in their division and hosted a home playoff match for the first time in program history. They'll look to build on that foundation with a new cast of standouts.
LENAPE Indians
PLAYERS TO WATCH: Lenape is excited about the return of four starters, including senior outside hitter Sara Blackburn, who led the Indians with 95 kills and 133 service points to go with 56 digs. Senior Sara Burgos is the one usually feeding Blackburn, as she has been the starting setter the last two years and had 183 assists in 2016. Senior middle Julianna Day (37 kills, 27 blocks) is an important player offensively and defensively, and junior Gabby Semana (119 digs) is back as the starting libero. Junior outside hitter Catherine Overman is another contributor who had 23 kills, 26 blocks and 57 digs. Other returners are juniors Lindsey Stagliano and Cassie Burke and sophomore Sam Walters.
OUTLOOK: The Indians made incredible strides last fall, finishing with a 10-15 record. With most of the top players back, expect the progress to continue.
MOORESTOWN Quakers
PLAYERS TO WATCH: Moorestown graduated several important pieces from last year's team but has a strong returner to build around in senior outside hitter Tori Britton. She had 157 kills and 263 digs and is on track for a terrific final season. Junior Grace Hill will also contribute at outside hitter and junior Lizzie Brown will look to have an impact as well. Emily Buckley (43 digs) anchors the defense and adds senior leadership.
OUTLOOK: The Quakers' memorable 2016 season featured a 23-7 final record and a playoff victory. If the new starters develop around Britton, another winning season seems likely.
PAUL VI Eagles
PLAYERS TO WATCH: Paul VI is paced by one of South Jersey's most talented players in senior middle Grace Underwood, who has committed to the University of Delaware. She does a little bit of everything for the Eagles and finished with 215 kills, 82 blocks, 50 digs and 62 aces as a junior. Senior outside hitter Hollie Jones (111 kills, 17 blocks) is another weapon and senior Felicia Horn (510 assists, 36 aces) keeps the offense running smoothly with her setting ability. Senior middle Sekya Campbell (30 kills, 27 blocks) and junior outside hitter Sydney Hughes (36 kills, 19 blocks) are valuable veterans as well.
OUTLOOK: The Eagles put together another impressive season last fall, compiling a 21-5 record and reaching the Non-Public state quarterfinals. They'll shoot for another 20-win season and long playoff run behind a talented group of seniors.
SENECA Golden Eagles
PLAYERS TO WATCH: Senior outside hitter Casee Bryan is back to lead Seneca after an impressive junior campaign in which she recorded 185 kills, 66 digs and 44 aces. Senior middle Jenna Daunoras is an important piece on offense and defense who had 98 kills and 35 blocks. Senior Devan Walker (290 assists, 89 digs) returns as the starting setter, and junior Brooke Isaksen and sophomore Juliette Gordon will be called upon to replace some of the players lost to graduation.
OUTLOOK: The Golden Eagles set a school record for wins for the second straight season, as they went 21-6 and reached the second round of the Group III state playoffs. A strong senior class should carry them to more success in 2017.
SHAWNEE Renegades
PLAYERS TO WATCH: Shawnee was a senior-laden group in 2016, so new team leaders will have to emerge. Senior opposite Daniela Howard (17 kills, 23 assists) is one of the only returners with varsity experience and will act as a mentor for her younger teammates. Other players hoping to step up are senior Olivia Ripa and juniors Julia Cooker, Chloe Deming, Gloria Fritsch, Josephine Gray, Melanie Grose, Natalie Katrisiosis and Kelsey Martin.
OUTLOOK: The Renegades went 16-7 last fall to double their win total from the year before. They hope to remain competitive as they rebuild this season.
WASHINGTON TOWNSHIP Minutemaids
PLAYERS TO WATCH: Washington Township lost some important players to graduation, none more so than all-conference first-team setter Kyra Bevenour. But the Minutemaids are excited to welcome back senior middle Alyssa Fooks, who also made the all-conference first team after recording 217 kills, 46 blocks and 34 aces. Junior outside hitter Elizabeth Deal is another key returner who had 56 kills and 30 digs. Juniors Marissa Huynn and Taylor Crowley will take on bigger roles and sophomore Helena Ta hopes to take over as the starting setter.
OUTLOOK: The Minutemaids' 14-10 season ended with a close loss in the first round of the Group IV state playoffs. They're optimistic they can post another winning record and get back to the playoffs this season.
To see a complete list of our Fall Sports Schedules, click here to go to our digital edition.
Published (and copyrighted) in Suburban Family Magazine, Volume 8, Issue 5 (July, 2017).
Article continues below
---
advertisement


---

For more info on Suburban Family Magazine, click here.
For information about advertising in Suburban Family Magazine, click here.
To find out where to pick up your copy of Suburban Family Magazine, click here. Author:

Matt Consentino
Archives
---
More Articles