Bringing Business Back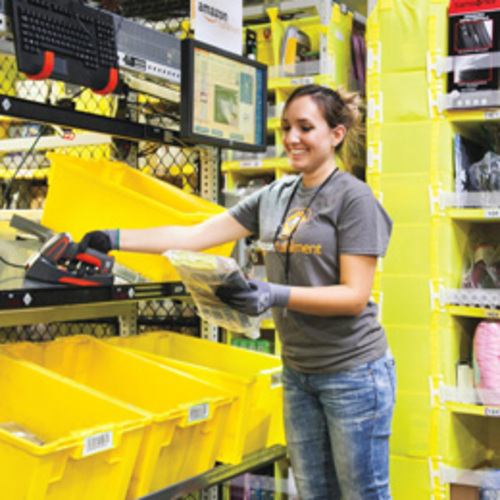 ...From the Pages of South Jersey Biz...
Ten years ago, New Jersey's business landscape was beginning to look a bit bare. State officials saw the problem and put several incentive programs in place to attract employers back to our area. Local and national companies took notice and started trickling back in to the Garden State, South Jersey included.
Logan Township Mayor Frank Minor believes there are a number of different reasons businesses are coming back to South Jersey, including the close proximity to all of the major arteries (295, 95, the New Jersey Turnpike), housing, a great school system, workforce and a very attractive tax rate and infrastructure. "We have worked extremely hard collectively to create an environment that's conducive to companies coming here," he says.
In April, Amazon announced plans to expand its presence with the addition of three new fulfillment centers right here in our backyard. Cranbury and Edison are the future homes of two 900,000-square-foot sites and Logan will host a massive, one million-square-foot facility. This is in addition to an existing facility in Logan that brought with it 1,000 jobs for local residents when it opened in 2014.
For its part, Logan has worked alongside the companies that call the township home. "We've worked with them in the same nature we work with all of our corporate neighbors here to provide them with efficient government that makes it easy to get through the process of applications, zoning, planning, permitting, those types of things," Minor says.
The new facilities will bring approximately 2,500 jobs to the area, adding to the 13,000 workers who are already employed at Amazon's seven existing N.J. centers. The employees in Cranbury and Logan will pick, pack and ship larger customer items like music equipment, sports gear and patio furniture, while the Edison fulfillment center will be dedicated to smaller items such as books, toys and kitchenware.
"Amazon is the 800-pound gorilla in the room," Minor continues. "They are creating opportunities for people, jobs for our local economy, people who frequent the restaurants and the gas stations and Wawas, all of those types of things that factor into a company of that size coming into a community."
The smaller, support-style companies typically follow large corporations. "And, the support companies will probably want to be in close proximity to them to save money and be close to where your base is. You save money in terms of freight and things like that," concludes Minor.
If that is the case, we may see support companies starting to pop up around some other big projects taking shape in South Jersey.
Under Construction
Article continues below
---
advertisement


---
Several other large building projects are already underway.
The Stockton Aviation Research and Technology Park
The 58-acre research park, located near the Federal Aviation Administration's William J. Hughes Technical Center, has created construction plans for a new aviation research and technology laboratory and office space. The project will cover 7,000 square feet and cost $17.2 million. The construction contract for the first building was signed in March with Hessert Construction of Marlton, and the other 66,000- square-foot building will be constructed and owned by Atlantic County Improvement Authority and is planned to be completed by the second quarter of 2018.
The Atlantic City Gateway Project
A 270,000-square-foot initiative located in the southeastern area of Atlantic City has begun. The overall construction price will equal $210 million. The project has been funded in part by Atlantic County Improvement Authority with debt assistance from the New Jersey Economic Development Authority's Economic Redevelopment and Growth Program. An additional $44 million came from South Jersey Gas, and a $17 million grant was given from the Casino Reinvestment Development Corporation and private equity investment.
The Gravelly Run Square Shopping Center
Plans for $58 million worth of construction are making headway in Hamilton Township. The project will fill 48 acres of land with four anchor shops and 30-40 complementary stores. Once construction is complete, this will open 310 full-time jobs. The state's Economic Development Authority gave $11.4 million in funding toward the plan's fruition.
Albert's Organics, Inc.
The popular fresh food market currently claims space in seven locations throughout the United States. Plans are in the works to construct a new facility to replace their current Logan Township space. The project will cover 70,000 square feet, and could possibly increase another 25,000 square feet later.
Inspira Health Network Medical Center
After five years of planning, Inspira Health gained approval from the New Jersey Commissioner of Health to start construction on a new medical center in Mullica Hill. The $349 million center will be funded by Inspira's reserves, philanthropy donations and bonds. Amenities of the new hospital will include 204 private patient facilities, high-technology advancements, improved birthing suites and a complete cancer program. Construction is scheduled to be completed in late 2019.
HIPRA North American Headquarters
The Spanish multinational firm known for veterinary pharmaceuticals has chosen to locate their North American headquarters at the South Jersey Technology Park at Rowan University. HIPRA purchased 25 acres of land to build 375,000 square feet worth of facility space. Cost will equal approximately $100 million. This move is expected to create 200 new jobs within the technology field.
Published (and copyrighted) in South Jersey Biz, Volume 7, Issue 8 (August, 2017). 
For more info on South Jersey Biz, click here. 
To subscribe to South Jersey Biz, click here. 
To advertise in South Jersey Biz, click here.
Author:
Michelle Boyles
Archives
---
More Articles